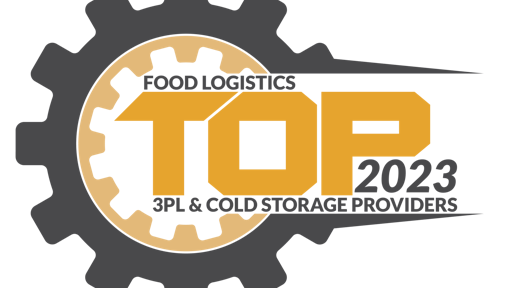 From driver shortages to natural disasters, the last 12 months have continued to challenge the third-party logistics (3PL) space. But it's the 3PLs and the cold storage providers that keep cold food product moving through the chain, despite disruption.
For example, many of this year's winners offer a variety of 3PL services, including air cargo, bulk/liquid bulk transportation, direct-store delivery, freight forwarding, refrigerated trucking, truckload brokerage and more, and making investments in emerging technologies such as GPS, Internet of Things (IoT), blockchain, food safety, delivery apps and more.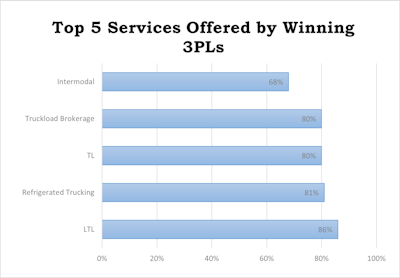 Meanwhile, many of the cold storage services offer their own range of services, from blast freezing and cross docking to inventory management and warehousing/distribution management, and investing in technologies like drones, track and trace, cloud-based and more.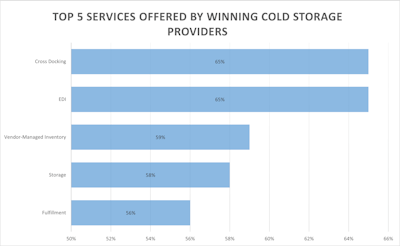 3PLs are also innovating in other areas such as warehousing. For instance, a CBRE report reveals 3PLs leased more big-box (200,000 square feet or larger) warehouse space in North America than any other occupier category.
What's more, over the past two years, 50% of shippers increased their spend with outsourced providers, compared to only 12% that decreased spend, according to a Coyote Logistics study, and 82% of shippers rely on 3PLs to procure capacity for at least some of their freight, with 38% using 3PLs for a majority of their shipments.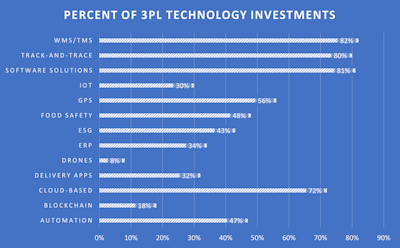 It's these 3PLs and cold storage providers that work to adopt and adapt to operate in a safer, more efficient manner. That's why it's important we honor and celebrate the top 3PLs and cold storage providers and the services they provide.
Congratulations to all of this year's winners. CLICK HERE to view the full list of winners.
Here's some standouts:

CJ Logistics America
cjlogisticsamerica.com
CJ Logistics is a specialist in food and CPG logistics, specifically focused on meeting the unique quality and compliance requirements of these industries. CJ Logistics provides capabilities that truly span the entire supply chain from end-to-end and integrate those services across the globe. CJ Logistics is differentiated by its dynamic supply chain leadership and approach to strategic, collaborative partnerships. It's known for its sophisticated, consultative approach to leveraging supply chain as a critical strategy to achieve customer business goals. CJ Logistics is also known for its expertise in implementing and operating notably large-scale, complex operations. Aligned to its customers' challenges and goals, CJ Logistics is focused on the development of predictive business intelligence and insights, helping customers stay ahead of changes in regulations, consumer dynamics, retail requirements and emerging technology. With the business based on a foundation of flexibility, its customized solutions, adaptable systems, dynamic networks and responsive leaders and teams provide customers a tremendous opportunity to take charge of change.
Omni Transloading and Logistics
omnitransloading.com
Omni Transloading and Logistics is South Florida's premier third-party logistics warehouse provider, specializing in the offloading of rail cars, intermodal and ocean containers for the food and beverage sector handling products such as beer, wine, energy drinks, canned foods and perishables. Omni is a part of new NS LTL freight program in loading empty rail boxcars with both LTL and FTL freight and is the only non-NS-served site as part of this program. Today, Omni operates six buildings with nearly 400,000 square feet of warehouse space, three of which are direct rails served by FEC and one site on CSXT.

OTR Transportation
loadotr.com
OTR Transportation is a boutique freight brokerage that focuses on the food and beverage industry. OTR developed a state-of-the-art freight execution platform optimized to meet the unique needs of its shippers.

Romark Logistics
romarklogistics.com
For nearly 70 years, Romark Logistics has provided customized, advanced solutions for complex logistics and supply chain needs. As a tech-focused supply chain and logistics provider, Romark has streamlined shipping and order fulfillment by leveraging state-of-the-art technology and automation tools. It also expanded its consulting services to include facility and design, warehouse optimization and automation and technology. Its leadership team maintains an average of 20-plus years of experience and has worked together for many years to create personalized solutions for clients with unique challenges.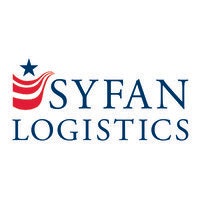 Syfan Logistics
syfanlogistics.com
Syfan Logistics is in the midst of an expansion project at its headquarters. The first phase, which adds more office space, is set to be completed in early April. The second phase involves renovation of existing work areas and is expected to be finished in September. Syfan is also adding 46,000 square feet of office space for Syfan Logistics and its sister company, Turbo Sales & Leasing. Another 19,000 square feet is being built out for Turbo's terminal-tractor maintenance shop. Once completed, the headquarters will be nearly double in size with enough workspace for an additional 125 team members. In 2019, the company completed a 19,000-square-foot expansion of office space.

Transervice Logistics Inc.
transervice.com
Based in Lake Success, N.Y., Transervice currently manages approximately 25,000 pieces of equipment in over 120 regional and local facilities across North America. Its workforce is some 1,200-strong, including over 1,000 drivers and technicians.
CLICK HERE to view the full list of winners.