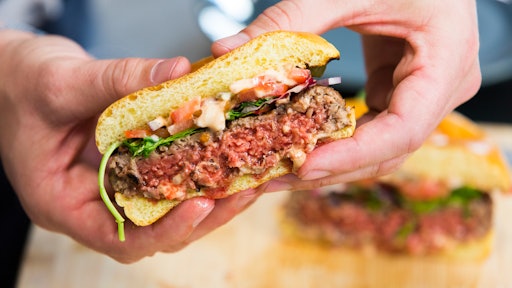 Impossible Foods
American consumers have grown increasingly more interested in alternative meets. In Michigan State University's Food Literacy and Engagement Poll, results found a growing appetite for the plant-based products among consumers, especially millennials and Gen Z.
The United States is among the world's top meat eaters, consuming an average of 214 pounds of meat per person in 2016, according to The Conversation. With rising concerns surrounding the environment, there has been a series of startups that focus on product plant-based alternative meats that actually taste like the real thing.
Impossible Foods relies on a genetically modified yeast that allows its products to "bleed" like real meat. The company has its products served in several fast food chains, such as White Castle and Burger King. The product has won over consumers both meat and non-meat eaters alike that it caused a product shortage earlier this year. In order to ensure that the shortage was a one-time error, the company has teamed up with major meat supplier OSI Group to help meet the demand from consumers and restaurants.
Consumer perspectives on meat alternatives are shifting rapidly, with 40% of respondents saying that they were unlikely to purchase foods that look and taste identical to meat, but are based on ingredients that are produced artificially. Meanwhile 35% of respondents had consumed plant-based meat alternatives, with 90% of that group saying that they would do so again. In addition, 42% of respondents reported that they were willing to try the alternatives.
More companies are starting to introduce their own version of meat alternatives as well. The Conversation reports that Kellogg and Hormel will launch their own plant-based product lines before year end.
McDonald's is also joining the alternative meats trend by unveiling a new plant-based burger called the P.L.T. (plant, lettuce, tomato.)
The chain will conduct a 12-week test of the burger in 28 restaurants in Southwestern Ontario starting Sept. 30. The P.L.T. is made with Beyond Meat plant-based patty that has been crafted exclusively for McDonald's
Retail sales of plant-based foods in the United States totaled $4.5 billion over the last year, a growth of 11 percent, according to Supermarket News and the Plant Based Foods Association. The data showed a $1.1 billion growth from April of 2017 through April of 2019, and a $500 million growth in the last year. By comparison, the overall U.S. retail food market grew by 2 percent.
The Conversation reports that the new generation of plant-based meats aren't supposed to substitute for other vegetarian products, but target specific health-conscious consumers.