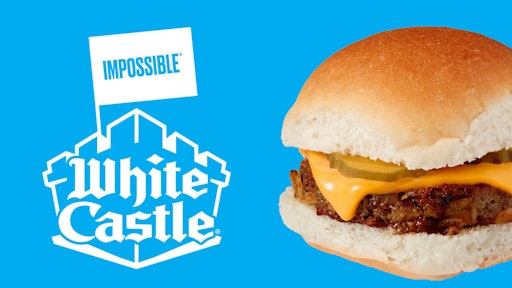 White Castle will become the first fast-food chain to debut the next-generation Impossible Burger from Impossible Foods' latest recipe.
The Impossible Slider will be available at White Castle restaurants in the Las Vegas area, including restaurants on the Strip, downtown and in the nearby town of Jean. Over the course of a few months, the slider recipe will roll out at all remaining 377 White Castle locations. The plant-based burger is topped with cheese, pickles, onions and is served on a signature bun.
"White Castle is Impossible Foods' largest customer so far, and the partnership has been a total sensation -- acclaimed by food critics and a social media phenomenon with a trending hashtag," says David Lee, Impossible Foods' chief operating officer and chief financial officer. "There was never any doubt White Castle would get first priority for the national rollout of our new recipe."
The new recipe of the Impossible Burger rivals ground beef from cows for taste, nutrition and versatility. The next-generation Impossible Burger contains no gluten, 0 mg cholesterol and as much bioavailable iron and protein as conventional beef from cows.
White Castle initially debuted the Impossible Slider in three key regions in April 2018. Sales were 30 percent high than expected, and in September, White Castle CEO Lisa Ingram revealed that the Impossible Slider increased market share 250 percent over White Castle locations that did not serve it.