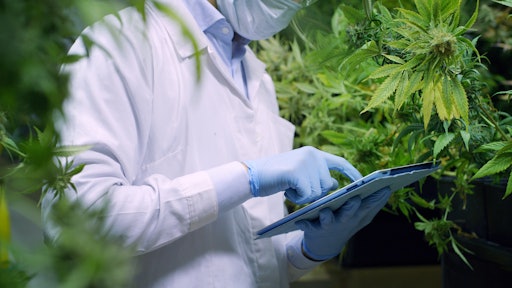 HQUALITY
"Supply chain" has become the scariest business term of 2021 — one synonymous with the early Coronavirus disease (COVID-19) toilet paper shortages and current fears of bare shelves. Since supply chain issues aren't going away, look at the cannabis industry as an example of both how one can pivot in times of adversity as well as create a model for the future.
For decades, the cannabis industry relied on an inefficient, fragmented, and at times, illicit supply chain infrastructure. And, even though most Americans now live in states with legal cannabis sales, the industry remains illegal on a federal level, which leads to inherent inefficiencies and daily hurdles. This, too often, leaves the current $22 billion industry flying by the seat of its pants. However, as an emerging industry coming out of the shadows, the cannabis industry knows how to learn from the failures of traditional industries and adopt streamlined technologies to fit the demands of the future. If done right, cannabis operators will re-define how industries purchase.
Despite a healthy roster of $100-plus million revenue operators, the cannabis industry is still nascent. While the industry has generally recognized the need for technology for e-commerce and finance, most procurement and supply chain management functions still use manual processes such as spreadsheets. This delayed adoption of technology creates difficulties in managing efficient procurement within an early, fragmented market.
Click here to hear more about e-commerce in other substance sectors:
Sourcing is where cannabis procurement teams spend most of their time, and still have room for improvement. Brands are innovating to bring new products to market, and government regulations dictate strict and inconsistent materials and packaging requirements. New product development and scaling production drive the sourcing workflow and kick off the process to seek vendor options. Typically, cannabis operators will compare fewer than four vendors before deciding upon one that meets their criteria — lower price, faster shipping or even sustainability all factor into the sourcing process. Buying decisions typically disconnected from the finance team leads to confusion, unexpected expenses and an incredible amount of time spent. This typical sourcing process can take anywhere from 10-20 hours weekly even with just three vendors. In 2021, barely one in seven operators use a purchasing platform or adopt a commodity-based supplier strategy, with more than 85% of operators still reliant on single distribution channels and consumer e-commerce sites. It is time for operators to adopt better practices.
In the cannabis industry, there are two primary sourcing processes. One is for regulated cannabis, such as the biomass, concentrate and extracted oils to use for finished goods, and the other is for non-regulated materials such as ingredients, packaging and components. Sourcing for regulated cannabis is riddled with challenges.
First, regulated cannabis cannot cross state lines, so the state market conditions an operator works in dictate supply, quality, price and the sourcing process. These vary wildly. In Florida, operators are required to grow and produce everything they sell. In California, operators are required to use a distributor or own a distribution license to move product between licenses. When a new state opens cannabis sales, there typically is a constraint on supply, followed by a glut. These challenges complicate multi-state operator ambitions to produce a consistent product across multiple markets. Beyond state market conditions, other challenges with sourcing regulated cannabis include a lack of data consistency, poor real-time inventory visibility, inconsistent quality and significant price volatility. Each of these are simply the result of a new, emerging market.
To add just a bit more complexity to an industry that sits squarely in the consumer products goods world, cannabis is anchored to an agricultural commodity. Therefore, operators need to take factors such as the grow cycle, seed or vegetative stock and genetics into account as well as prepare for the worst – a lost or poor harvest. Inadequate planning up to six months prior to needing biomass can cost millions, and many companies have gone bankrupt as a result. Many companies in the industry manage the cultivation and production of the raw ingredients all the way through end retail sales. Technology and maturing standard operating procedures are driving improvements as the markets take hold.
Sourcing of non-regulated supplies entails many of the same pitfalls as procuring cannabis materials. Operators are forced to deal with unreliable, non-compliant or cost-ineffective suppliers. Because each state operates according to individual guidelines, multi-state operators are generally distributed with siloed teams. A healthy mergers and acquisitions market exacerbates this, as many of the largest companies grew inorganically over the last few years. This state-by-state model often leads to accounting teams being responsible for policing department spend and reconciling invoices. With limited visibility across the organization, this leads to duplicate or mistaken purchases, erroneous purchasing and the inability to forecast.
Furthermore, many operators still rely on single-source distributors, which creates a hoarding mentality. Take for example, pre-roll cones, which are hand rolled in Indonesia and only distributed through certain companies. When inventory begins to decrease, operators panic about not being able to bring their product to market and buy up millions of cones with little to no insight or forecasting on how to move through that product. Then they must weigh bloated inventory carrying costs with the risk of losing valuable shelf space, and without technology solutions with historical data, they see no better option.
However, there are steps cannabis operators are taking to mitigate risk and successfully navigate sourcing. Implementing an inventory management system is core to supporting intelligent sourcing decisions. Real-time, perpetual inventory combined with a defined item master, including item re-order points, captures critical data to drive procurement process, such as days of inventory on hand, sell-through rate and cost over time. These systems are the status quo in mature organizations, but for an emerging market such as cannabis, operators often launch with only spreadsheets in place.
Integrating a strategic procurement technology is critical to provide operators a holistic and transparent view into their organizational spend. Leveraging this kind of technology ensures better purchasing decisions, provides stronger purchasing power and enforces best standard operating purchasing procedures. By integrating a solution that easily communicates with your inventory tracking system, operators maintain business continuity and competitive pricing while solving many of the risks caused by supply chain disruptions. According to the Labor Department, costs of goods have grown nationally around 6% often due to supply chain disruptions. By leveraging a strategic sourcing technology, companies can save up to 20% on individual purchases and 10% on overall company spend. By defining a centralized vendor network, documented and maintained by technology, companies can save up to 96% of their time spent comparing prices, shipping decisions and product value across dozens of suppliers. By monitoring every company purchase with automated rules and restrictions in the ordering process, companies reduce excess costs and risks that come with human oversight.
Cannabis companies must learn from this and move away from single-source supplier methods by creating redundancy with a network of 7-8 reliable vendors. Using this network, combined with both an inventory tracking system and an integrated purchasing solution, cannabis operators can build a firm sourcing strategy dictated by data and forecasts. Data that these technologies provide will help cannabis companies cut excess spending and pivot in times of adversity, all while scaling with an overall leaner spending model. Leveraging these technology solutions ultimately allow companies more control over sourcing and supply chain risks. Growing 20%-plus year over year, with a $90-plus billion estimated domestic market opportunity, the cannabis industry provides a once-in-a-generation opportunity for seasoned professionals and aspiring procurement leaders to define how to source and manage purchasing going forward.