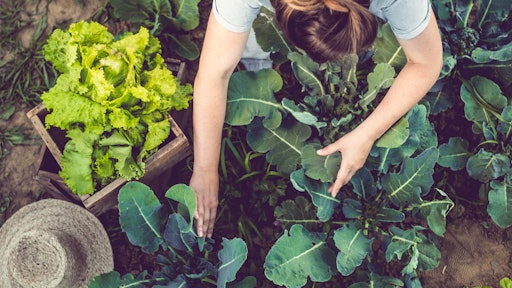 Getty Images
I think I have said it roughly 100 times on this publication, people want to know where their food is coming from. It's how you build brand loyalty with new consumers, avoid negative media attention and get held accountable for your sustainability practices.
But it's now so much more than that. Supply chain visibility can help determine any risks, potentially saving human lives.
In 2018, romaine lettuce was pulled off the shelves because of a massive e. coli outbreak – not once, but twice. The outbreak spread across 36 states, with 96 people being hospitalized and five people dying, according to information by the CDC. It was a tragedy, really. No one could directly pinpoint where the outbreak first originated or what had caused it. The only response was to get it off the shelves immediately, creating substantial food waste.
In the three years since the outbreak, the FDA has been diligently working to make food supply chains more traceable, narrowing down the sources of outbreaks and provide more precise information on what consumers shouldn't be eating - but that task shouldn't solely fall on them. However, over half of companies lack a clear picture when it comes to their own supply chain, according to a report by ASCM.
Just over half of the companies reported that they rely on their own internal data in order to maintain end-to-end visibility, while 37% of respondents said that their visibility was hampered by either internal siloes or was not data-driven at all. Because of this, it limits companies' abilities to detect emerging threats or disruptions. Visibility has the power to enhance data from across the supply chain to unlock higher levels of capabilities and innovations.
"We have more information at our fingertips in real time than ever before—geospatial data, product data, asset data—throughout the system and in all networks. It is possible to know where your coffee beans were grown, where the milk truck is, who picked the order at the distribution center and when the driver will arrive at the store. With greater visibility into consumer purchasing as well, there are more feedback loops possible, which allows for better planning through the sales and operations process," says Marjorie DePuy, senior director, supply chain and sustainability at the FMI-The Food Industry Association in a whitepaper hosted by Food Logistics.
The paper, "How Modern Supply Chain Risks Necessitate Supply Chain Visibility," explains how supply chain visibility can help manage risks like the Coronavirus disease (COVID-19) or food outbreaks. The report finds that as companies expand their networks to become more intricate, visibility can help standardize operations across the entire chain, limiting any potential disruptions.
"We've gotten a lot better at managing risk in the past decade. We are not as proactive yet, but we're less reactive," says Tom Derry, CEO of the Institute for Supply Management (ISM). "Where weeks or months might have gone by in the past before we knew something was going on with a supplier, we now often know in real time that there's an issue with a supplier that might be a classic disruption event. It might be a raw material shortage, but it could also be, for instance, the financial health of that supplier."
As we make more advancements in society, visibility is only going to become increasingly more important. It is crucial that companies prioritize track-and-trace technologies because if they wait, they may fall on the wayside.