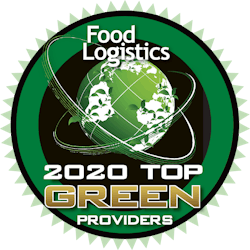 The Coronavirus disease (COVID-19) pandemic has shined a light on some of the biggest challenges that supply chains have been facing. In this period, where everything is changing and the industry is determining what the "New Normal" is, one thing has remained unchanged—the need to be sustainable and transparent within supply chains.
It's going to be a long road to recovery from COVID-19, though.
The industry can't rely on short-term fixes for something that is going to be a long-term problem.
Sustainability practices—including environmental, economical and ethical—allow companies the opportunity to better prepare for supply chain disruptions in the future.
"Sustainability is critical. Our hope is that senior executives take the long run view and build sustainability within their organizations and for the people that we impact," Abe Eshkenazi, CEO of The Association for Supply Chain Management said during a Facebook Livestream with Food Logistics editors. "Supply chains have an impact on our economy, and they have an impact on people. We need to take a long review on sustainability. From an economic perspective, organizations need to be viable. But, from an environmental perspective as well as an ethical perspective, there is a host of opportunities for supply chains to do good, but there are also a lot of opportunities for us to be a responsible and an accountable industry."
One way to be accountable is to be transparent.
Prior to the pandemic, transparency within the food and beverage supply chain was becoming more and more important.
According to a study by Label Insight, 94% of consumers are more likely to be loyal to a brand that offers complete transparency, while 39% say they are willing to switch to a brand that is more transparent.
In addition, a survey from ROI found that 78% of consumers trust transparent brands more than those that don't offer visibility into their supply chains.
Meanwhile, 86% of Millennial moms are more likely to pay more for a product that offers complete transparency.
An FMCG Gurus' COVID-19 survey also reveals Gen Z and Millennial consumers are more likely to buy from a company that shares the same values as them.
Supply chains took note by making short-term fixes for a long-term problem. Companies continue to step up their game to have a good global conscience and reduce their global carbon footprint.
For example, since the pandemic, companies have begun implementing warehouse automation at an accelerated pace to maintain social distancing guidelines, but also get shipments out faster.
But, sustainability is still top of mind.
Oftentimes these machines are electric or battery powered, so there isn't a need for gas emissions.
"I think this is really an area where collaborations can be beneficial—bringing in sustainable and climate change officers into the c-suite and having them apply strategic decisions to the supply chain. There are trained professionals; get them engaged in the conversations in how to address these challenges," Eshkenazi says.
Welcome to Food Logistics' annual Top Green Providers award, which recognizes third-party logistics providers, transportation providers, cold storage providers, technology companies and more, all paving the way to become sustainable leaders in the global food and beverage supply chain.
This year, we revised the overall layout of the award with a new directory that better highlights what sustainable services each winner offers.
Also, be sure to check out the digital edition for our new interactive map.
While companies find their way to the "New Normal," the COVID-19 pandemic spotlights the need for sustainability. And, regardless of how much the industry changes, there's still a need to be sustainable and transparent within the supply chain.
This year's list consists of 3PLs, transportation providers, cold storage providers, technology companies and more, all paving the way to become sustainable leaders in the global food and beverage supply chain as we travel down the road to recovery. Here are a selected standouts.
Please click here to view the list of additional winners.
FACILITY DESIGN; REFRIGERATION; SOFTWARE & TECHNOLOGY; 3PL; TRANSPORTATION PROVIDER; TRANSPORTATION EQUIPMENT
alliance.com 
Alliance Shippers Inc. is committed to reducing negative impacts on the environment. Its CARB-compliant refrigerated trailer and container fleet is one notable example of these efforts. Wireless remote control enables temperature adjustment and the ability to turn refrigeration units on/off while in transit. Solar panels on the trailers and containers reduce dependency on fuel to charge the refrigeration unit's battery. The effects are lower fuel consumption and reduced emissions. Beyond that, utilization of railroad intermodal services for the line-haul segments lesson the carbon footprint compared to traditional highway movement. Alliance Shippers began participating in the SmartWay Transport Partner program in 2005, was first certified in 2006, and has consistently maintained this credential since. In 2017 and 2019, the company received EPA's Excellence Award as an industry leader in freight supply chain environmental performance and energy efficiency. 
Coldtainer 
ALTERNATIVE FUELS, ENERGY; REFRIGERATION; TRANSPORTATION PROVIDER
coldtainerusa.com 
Coldtainer is the revolutionary new way to transport and store temperature-controlled products. Easy-to-use, highly-reliable and cost effective, Coldtainer units are perfect for everything from food to pharma delivery. Every Coldtainer unit is the result of an extensive design process using the latest technologies, bio-safe materials and advanced manufacturing methods. This results in Coldtainer units being energy efficient and eco-friendly, delivering unparalleled performance with low energy consumption and cost of operation. This was validated in an independent university study that resulted in a 43% cost of ownership savings and a 40% CO2 reduction vs. current industry methods.  All you have to do is plug it in. Recently brought to the United States by a group of refrigerated transportation experts with decades of industry and dealership experience, Coldtainer is now poised to transform the U.S. temperature-controlled delivery market.
SOFTWARE & TECHNOLOGY
controlant.com 
Controlant's Cold Chain as a Service solution provides proactive farm-to-fork supply chain visibility. The company is proactive about food quality, safety and waste prevention, driving sustainability initiatives for its customers. The company's IoT data loggers track a product's location and environmental conditions in real-time as it moves throughout the supply chain. Data is automatically sent to a secure, cloud-enabled software platform, allowing food enterprises and their logistics providers to manage and monitor every shipment. Dashboard analytics provide business-critical information regarding the supply chain, suppliers and partners and points of interest to mitigate risks, drive continuous improvement and improve shelf life. The company's 24/7 monitoring and response services provide proactive alert handling to facilitate corrective action and avoid product waste and increase margins. 
East Coast Warehouse 
ALTERNATIVE FUELS & ENERGY; FACILITY DESIGN; LIGHTING; RECLAMATION & RECYCLING PROGRAM; 3PL
eastcoastwarehouse.com 
Sustainability is an important aspect of business at East Coast Warehouse. That's why the company continues to focus on ways to reduce its environmental footprint. Its comprehensive sustainability program includes the operation of a newly expanded solar-powered warehouse that includes 4,950 high-efficiency solar modules and top-of-the-line inverters, which are expected to have a first-year targeted output of 2,009,247 kWH of clean, renewable energy. In addition to solar panels, the company implemented a comprehensive recycling program, advanced motion sensing technology to help further decrease energy usage and is working toward a paperless environment through radio frequency and electronic data interchange technologies. 
Jarrett 
RECLAMATION & RECYCLING PROGRAM; 3PL; TRANSPORTATION PROVIDER; TRANSPORTATION EQUIPMENT
gojarrett.com 
Since 2016, Jarrett's Paperless Initiative has taken the company from 21% of invoices being paperless to over 93%. This initiative is integrated into the carrier onboarding process. This empowers Jarrett to identify accurate billing information faster for clients. Jarrett's warehousing space in Ohio is operated by motion-censored lights. This saves energy by only lighting up in the section of the warehouse being utilized. At Jarrett's maintenance and service center—Jarrett Fleet Services—aluminum and steel are scraped and recycled. A 70-foot-long sandblasting bay sustainably reclaims and re-uses metal shot to blast off paint and rust, with 80% of the metal shot being used thousands of times.
FACILITY DESIGN; LIGHTING; RECLAMATION & RECYCLING PROGRAM; REFRIGERATION; 3PL; TRANSPORTATION PROVIDER
libertycold.com
Liberty Cold is a 3PL provider that utilizes a WMS system that reduces and minimizes paperwork. Because the facility is centrally-located in Bolingbrook, Ill., and distributes locally throughout the Midwest, Liberty Cold's carbon footprint is lower than some of its distributor competitors. Liberty Cold is in the process of becoming a SmartWay Partner, which requires the company to measure, benchmark, track and document efforts to increase efficiency and reduce fuel consumption. With all of this, Liberty Cold willingly shares knowledge, information and processes with the rest of the industry, so others can take part and see successes in their own sustainability journey.
3PL
phxlogistics.com 
Phoenix Logistics is uniquely positioned to help with all supply chain needs, including warehousing, distribution and transportation. As an affiliate of real estate firm Phoenix Investors of Milwaukee, Wis., Phoenix Logistics has access to a portfolio of over 30 million square feet of warehouse and industrial property across 23 states. Phoenix Logistics coupled an aggressive investment in WMS and related technologies with competitively priced space offered by Phoenix Investors to provide unique value to its client's supply chain needs. 
ALTERNATIVE FUELS & ENERGY; MATERIAL HANDLING SYSTEMS, LIFT TRUCKS & RELATED EQUIMENT; SOFTWARE & TECHNOLOGY
raymondcorp.com
The Raymond Corporation, a Toyota Industries company, is a leading global provider of best-in-class material handling products and intelligent intralogistics solutions. Built on principles of innovation and continuous improvement, Raymond's integrated automation, telematics, virtual reality and advanced energy solutions provide ways to optimize operations and bring warehouse and distribution operations to a new level of performance. Raymond electric forklift trucks are engineered to achieve increased productivity and efficiency, and are designed to provide ecological and economic benefits. In partnership with Toyota Advanced Logistics Solutions, Raymond delivers solutions to material handling and logistics markets in North America and globally.
3PL
rlslogistics.com
RLS Logistics routinely identifies opportunities to optimize energy-consuming equipment and systems to reduce its energy footprint long-term. Its renewable efforts are energy management programs, solar, LED and CO2 refrigeration. The company's several green initiatives support the environment and save clients money. 
3PL
romarklogistics.com 
As a pioneer in supply chain, Romark Logistics prides itself as a leader in the establishment of warehousing sustainability. The company considers "green" to be a core commitment that benefits employees, customers and the communities it serves, while striving to exceed the expectations of the food and beverage industry. Romark is committed to continually decreasing its carbon footprint in all aspects of business, and is looking to utilize cutting-edge technologies to achieve this goal. The company currently operates in the high 90 percentile for landfill-free/landfill-avoidance, aiming to have all locations as landfill- and carbon-free facilities.