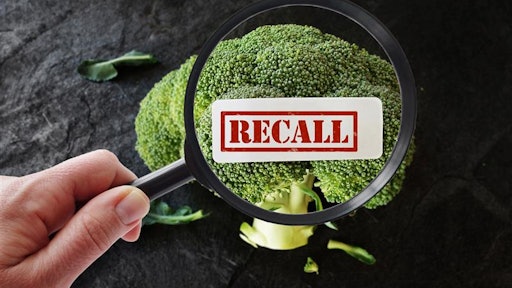 stock.adobe.com
I watched a particularly chilling episode of Law & Order: Special Victims Unit the other day where most of the setting took place at a meat packing warehouse. The episode details the uncleanliness of the facility and has scenes that feature cross contaminations of meat, food fraud and more. It was disturbing on so many other levels that I forgot that the main plotline was about a murder. What I took away from it, though, was how important food safety is and why it should be at the top of logistics professionals minds.
Eleven years after that episode's premier date, food safety is more important than ever.
Prior to the Coronavirus disease (COVID-19) pandemic, companies have started to make their food supply chains more visible in order to gain more consumer trust. Gen Z and millennial shoppers are more likely to buy from a company that shares the same values as them as well. According to Natural Products Insider, 94% of consumers are more likely to be loyal to a brand that offers complete transparency, while 39% say they are willing to switch to a brand that is more transparent.
Historically, the global food supply chain has had difficulty with its transparency efforts. Food and beverage companies will need to begin setting standards when it comes to their visibility efforts, so it doesn't attract negative consumer and media attention.
"The younger crowd [millennials and Gen Z] are very social media savvy and are taking pictures of everything. Whether they are consuming the product or posing with it, it's a big part of that culture," says Jesse Cugliotta, director of industry solutions, Qlik.
Still, transparency is essentially a trust exercise - and if you don't have visibility within your supply chain you are receiving a lack of faith from the consumer.
Meanwhile, the COVID-19 pandemic has made a significant impact when it comes to food safety testing. The report, "COVID-19 Impact on Food Safety Testing Market by Testing Technologies, Targets Tested, and Geography - Global Forecast up to 2026," finds that the food safety testing marketing is expected to grow 16.6% CAGR by 2026. Still, testing regulations have increased the need of adopting different types of technologies within the industry. Newer technologies have the ability to test for viruses on food and augment the company's supply chain functions and operations.
Emerging technologies could greatly benefit both food safety and visibility within the food supply chain by reducing human errors, allowing companies to meet transparency expectations from higher ups and consumers.
Blockchain, for example, makes it possible to track the food supply chain from farm to fork, while delivering the data that is needed to allow companies to look for process inefficiencies, equipment inefficiencies or other incidents along the way. IoT and mobile technologies can potentially eliminate the possibility of errors by automating tasks that were once manual.
Even the North America has the largest share in the food safety testing market because of strict rules and regulations to minimize foodborne diseases, it doesn't completely eliminate the risks. There are always going to be food safety concerns and big stories are going to make it to the mainstream media. Food logistics professionals are on a mission to ensure the safety of their products, but I wouldn't be upset if they rolled out these practices faster. That way when this episode of SVU airs again we can all watch and pay attention to the storyline, rather than its warehouse setting.