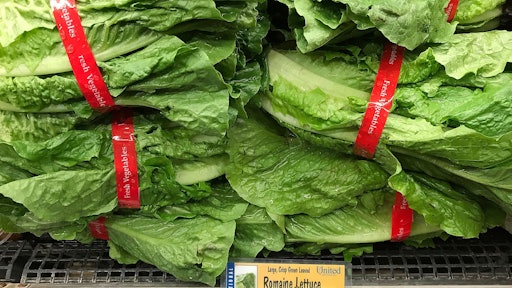 Yet another recall has been issued for romaine lettuce.
The leafy green has been linked to a strain of E. coli that has sickened 32 people across 11 states, with 13 being hospitalized. One patient is reportedly suffering from a form of kidney failure. No deaths have been reported at the time of this publication.
The CDC sent out a recall notice urging consumers to throw away any romaine lettuce they may have already purchased. The noticed continued to say that restaurants should not serve romaine, stores should not sell it and people should not buy it regardless of where and when it was grown. The agency said that it doesn't matter if the lettuce is chopped, whole head or part of a mix -- it should not be consumed. While the CDC is not claiming that all romaine contains the E. coli strain, invesitgators are unsure of where, when or how the contamination happened.
"The list of recent recalls proves that the Food Safety Modernization Act (FSMA) isn't working. Even though it's been a legal requirement since 2011, a lack of enforcement has allowed many to ignore the modernization mandate. In fact, 90 percent of the food industry is still operating on excel, paper and email. Information is so siloed and feedback loops so slow that risks are caught way too late - once dangerous products have already reached consumers," Mike Koeris Chief Innovation Officer of Corvium says.
This is just the latest recall of romaine lettuce. Earlier this year, tainted irrigation water in Yuma, Arizona led to the largest E. coli outbreak in recent history. Over 200 people were sickened and five people died.
As lettuce season began in October for the region, Arizona growers updated safety metrics to protect the product. As previously reported by Food Logistics, growers agreed to more requirements on cleaning/sanitizing harvest equipment and have stronger traceability. Identification of all lot data will be required and collected by firms to ensure that a potential gap won't come from a grower in the community.
Additionally, romaine was recalled in June after it was linked to cyclospora illnesses after dozens of people fell ill after eating McDonald's salads and several salads from Caito Foods.
The latest recall comes just before the Thanksgiving holiday in the U.S., forcing the agency to look at how the recall may affect consumers' holiday dinners.
Scott Gottlieb, commissioner of the Food and Drug Administration, tells the Washington Post that it is unfortunate and frustrating that the recall has to be so broad and cover all romaine lettuce. The FDA is trying to improve traceback techniques to narrow down the sources of the outbreaks and provide more precise information about what consumers shouldn't be eating.
The Washington Post reports that California has the highest number of reported illnesses with 10, Michigan has seven, New Jersey with three, Illinois, Massachusetts, New Hampshire and New York each have two, and the remainder are in Connecticut, Maryland, Ohio and Wisconsin.
"The food industry is placing an unreasonable burden on consumers to ensure their food is safe to eat. Manufacturers need to take responsibility for the 48 million people getting sick and 3 thousand people who die each year from foodborne illnesses, according to the CDC," Koeris says. "These salmonella and listeria recalls are preventable. If companies make the right investments now to control processing environments and address contamination, they can avoid expensive recalls and most importantly prevent consumers from getting sick."