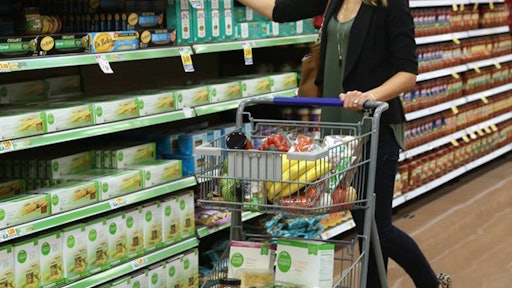 Kroger and Procter & Gamble are behaving more likely rivals lately, thanks to a shifting retail landscape and the rise of e-commerce platforms like Amazon Inc., according to WCPO TV in Cincinnati, Ohio.
Kroger expanded its Simple Truth brand to include household products this year.
Both companies say they enjoy a strong, collaborative relationship that isn't likely to suffer from increased competition. And $600 million in e-commerce sales would hardly put a dent in Kroger's annual revenue of $110 billion. However, P&G is growing e-commerce revenue at triple-digit rates in some of its largest global markets. Plus, many experts think private-label sales in the U.S., now at roughly 18 percent, will eventually climb to the 40 percent range now seen in Europe.
University of Chicago Marketing Professor Jean-Pierre Dube said the expansion of private-label brands is definitely a threat to consumer-product companies that fail to generate excitement for their brands with innovation and advertising.
Dube added that companies like P&G can dramatically improve profitability by locking in loyal consumers with automatic refills and subscription offers. He expects P&G and other consumer product companies to launch more direct-to-consumer services in the future.
To read more, click here.
Editor's Insight: The retail industry's expansion into private label brings a new wrinkle to the e-commerce revolution.
Once a company has established an e-commerce platform, they explore ways to leverage that tool as much as possible. Private label products are a natural expansion.
Retail observers believe the U.S. private label industry is poised to more than double. In Europe, where e-commerce is more established because of denser populations and more automation, private label commands a much higher percentage of total retail sales.
E-commerce not only creates an urgency among retailers to protect their market share from one another. It also challenges product manufacturers to protect their market share from their own retail partners who are expanding into private label.
Last year, Amazon introduced its private label food products, further strengthening its food retailing position. In response, food retailers and manufacturers alike have to respond to this challenge. 8-8-16 By Elliot Maras