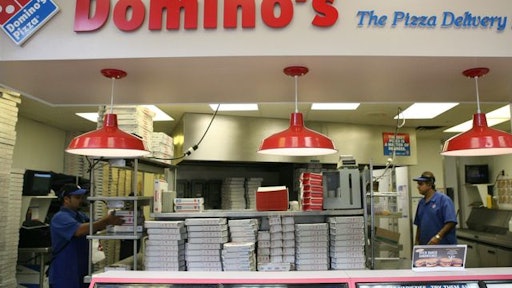 The U.S. House of Representatives voted 266-144 Friday to gut a proposed Food and Drug Administration rule requiring chain pizzerias, delis, and convenience stores to list the calorie content of their meals on menus or menu boards prominently displayed on the premises. Instead, takeout restaurants and grocers could choose to disclose calories only on their websites.
The White House opposes the Common Sense Nutrition Disclosure Act, saying it will leave Americans — who consume a third of their calories away from home — with less information to make healthy choices.
Rep. Fred Upton, R-Mich., speaking in favor of the bill by Reps. Cathy McMorris Rodgers, R-Wash., and Loretta Sanchez, D-Calif., said Michigan-based Domino's Pizza would have to list the calorie content of hundreds of different combinations of crusts and toppings on a menu board to comply with the FDA's rule. Domino's already has an online calorie counter for their customers, most of whom order on their computers or smart phones, Upton said.
Rep. Jan Schakowsky, D-Ill., said pizzerias would only have to list the calories of standards menu items, such as a slice of cheese or pepperoni pizza, and not every possible combination.
She said the bill would allow restaurants to define a "serving size" in misleading ways. For example, she said, a takeout restaurant could list the calories of just one chicken wing instead of an actual order of wings.
To read more, click here.
Editors Insight: This bill is intended to provide flexibility to supermarkets, convenience stores, delis and pizzarias in disclosing calorie information. It certainly makes sense to provide this flexibility to supermarkets, convenience stores and delis since food is not usually consumed on-location at these establishments. Food is consumed on location at pizzarias, but according to one of the bill's sponsors, pizzarias would still be required to list calories on main menu items.
The Food Marketing Institute, representing supermarkets, and the National Association of Convenience Stores both support the proposed bill since it gives supermarkets and convenience stores more flexibility in providing calorie information.
The food industry, through its main trade organizations, has supported calorie disclosure, recognizing the concern consumers have about calorie consumption.
Logistics service providers need to be aware of the labeling rules, especially if they provide package labeling.
Calorie disclosure rules are not the only labeling regulations the food industry has to meet. Fortunately, menu labeling software allows food companies to comply with government regulations, along with printing labels for other functions, such as shipping, receiving and inventory management. 2-15-16 By Elliot Maras