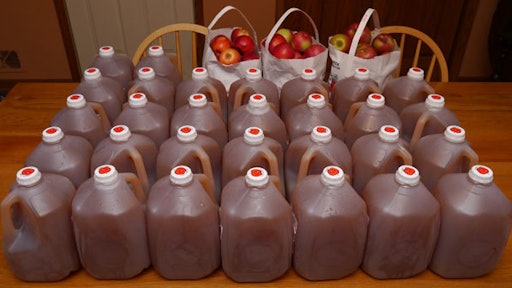 As of Friday, Nov. 6, 2015, there were 13 confirmed cases of E. coli O111 infection being linked to unpasteurized apple juice from High Hill Ranch near Placerville, Calif., according to Food Safety News. An investigation by state and county health and environmental officials is continuing into the source of the problem.
According to the Sacramento County Department of Health & Human Services, 11 of those sickened reside in Sacramento County, one lives in Yolo County, and one is from Contra Costa County. One person was hospitalized. They reportedly became ill in mid-October after buying the raw apple juice for home consumption or being served it at the ranch.
"The California Food and Drug Branch is looking into it, and basically we are also working with them, but in terms of the environmental sampling that was done, sampling of the juice, that was all done by the state," Greg Stanton, director of the El Dorado County Environmental Management Division, told Food Safety News. (Placerville is in El Dorado County.)
Ron Owens, a spokesman for the California Department of Public Health, said Friday that more information about the state's role in the outbreak investigation would be available next week.
On Oct. 23, High Hill Ranch recalled its own brand of unpasteurized apple juice sold after Oct. 6 and substituted a flash-pasteurized brand of apple juice. While an Oct. 11 sample of the ranch's unpasteurized apple juice tested positive for the E. coli bacteria, other tests of the product by the California Department of Public Health were negative.
To read more, click HERE.