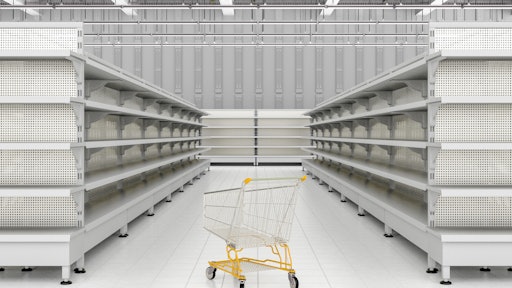 Getty Images
When following the path of how our food travels from farm to processor to ultimately the kitchen table, it's a wonderment that food recalls are not more frequent. But according to the U.S. Food and Drug Administration (FDA), the number of food/cosmetic recalls are declining (1,935 in 2018 compared to 3,609 in 2017 and 2,567 in 2016).
Liz Palmer, Ph.D., a quality and food safety manager for Morton Salt and PreScouter subject matter expert, says in the last decade we have seen an increase in the number of recalls because of the Food Safety Modernization Act (FSMA) and because of science. The FDA's new food safety oversight (which includes mandatory recall authority) under FSMA in conjunction with scientific advancements in risk-detection technologies has helped the FDA identify tainted food quickly. It has also made companies more aware of the repercussions of not identifying the risk first.
"Although FSMA is about prevention, its regulations may not substantially reduce recalls any time soon. Recalls will happen because mistakes happen. Ultimately, if a company acts swiftly with its supply chain and consumers in mind, a company can save the brand's reputation its top and bottom lines," explains Palmer.
"One key benefit of acknowledging and taking responsibility for a food safety failure early is that focus on consumer safety can generate positive buzz for a company and foster brand dedication," she adds.
A Compliance Ripple Effect
While technology accelerated innovation in food production practices, company recordkeeping was slow to keep pace. FSMA changed that disparity. Julie McGill, director, implementation and strategic account management for FoodLogiQ, says FSMA involves intensive supplier verification standards and documentation.
"It's a big shift for the smallest of the small and largest of the large to now document every step of the process and maintain those records," says McGill. "When FSMA rolled out, companies needed to decipher the larger picture of the regulations and determine how various rules applied to their company. It quickly became a top-down initiative where these regulations were not a nice to have but a must have."
One of the last seven FSMA rules is the Intentional Adulteration (or the IA) rule, says Palmer. It comes into effect in July 2019 for large facilities. However, the industry and FDA are still in the steepest part of the learning curve for many of the earlier rules.
The largest companies with the resources to tackle FSMA compliance can be thanked for a ripple effect in compliance seen in the industry, Palmer explains. Large companies or companies of highest risk are typically targeted first by the FDA inspectors and therefore must be prepared in advance of a compliance deadline.
"These food and beverage leaders drive compliance outwards in the supply chain. They drive upstream suppliers, third-party manufacturers, logistics, packaging and warehousing companies into compliance," says Palmer. "Those secondary companies then put pressure for compliance on all tertiary companies. Over time, the rest of the industry is brought into compliance as part of the interconnected web."
Palmer says in practicality, it may take many years for FSMA to touch all the companies that are registered under the FDA Bioterrorism Act. Until they are inspected, many companies won't know if they have implemented programs appropriately and this may not happen until after the deadlines of implementation.
"The mission of the FDA is to protect consumers and to walk hand-in-hand with the industry. However, a large percentage of the industry fears this won't be the case," she adds. "Despite this fear, the ripple effect emanating from the large companies driving compliance with their business partners means that FSMA has already begun improving food safety."
Communication Is Key
Improvement is occurring McGill agrees, and says the FDA and the entire industry are communicating more effectively. During the last year, several recalls involved upstream ingredients. Without communication among supply partners, it would have been difficult to control such complex recalls.
"A number of upstream ingredients exponentially impacted thousands of products. Consider an ingredient such as onions that are used in breakfast burritos, salads and soup mix," says McGill. "Suddenly a recall is not about a simple ingredient but rather all the finished product it was used for. You immediately need to know where your documentation resides, where the ingredient originated, and all the touchpoints prior to it appearing in your facility and processed into a finished good."
McGill adds that the baseline for being organized is understanding your internal capabilities, assembling your internal experts and teams, and ensuring you have the right staff on projects. Technology and organization of data complements those efforts.
Companies must also run recall simulations and audits regardless of whether they're fully or partially automated or completely manual. After investments in technology and extensive processes, do they produce the results and lead to the outcomes that mitigate or contain food recalls?
"What I'm hearing more from companies is simplification and standardization. Simplification to more easily manage processes that were previously cumbersome and standardization to convey information in a way that promotes partner collaboration and participation," says
McGill. "Companies aspire to achieve end-to-end traceability. This could involve using blockchain, leveraging new technologies to automate processes, and using standards to enumerate facilities across the supply chain so that all partners can exchange data seamlessly. In the end, the question is are you being more efficient and more effective in what you're doing?"
The primary way to mitigate against trends that result in recalls is simply doing business with suppliers you have verified, advises Palmer. Rigorous review built into a supply chain preventive control program helps mitigate against some of the top causes for recalls, such as undeclared allergens or the presence of pathogens.
"Categorizing ingredients and materials by risk and managing suppliers accordingly helps prioritize resources," she says. "This may elicit a need for an on-site audit. Or it may mean increased visibility to temperature control using sensors or product movement in the supply chain using blockchain. An additional recommendation for all companies that do not have sufficient food safety expertise, is to reach out for guidance to support a prepared food-safe culture.
"To be a successful company with longevity in the food space, investing in food safety ensures you have consumers who will invest in you," Palmer says.
Manual Practices Hinder Progress
A lot of time is spent discussing how technology can aid producers, retailers and food manufacturers in preventing food-related mistakes, but the fact remains that outdated, manual processes are still impeding the food industry from better recall prevention.
The introduction of the Food Safety Modernization Act (FSMA) forced many companies to address their food safety standards and compliance, but the regulation does not require any of that to be digitized. In fact, most companies are still documenting manually on paper, or at best, on Excel spreadsheets.
The results of these antiquated documentation processes are becoming clear, however, as today's 24/7 news cycle draws consumer attention to what seems like monthly food recalls. Beyond the cost of these recalls, the added brand damage has piqued the interest of large food manufacturers who are just now starting to come around to the idea of a digital transformation of their food safety practices.
"The food industry is waking up to digital transformation in the safety space. They've spent a lot of money on automation to transform production, but the amount of automation when it comes to safety has lagged behind, and that is definitely changing," says David Hatch, chief strategy and growth officer for Corvium.
"The more forward thinking companies and brands are starting to realize it's not just a compliance thing, but it's also a business driver. Through looking at the data and understanding what's happening with the behavior of bacteria, you can get ahead of [a potential recall], and that's kind of a whole new concept," he adds.
The Problem with Manual Processes
Software platforms such as Corvium's are helping large food manufacturers such as Sargento, Danone and Lindt manage food safety programs to not only reduce the stress of an audit but to get ahead of recalls and proactively conduct environmental monitoring on the production floor.
While the majority of the industry has yet to embrace analytic-based tools when it comes to food safety, the problem with manual safety practices is three-fold:
Data silos—Hatch explains that not only are manual processes cumbersome, but they create the purest form of a data silo.
"You're creating data that cannot be shared, cannot be networked, cannot be analyzed, and so it kind of operates in its own little microcosm," he notes.
     2. Human error—Mislabeling, illegible handwriting or a missed step in the process are just a few examples of how human error can cause a million dollar mistake.
     3. Lack of analysis—With paper documentation there is no ability to analyze trends and root cause to determine what is going on in your production lines.
"What you don't get to see over time is that a location or test point or production line has seen more than its fair share of problems, and maybe we have a machine or equipment failure that we need to address, or maybe the technician needs to be retrained. All these things you can get from analyzing data over time," Hatch explains.
Corvium looked at each of these factors and determined there must be a better way.
"If we can automate this process, we can reduce human error, we can collect all of the data that is being produced through all the testing and diagnostic results, and we can start to show companies a different value equation," Hatch explains.
Visibility into your entire enterprise in one dashboard or platform enables a continuous improvement cycle, which Hatch adds not only can we help them reduce the cost and the time and the effort to run their testing program, but can increase the efficacy of that program.
"We can start to show organizations that they might not have to do as many tear downs or clean in place operations that stop a production line if they are getting ahead of the detection and remediation of pathogens and allergens and other contaminants. Moreover, you're not just complying, you're not just checking the box and meeting the regulated criteria; you are actually improving your business and reducing your risk," he adds.
A large food manufacturer that works with some of the largest retailers and restaurants in the world implemented Corvium's platform after realizing they needed to make an investment that was not just about compliance and regulatory management but risk management.
"They understand how [a food related recall or issue] can harm their brand with their ecosystem of distribution and customers. They're looking at this technology as not just a checkbox, but they are actually measuring their performance as a business on their ability to always close out a corrective action in enough time so that they are handling the issue and not asking someone else to do it," explains Hatch.
For example, they are continuously working to ensure they have standard operating procedures that everybody understands across all 33 locations. Thus, if there is a safety concern, they can handle it properly and do things like draw a margin around a product. Because they know which product was produced on which production line and at what time, they can remove all product from an hour before and an hour after that timeframe before it even goes out their door.
"You never want to make a call to a distributor saying, "Hey, you know that truckload you just took, bring it back.' Worse yet, 'you know that product one your shelves, take it off,'" Hatch notes.
Limitations Still Exist
Many industries, such as banking and healthcare, have already adopted workflow and data analytics software. The food industry has finally started down that path as well, but its low margins have been a huge barrier.
"Food is not a highly profitable business to be in. It is the world' largest industry, but a budget for cutting edge technology is a new idea," says Hatch. But he does see that changing as industry leaders continue to educate on its importance.
"We have to be an agent of change. The market has to be educated into action, into a new way of thinking," he adds. "Understanding the value of a slicer is very easy: I get this many more sausages out the door if I can slice them faster. It's a very direct equation to value, and because there aren't a lot of PhD level technologists and data scientists working in food, helping executives understand the value of data is taking longer."
The sensitivity of food related data is another impediment. The idea of sharing pathogen data on the cloud is still alarming to some, even as cloud security has vastly improved over the last five years.
"It's a mindset challenge to help executives understand to reduce risk, you've got to get access to this data and to do that you've got to get modern technology," Hatch concludes.