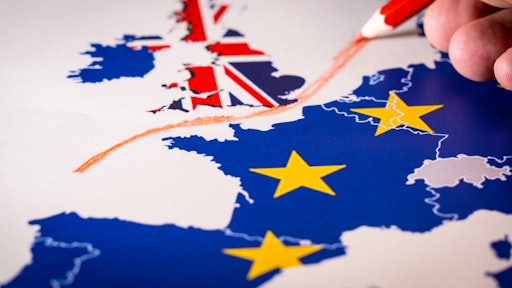 Getty Images
Reuters reports that Britain's National Farmers Union wrote to Prime Minister Boris Johnson, asking for import tariffs on eggs, some dairy products, horticultural products and grains in case of a No-Deal Brexit.
Typically, British agricultural exports to the EU face tariffs if no deal was reached, however, former Prime Minister Theresa May said that she would eliminate tariffs on many imports, including dairy and agriculture products, to avoid a "hard-border" with Ireland. The European Commission has agreed to compensate Irish farmers for a drop in beef and dairy prices in case a no-deal Brexit. The Irish export-led economy is considered the most vulnerable to the exit.
"There is no indication that such an arrangement will be reciprocated by the EU and there is nothing in practical terms to stop this trade becoming an open gateway for all EU goods entering the UK duty free," NFU president Minette Batters said in a statement.
According to Reuters, export tariffs on agricultural goods would lead to a surplus of domestic products, while lower or no tariffs on imports would put further pressure on domestic producer prices.
A no-deal Brexit would have implications for the UK's environment beyond farming, leading to added traffic and air pollution around ports, putting many farms and businesses at risk. Batters called on the government back in January to give farmers firm guidance on how Brexit would affect them and put in place plans to ensure the UK's food supply was secure throughout the process of leaving the EU.
"If we leave without a deal the sudden change in our trading relationship with the EU will have severe impacts on the UK food and farming sectors, not least due to the tariff treatment of both imports and exports," she said.
Officials are urging parliament to work together to avoid not making a deal. However, tensions are high as the industry is facing major repercussions from frictionless trade.
However, an October Brexit date will be more problematic for grocers.
Tesco built a stockpile of over 200 million pounds worth of long-life food products by the end of March to help mitigate any disruptions it may have faced with Brexit. When the move didn't happen, the grocer sold that stock through and doesn't have any additional.
"For us to be able to do what we did in March in October will be more difficult because we won't have the space in our logistics system to be able to cope because we'll be preparing for Christmas and the seasonal peaks that are there," Chief executive Dave Lewis told the annual shareholders' meeting at Tesco's headquarters in Welwyn, north of London.