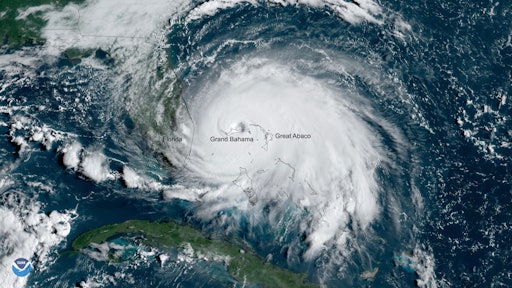 NOAA
U.S. ports are closing down in preparation for Hurricane Dorian, which is inching toward the northwest at roughly 1 mph.
According to the National Hurricane Center, the storm is "dangerously close to Florida east coast late Tuesday through Wednesday evening, very near the Georgia and South Carolina coasts Wednesday night and Thursday, and near or over the North Carolina coast late Thursday."
Most ports in the Southeastern U.S. will shut down by Wednesday because of Dorian, though it's still unclear where the storm will make landfall in the country.
Ports Currently Closed:
The Jacksonville Port Authority closed all terminals on Monday and will remain closed through Wednesday
The Ports of Miami and the Everglades closed Monday until further notice
The Georgia Ports of Savannah and New Brunswick will be closed Tuesday and Wednesday
Marine terminals at the Ports of Charleston and Georgetown South Carolina will be closed Wednesday and Thursday, but will reopen Friday
The Ports of Wilmington and Morehead City in North Carolina will close at noon on Wednesday and have halted refrigerated cargo export as of Tuesday.
Meanwhile, Norfolk Southern has begun staging repair equipment to quickly make repairs as necessary and CSX is warning customers to expect delays.
Officials are asking Florida citizens to heed warnings and instructions as Dorian has proven to be unpredictable.
Meanwhile, the Federal Motor Carrier Safety Administration expanded its Hours of Service regulations suspension to Alabama, Florida, Georgia, Kentucky, Louisiana, Missouri, North Carolina, South Carolina, Tennessee, Virginia, Puerto Rico and the U.S. Virgin Islands in order to keep fuel flowing and freight moving before the storm officially hits.