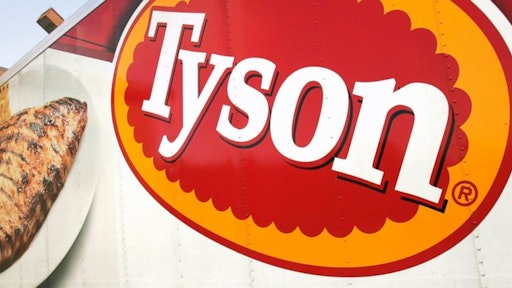 Meat giant Tyson Foods reported a decline in sales in the latest quarter as prices continue to fall because of tariffs.
MarketWatch reports that the company booked $9.99 billion in sales during the fourth quarter, down just 1.4 percent compared to a year ago. Tyson went on to say that average prices for its products dropped 4.1 percent during the quarter. Prices for pork dropped 15 percent, while chicken and beef prices, the company's biggest unity by sales, were down 7 and 0.6 percent respectively.
Meat processors have been struggling to keep up with robust meat supplies in the U.S. because of tariffs placed on some U.S.-produced meats. MarketWatch reports that importers like China and Mexico have also pushed prices lower.
Recently, Tyson announced that it was looking for international locations to acquire to gain profits and boost its presence overseas.
The company expects sales of $41 billion for fiscal 2019, with much of its revenue growth expected to come from chicken and other prepared foods unit.