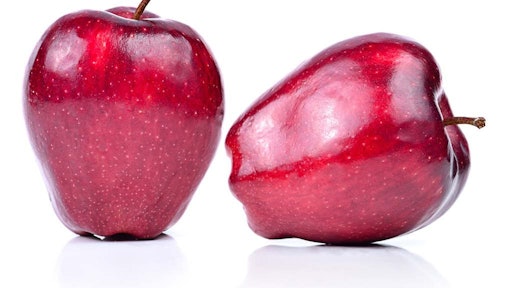 Last year, Washington state sent 8 million 40-pound boxes of apples to India rather than China amid a trade dispute with the United States. However, this year is drastically different as tariffs have already been implemented on the fruit by China and Mexico—and now too are planned by India.
While the industry's crop is smaller compared to previous years — something growers are taking comfort in as there will be fewer apples that need places to go — the Yakima Herald reports the industry will still feel the effects from tariffs. Total tariffs in China and Mexico are now 50 percent and 20 percent, respectively, Yakima Herald reports.
Major export activity is still weeks away, but there are signs of slowing activity. Yakima Herald reports that the price paid upon arrival to receive a shipment of apples is lower compared to this time last year, indicating that importers are feeling cautious of the tariffs.
Shipments of apples to China could drop as much as 80 percent compared to last year, Yakima Herald reports.The high-tariff and anti-U.S. sentiment are preventing some consumers from purchasing the product. However, apples from Washington state are held in high regard to Chinese consumers, so some importers may still pay the price for them.
If shipments to Mexico, India and China were to slow, apple producers will have to look toward other markets to fill the void. The fruit could remain in the domestic market, but better returns are not guaranteed.
Meanwhile, shipments of apples are still in the early stages, Yakima Herald reports. Importers are optimistic that elimination of tariffs will help shipments, and little loss will be felt on the industry.