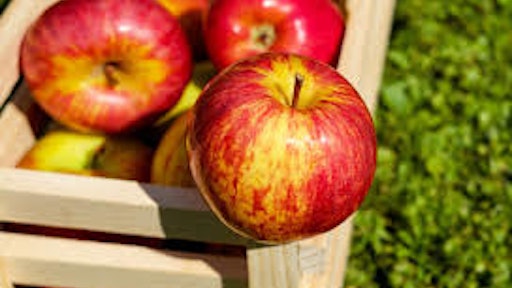 Retaliatory tariffs from Mexico, China and India are threatening the apple industry, CNBC reports.
With orchards harvesting more and more apples each year due to a growing demand from overseas buyers, growers are bracing themselves for the tariffs and the potential drop in apple prices.
"If market pricing falls below a certain point we just can't make a profit. Margins are already pretty thin to begin with, razon thin in some situations, and if that pricing falls a little bit we could be looking [at] an unprofitable situation, and if we look at an unprofitable situation, we stop investing, we stop buying equipment, and we'll suffer," manage of Crist Brothers Apply Orchards Inc. Joel Crist tells CNBC.
If fewer apples are sold to foreign buyers, domestic competition will intensely increase and orchards risk going out of business.
New York, one of the biggest apple producers in the country, currently houses nearly 700 apple orchards with 55,000 acres across the state, according to CNBC.
Charlie Hurd, owner of M.G. Hurd & Sons in New York, doesn't export overseas but is still expecting to feel the effects of the trade dispute because of how hard it is to figure out what demand will be like in the future. Apple trees are planted eight years prior to going into full production. Apple growing can't be a last minute decision where you quickly pivot and rip the plant out of the ground.
According to CNBC, the US exported $890 million of apples from August 2017 to May 2018. Government data sees India as one of the fastest growing international markets for apples, growing 94 percent year-over-year.
While bringing in revenue, the apple industry is also a crucial source of jobs. The industry is dependent on exports, moving one out of three apples creates over 70,000 jobs, CNBC reports.
Apple picking season is set to start in a few weeks, and farmers are under pressure to sell as many apples as possible to offset any decline in demand from foreign markets.