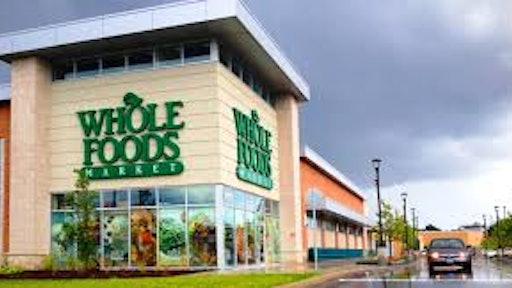 One year after Amazon's acquisition of Whole Foods shook the grocery industry, the deal on retail's future is just starting to take shape.
The e-commerce giant, known for delivering packages in two-days or less, is shaking the grocery industry by amping up Whole Foods online presence. In certain locations, Amazon Prime members can have their groceries delivered to their door steps in less than two hours. Traditional grocers like Walmart and Kroger have been racing to increase their online presence and have shoppers pick their stores for online purchases. Walmart and Target have started rolling out grocery delivery services, while Kroger is investing in technology in its stores.
According to Tesley data, Amazon's share of total US retail sales in 2017 was 5.6 percent. With Whole Foods, by 2020 the company will account for 10 percent of all retail sales in the country.
Even though the deal didn't close until August 28, effects where felt across the industry, particularly on Whole Foods customers, Bisnow reports.
On the first day of owning the grocer, Amazon slashed prices on dozens of popular items. The price cuts send stocks of competing grocers stumbling. According to Bisnow, Kroger, Walmart, Target, Costco, Supervalu and Sprouts Farmers Markets combined losses took out $11.6 billion in market value, causing worry among the traditional grocery industry.
On the other hand, Bisnow reports that Amazon's stock has grew from $964 per share to $1,689 per share since acquiring Whole Foods.
Amazon cut prices at Whole Foods again during the holiday season, with discounts even greater for Amazon Prime members, Bisnow reports. Recently, the company announced that Prime members will receive more benefits for shopping at Whole Foods, including 10 percent discounts on a variety of marked items.
Traditional grocers are facing logistical challenges by trying to compete with Amazon. Providing the right cold storage and timely delivery can be costly to build. With the current driver shortage, prices on goods are continuing to rise based on freight costs. While delivering in a short window of time may seem like a good idea for grocers, some just can't compete financially.
According to Nielsen's Food Marketing Institute, the internet is expected to capture 20 percent of the grocery market by 2020, creating a game changer across the industry. Just last year, Amazon brought in $2 billion in food and beverage sales, according to One Click Retail's 2017 report.
Luckily for some grocers like Walmart and Kroger, they have a larger footprint than Amazon. According to Bisnow, Walmart has over 5,000 stores nationwide and Kroger has over 2,500 supermarkets, while Whole Foods only has 363 stores in the country. However, this just gives Amazon a leg up on the "click and collect" method. Customers select their order online and is ready for quick pickup when they arrive at the store, rather than having to walk through the aisles and wait at the register. So far the company has not initiate click and collect services.
The future of grocery buying could be click and collect because it is much easier in rural and suburban areas. Although, delivery is most likely to dominate in denser urban areas where fewer people have cars.