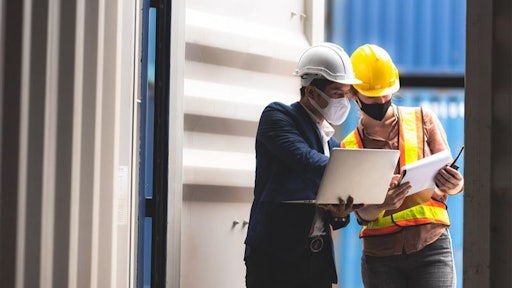 chokniti
On Feb. 24, President Joe Biden signed an executive order, enforcing a 100-day review on all U.S. supply chains. This includes identifying risks for certain materials, software and pharmaceuticals. This includes reviewing transportation, production of agriculture commodities and food products. This includes assessing current domestic manufacturing workforce skills, climate change and critical goods. It also includes caring for the resilience and capacity of U.S. manufacturing supply chains.
In this 5-part series, industry experts detail the current risk areas in today's U.S. supply chains, what should be done to address these issues, how this 100-day review will help U.S. imports/exports, address the downfalls of this 100-day review and what all of this means for the future of U.S. supply chains. CLICK HERE to read Part 1.
Addressing pitfalls to a deep-dive supply chain evaluation
At first glance, anytime an executive order of any kind is brought to the table, one would think that only good can come from such efforts. A supply chain review can help companies re-tool, re-assess and revamp internal and external processes, make way for additional investments in areas needed the most and educate executives on how to do business better.
However, a review of this magnitude could also potentially uncover the gaps in our nation's supply chains, putting those companies on display. Let's not forget the Suez Canal situation earlier this year, or even more recently, the Colonial Pipeline ransomware attack. And, let's be honest, there will always be supply chain disruptions.
This deep-dive supply chain evaluation could reveal the skeletons in the closet, so to speak, with regards to how companies operate, why they operate that way and how holes can be filled going forward. CLICK HERE to read Part 2.
But, just like in the name – 100-Day Supply Chain Review – an evaluation of today's supply chains could uncover some fairly unfortunate issues.
For starters, while the 100-Day Supply Chain Review is a positive step toward more secure supply chains for the United States, "many manufactures and their suppliers do not have full visibility into their up and down streams, which will make it increasingly difficult for the President and his team to determine areas for improvement and overall vulnerabilities," says Frank Kenney, director of sales enablement at Cleo. "Due to that, some companies/industries may not be able to adhere to this strict 100-day review requirement within the allotted amount of time. This will be a massive wakeup call for supply chain organizations to invest in technology and move from old, legacy approaches to more modern solutions, such as ecosystem integration."
There could also challenges in adjusting to new policies or standards that stem directly from this review, says Jim Bureau, CEO of JAGGAER.
"For many organizations, however, 100 days is an unrealistic amount of time to complete a full, in-depth supply chain analysis. Be prepared for a longer evaluation period, especially given this an evolving situation. Companies may also need to restructure their supply chains and supplier networks in a significant way to address the weaknesses that come to light," he adds. "While these actions may cause some work up front, they'll create more resiliency in the long-term."
What's more is, some companies will be challenged with gaining a full understanding of the supply chain risks and why this deep dive – beyond the third, fourth and fifth parties -- is necessary.
"In 100 days, it might not be possible to go beyond the main suppliers to get the understanding of the risks in the extended supply chain," says Atul Vashistha, founder and chairman, Supply Wisdom. "There are data science and automation applications in supply chain intelligence, like Supply Wisdom, that can make the review faster and more comprehensive."
Another negative could be inaction. What if companies do nothing in response to the review and remain status quo?
"I highly doubt that will be the case," says Bindiya Vakil, co-founder and CEO of Resilinc and overall winner of Supply & Demand Chain Executive's Women in Supply Chain award. "The executive branch's review of these industries will start with an understanding of what the supply chains look like and the location of the suppliers. After the locations of suppliers are well understood, then companies and the government will have to work to understand what the risks are to that particular region, whether it's political or natural disasters. This review is the first right step to achieving a better understanding of what supply chains look like and who the key players are."
And, while a supply chain review is absolutely needed for critical, vulnerable products in the United States, what happens when the 100-day review expires?
"I am concerned that the 100-day review of governmental agencies could be the end of the initiative," according to Julie Swann, an Allision distinguished professor and department head of Industrial and Systems Engineering at NC State University. "We need to go much further in understanding our supply chains and mitigating potential risks. Much in our society depends on supply chains, and we have so far seen only the tip of the iceberg of what can happen when there are disruptions. A worldwide cyber-terrorist event could result in much more impact on our everyday functioning based on supplying critical products," she says.
"If all we do is a 100-day review, we won't see many benefits," adds Hank Canitz, VP of industry solutions, Nulogy. "There needs to be a sustained effort to address the U.S.'s supply chain issues – it can't be a one and done activity. There has been much discussion around bringing more production on-shore or near-shore to reduce supply chain risk and the time it takes to replenish products. However, this can also increase overall product cost. Passing higher prices on to the consumer might be difficult in today's globally competitive marketplace. The government needs to communicate the importance of making critical products closer to home to help offset consumer frustration with price increases."
Why the review is necessary
Despite the shortcomings from a 100-day review, many industry experts are embracing the challenge and only see good coming from such efforts.
"Overall, the 100-Day Supply Chain Review is a positive step toward more secure supply chains for the U.S. It's better that the government is proactively implementing a strategy to identify and fix weaknesses in the supply chain, rather than waiting for the next crisis to occur and again suffering through a severe economic downturn," Kenney says. "If the supply chain risks were to become dire, the Biden administration could potentially use the Defense Production Act to force companies to produce certain goods domestically. In addition, the President could work with Congress to create incentives and worker-training programs to get suppliers to relocate to the U.S., and to attract more, younger drivers into the vital transportation and logistics industry."
Plus, this review will give manufacturers "the space to create a real-time and harmonized view of inventory levels, so they're better positioned to balance inventory across the complex, multi-source supply chain and ramp production up and down with supply and demand changes," says Richard Lebovitz, founder and CEO of LeanDNA, and recipient of Supply & Demand Chain Executive's 2021 Pros to Know award. "The review is designed to identify points of vulnerability within critical global supply chains and ensure backup supply and plans are in place to avoid shortages. This will lay the groundwork for manufacturers across all industries to accelerate strategies and tactics that better balance real-time responses to inventory issues with proactive planning."
Either way, a deep dive into supply chains will only help the industry obtain the visibility needed to stay in front of supply chain disruptions.
"The lack of preparedness when crisis struck manifested just how desperately a review was needed – something that should have been done months, if not years ago. Businesses are looking to Biden's administration to provide a blueprint toward a more resilient future, and I hope this review provides those necessary guidelines," says Michael Rabinowitz, founder and CEO, CoEnterprise.
Despite any pitfalls that may arise from this 100-day review, uncovering and resolving the holes in supply chains will inevitably close the loop and mitigate future supply chain disruptions.
CLICK HERE to read Part 3.