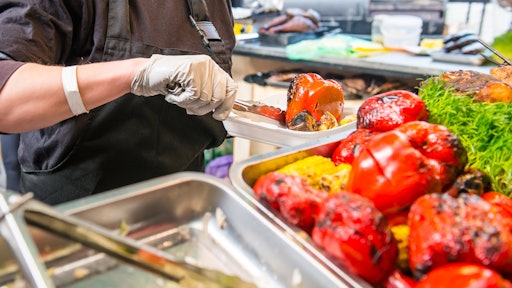 okrasiuk AdobeStock_214584864.
The food industry has faced three years of unprecedented challenges, disruptions and uncertainty. Since 2020, serious, simultaneous crises have threatened businesses and negatively impacted food production. First, the COVID-19 pandemic upended the food industry, and now, problems that began during COVID-19, including product shortages and supply chain interruptions continue. Global food exports, including 9.5 million tons of grain, are stalled due to the ongoing Russian-Ukrainian war. Climate change is destroying traditional farming, necessitating the need for alternative, more sustainable options. And inflation has hit a 40-year high. But fortunately, things are looking better for 2023, thanks to tech innovations.
Here are nine predictions on how tech will drive positive changes in the coming year.
1. Tech will help food businesses overcome the industry's biggest challenges. Digital transformation will accelerate in 2023, as tech solutions continue morphing from "nice to have" to essential for the food industry. While the food industry has historically been conservative around tech adoption, the pandemic – and its related, ongoing disruptions – have amplified the need for digital tools. So, the industry is adapting. Luckily, tech solutions have become more affordable and accessible for food businesses of all sizes.
2. Quality and accuracy are critical. Integrated software can boost accuracy, which will, in turn, boost other important metrics, including revenue, safety, quality, compliance, customer loyalty and more. Tech tools help plan more strategically, track inventory, monitor customer preferences and anticipate upcoming needs. Also important: when you spot accuracy problems, tech tools can help identify if you have a problematic employee or more widespread problems at a specific location (or locations). Based on this data, you can take corrective actions, such as increasing training, adjusting processes, changing systems, etc.
3. Sustainable food production will take center stage. Climate change is putting traditional farming methods at risk, with extreme weather ruining crops and threatening food supply. In 2023, expect to see prioritized sustainable food production, like vertical farming, where crops are grown vertically in indoor warehouses. These indoor spaces are protected from the elements (including weather and pests), and maintain ideal humidity, temperature, light and watering conditions to grow crops more efficiently and sustainably, resulting in higher yields. Tech innovations will help elevate sustainable farming, build new infrastructure, boost transparency and maximize output.
4. Boost transparency throughout the supply chain. A new traceability rule goes into effect in January, as part of the Food Safety Modernization Act (FSMA) and the FDA's New Era of Smarter Food Safety Initiative. The regulation requires food harvesters, processors and distributors to enhance their record-keeping to ensure more comprehensive, consistent, end-to-end food traceability. Tech tools will boost traceability, transparency, safety, quality and consistency as products move through the supply chain. While organizations will have three years to comply, many businesses will start using digital solutions in 2023 to seamlessly organize, track and manage suppliers' safety and QA certifications. This allows them to know unequivocally which suppliers prioritize safety and quality.
5. Brands will audit differently. Traditional, in-person, third-party inspections have historically helped brands identify and mitigate risks. During the pandemic, when companies couldn't rely on these traditional audits due to COVID-19-related restrictions, the industry had to get creative. Remote auditing soared in popularity, as auditors inspected facilities virtually. This supported and reinforced the collaborative model, allowing employees to work closely with auditors to conduct inspections, look for infractions and take corrective actions. Brands saw many benefits to this new, virtual approach. First, employees felt empowered to resolve issues and problem-solve, leading to safer facilities. Additionally, brands enjoyed significant cost savings and more frequent audits. Operators also implemented frequent self-assessments out of necessity. Moving forward, rely on this combination approach (in-person, remote and self-assessment) for more frequent audits, leading to continuous improvement.
Tech will help lessen the labor gap. The labor shortage is expected to ease in the new year. As more people pursue jobs in the food industry, see tech innovations, including artificial intelligence, machine learning and automation, make daily tasks more efficient, accurate and safe. In some cases, tech solutions will replace human workers, further easing the labor shortage that food businesses have been battling for years.
Staff retention will remain essential. While the labor shortage is expected to ease somewhat in 2023, it's still critical for brands to prioritize their employees and work diligently to keep them happy. Increasingly, operators will use scheduling software to ensure their employees are getting their preferred shifts and aren't being overutilized, which could lead to burnout. Brands will use competitive wages and attractive benefits packages (like tuition reimbursement, gym memberships, more PTO, access to tech tools to make tasks easier and more efficient, etc.) to maximize staff retention.
8. Change the way you train. As we (hopefully) see an influx of new workers, brands will improve their approach to training. It will become common to pivot from punitive cultures – where employees fear "getting in trouble" if they ask questions or point out infractions – to a collaborative culture. This means that operators won't just dictate what employees should do and expect employees to follow blindly. Instead, they'll explain why the rules are in place, so employees will be more likely to comply. Additionally, operators will empower employees to take responsibility for – and ownership of – safety and quality programs to elevate safety, QA and compliance. Use tech tools to amplify training efforts, provide updates and reinforce knowledge.
9. Brands will increase diversity and accountability. Diverse teams have been found to boost key metrics, including producing more revenue. Hire a diverse workforce to ensure your staff represents an increasingly diverse customer base. As a bonus, a diverse team will have fresh ideas, perspectives, approaches and solutions, bringing better problem-solving capabilities, creativity and innovation to the company. Treat employees fairly and equitably. It's the right thing to do and will increase employee satisfaction, loyalty, productivity, motivation and retention.
While the food industry has faced significant challenges over the past few years, it appears that things will improve in 2023. Tech will be instrumental in driving positive changes.