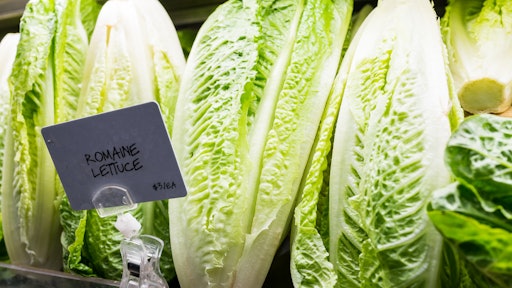 Getty Images
2022 saw a lot of instability within the supply chain. From port strikes and rail strikes to inflation, driver shortage and more, industry experts predict it may take supply chains close to 2-3 years to turn around.
Fast forward to present day, and more than half of executives do not expect a return to a "normal" supply chain until the first half of 2024 or beyond.
In Food Logistics' January/February 2023 issue, editor-in-chief Marina Mayer talks with several industry experts about the top supply chain threats to impact supply chains in 2023.
Here's an interview with Daniel Knauer, Midwest regional sales for Emerson's cold chain business, who details how by shifting the focus from making reactive responses to taking proactive measures can maximize food safety. [CLICK HERE to read the article in full].
Food Logistics: 2022 saw a lot of instability within the supply chain. Port strikes, rail strikes, driver shortage and more. Industry experts even predict it may take supply chains close to 2-3 years to turn around. From your vantage point, how do these factors impact/influence the way companies can mitigate supply chain threats?
Daniel Knauer: Supply chain instability has become an ever-growing pain point among food shippers, and yes, much of the problems arise from inconsistent labor. Reliable real time data is more key now than ever to minimize the bullwhip effect in organizations.
For example, retail and restaurant operators want to know when their shipments will be arriving and if those shipments were kept at the correct temperature throughout the route in order to meet their food quality and safety standards.
Food Logistics: What are some of the cold food chains' biggest threats to date? And why? (some examples are food safety, cargo theft, driver shortage, war overseas, looming strikes from rail/dock workers, natural disasters and more)
Knauer: Foodborne illness.
Foodborne illness, where produce has been identified as a primary source of contamination, is a significant concern. Incidents of contamination tell us keeping products at proper temperatures through the cold chain is critical to maximizing food safety and quality. Issues that impact consumer safety are of utmost importance.
Although the human impact is incalculable, the financial costs of food recalls and foodborne illness outbreaks have significant ramifications to growers and their retail partners. According to a recent food industry study, a foodborne illness incident can tarnish producers' reputations and increase the risks of legal, financial and regulatory penalties. A recent study also revealed the far-reaching consumer impact:
· 44% will avoid the brand for a few months after an outbreak
· 20% will never return/use the brand again
· 16% will switch to a competitor's brand
· 20% will return once the issue is resolved
Retail partners may be even less forgiving and seek an alternative provider to mitigate future risks to their customers and operations. Delivering the safest and freshest products possible is fundamental to ensuring consumer safety and protecting the grower's and retailer's brand reputation.
Trucking shortage.
The trucking industry is an indispensable link in the perishable food cold chain, helping to transport perishables from producers to cold storage facilities, restaurants and grocery stores. But for the last two years, the trucking industry has been beset with a perfect storm of unanticipated challenges — from supporting historic increases in food retail volumes at the onset of the COVID-19 pandemic to adapting to the realities of a post-COVID-19 economy. Perhaps the most significant disruption to the trucking industry is the growing shortage of drivers. Many owner-operators opted to change jobs or retire early during the COVID crisis, leaving an urgent need for new drivers to take their place. This has left a gap from which the industry has yet to fully recover.
The lack of truck drivers on the road — combined with the aging fleet of reefers with sub-optimal insulation capabilities — is not only contributing to product shortages but is also placing new strains on the perishable cold chain.
Fortunately, cold chain stakeholders can have access to tools and technologies that can help them to avoid issues from perishable foods that have ripened past peak quality, rotted or formed bacteria. These solutions are based on a combination of in-transit temperature tracking devices and advanced cloud-based data analytics software that can deliver real-time and historic insights into cold chain performance — for both food retailers and owner-operators. Equipped with these tools, companies can transition from reacting to problems as after-the-fact to relying on data to prevent them from happening in the first place.
For example, stakeholders can be notified at normal intervals when shipper temperatures deviate from ideal setpoints and verify a truck is set to a continuous set mode, and then take an alternate course of action before any damage to perishables can occur. Using data points from previous shipments, the devices can perform a much more detailed analysis to reveal deeper insights and long-term trends, such as:
· Shippers or shipping lanes where temperature excursions seem to occur most frequently
· Products that are most susceptible to temperature issues
· Seasonal and geographic factors that impact reefer temperatures
· Distribution centers (DCs) that may be allowing careless cold chain management
Most importantly, data provides an objective record of cold chain temperatures in-transit. In challenging times like these, where truckers and retailers simply can't afford the negative impacts of rejected loads, data serves as an arbiter of supply chain disputes. It takes emotion out of the equation by providing indisputable proof of precisely when and where temperature excursions occur.
Food Logistics: How can supply chain management and other solutions help companies overcome such threats?
Knauer: By shifting the focus from making reactive responses to taking proactive measures, food safety can be maximized. This is a philosophy that many leading growers and retailers are also adopting as a best practice.
As a key link in the world's perishable food supply chain, producers need every tool and technology at their disposal to maximize produce quality and safety. Achieving cold chain safety is a process that starts from the point of harvest and continues through processing, in-transit shipping and cold storage — all before final delivery to grocers and restaurants. To reduce the risks of spoilage or contamination, producers need quality control programs that focus on temperature management and proper handling procedures.
In addition, providing a robust technological infrastructure to support stakeholders' quality control initiatives and give producers the insights they need to see on how food is being handled, shipped, and stored at every step of the perishable cold chain can help maximize perishable food safety. The key is understanding what's holistically happening in the supply chain.
Food Logistics: How has the influx of e-commerce put supply chains in danger of incurring more/different kinds of threats?
Knauer: The influx of e-commerce for perishable food products adds a new layer of complexity to the cold chain. While traditional retail or foodservice shipments will ship stay in refrigerated areas the entirety of the supply chain, e-commerce typically utilizes parcels which leave temperature control up to insulation and ice.
Although the value of the product in a parcel is less than a full truck load, temperature excursions in this final mile can have a serious impact on a brand if not properly managed.
If you are operating in this space, it is beneficial to frequently test the parcels you are shipping in to ensure insultation. We've seen this done by utilizing a time and temperature recorder on test shipments periodically or a real time tracker on select shipments to customers.
Food Logistics: What are some things not addressed above that may be pertinent to our readers?
Knauer: Producers, retailers, shippers and third-party logistics (3PL) providers frequently need to work with multiple software platforms — often two or even three. For example, for every shipment they send, a vendor might need to enter shipment and temperature information into an enterprise resource planning (ERP) system, a warehouse management system (WMS) and a transportation management system (TMS). This creates a lot of needless duplication of effort, especially as the number of orders multiplies.
To make matters more complicated, many receivers mandating the use of a temperature recorder require their vendors to track more information, such as purchase order (PO) numbers, the serial number of the tracking device associated with each shipment and other data. All of these additional fields create even more work — at a time when companies across the industry are facing historic labor constraints.
These complexities and duplications, along with the unnecessary overhead and chances for human error they create, can be significantly reduced with data integration, one of the modules of the Oversight cargo services suite. Launched in 2022, Oversight cargo services suite features a data integration module to help minimize complications in the supply chain. Available on its own or in combination with any of the other modules, data integration allows you to consolidate in-transit cold chain data into a seamless experience within your existing software platforms.
In this way, shipment updates and alerts from each critical system can be combined into a single intuitive view. Data integration also gives you the option to streamline shipment creation into one system, eliminating incompatible platforms, siloed data streams and the need for multiple logins.
By automating and consolidating these processes, data integration can reduce the amount of time required for each shipment by 80% or more. While every shipper's needs are different, even operations with moderate order volumes can see fast efficiency improvements and cost savings.
Although data integration provides significant value on its own, it offers additional advantages when combined with other modules in the Oversight cargo services suite.
[CLICK HERE to read the article in full].