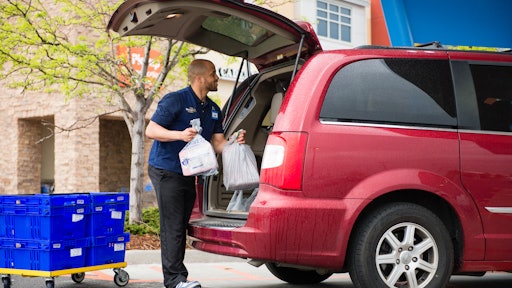 Wal-Mart will test last-mile delivery using Uber, Lyft and Deliv service for online grocery orders, Michael Bender, executive vice president and chief operating officer of Wal-Mart Global e-commerce noted in a blog on the company website.
Wal-Mart will start with tests of grocery delivery through Uber in Phoenix, Ariz., and Lyft in Denver, Colo., which it expects to start within the next two weeks. This is in addition to a Sam's Club pilot that started in March with Deliv involving delivery of general merchandise and grocery for business members in Miami, Fla.
A customer in one of the test locations will place their grocery order online and select a delivery window. Wal-Mart associates will select and prepare their order. Then, the team may request a driver from one of these services to come to the store, pick up the customer's order, and take it directly to the customer's location. The customer pays the normal $7-10 delivery charge online and makes no payment to the driver. The customer will be advised their order is being delivered by a driver from Uber or Lyft.
At Sam's Club, the process is similar, with personal shoppers preparing the orders for business members and having their order delivered right to their door with Deliv.
Editor's Insight: Last-mile delivery is the big unanswered question for food e-commerce. Wal-Mart is trying to compete with Amazon's AmazonFresh delivery which offers delivery within one day and is available in a limited number of big cities. According to Fortune, Amazon, which charges $299 per year for its grocery delivery service, has learned that it cannot manage grocery delivery from its headquarters since each market has to be managed as an individual business unit.
e-Commerce fulfillment has proven to be more challenging than most people in the food industry realized. Meeting this challenge will drive a lot of innovation in supply chain technology. 6-6-16 By Elliot Maras