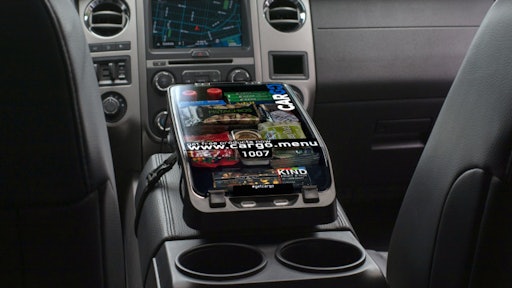 Uber and Lyft drivers are now able to offer their passengers drinks, snacks and phone chargers for a price, according to NBC.
Tech company Cargo installed boxes of products including protein bars, candies and hangover cure tablets into cars in New York, Chicago and Baltimore.
Passengers can use their phone to choose from a menu on the Cargo mobile site while in trasit and tap their driver's code and pay for their products. Drivers will then unlock the display box when the car comes to a stop.
Coca-Cola will provide its Smartwater drink to the riders of cars that have the service.
Drivers who agree to keep their display boxes fully stocked at all times will be able to earn $1 for each product sold, plus 25 percent commission per sale. They will also be able to earn a weekly $10 bonuses when 10 items are sold, potentially earning an extra $500 a month.
Cargo plans to expand the services to West Coast cities in the remainder of 2018 and that international expansion will follow.