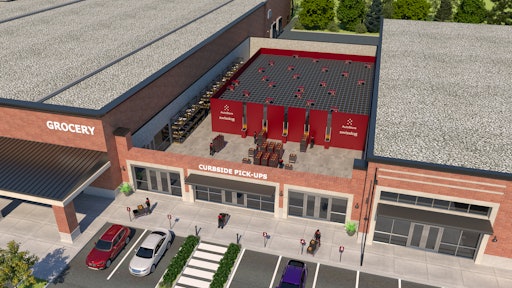 Swisslog Logistics Automation, Americas
When 2021 hit, the world was ready for the New Year. Even if it brought with it a New Normal -- new way of doing business, a new way to shop for groceries and more -- the turning of the calendar meant putting a year of supply chain disruptions, restaurant closures and constant pivoting behind us.
But, then, on March 23, a stranded Evergreen container ship blocked navigation in Egypt's Suez Canal, setting the stage for what would be a slew of supply chain disruptions after supply chain disruptions.
Suddenly, 2021 was quickly becoming a mirrored reflection of the year prior.
Then came the ransomware attacks, internet outages, container ships stuck at bay, bridge closures, driver shortages, ingredient shortages, natural disasters and more.
The hits just kept on hitting.
And, industry experts are already showing signs of struggle for 2022 into 2023, as routes to import/export remain clogged, ports continue to be backed up, cost of doing business increases and the labor shortage exists.
That's because supply chains are messy. And, they're only going to get worse before they get better.
In Food Logistics' Nov/Dec 2021 issue, editor-in-chief Marina Mayer talks with several industry experts about the state of the supply chain and what's in store for 2022.
Here's an interview with Markus Schmidt, president of Swisslog Logistics Automation, Americas, who explains why the race to move fulfillment centers closer to the consumer is on, with excerpts publishing in Food Logistics' Nov/Dec 2021 issue. [CLICK HERE to read the article in full].
Food Logistics: 2021 started off with supply chain disruption after supply chain disruption. From the Suez Canal blockage and natural disasters to ransomware attacks and an industry-wide labor shortage, the supply chain industry is having to prove its resiliency over and over again. Looking into 2022, what does the state of the supply chain look like?
Markus Schmidt: Supply chain disruptions, changing consumer behaviors and labor and product shortages will continue. While bottlenecks at major intersections of the global supply chain, including U.S. ports, grab the headlines, companies are experiencing challenges and issues across other parts of their supply chain in similar ways. Labor shortages within the domestic supply chain are a steadily increasing challenge to meet. Additionally, the supply chain is changing, with increasing volumes for last-mile delivery and faster order fulfillment times creating the need to fully reshape the fulfillment strategy to confront those changes. This is especially evident in the e-grocery segment where there is an immediate need to meet growing consumer expectations for quick, easy access to groceries and food items.
Retailers and grocers with increasingly high-volume and purchase frequency of online orders are faced with the growing challenge of determining how best to support their customers' dependence on e-commerce. With the growth that occurred in 2020 and is continuing today, manual fulfillment processes at the store level are increasingly disruptive to in-store shoppers. An expensive way to fulfill orders in a low margin business, they are failing to provide the expected speed during popular order times.
This is why there's an increased demand for space efficient, easy to operate and scalable automation technologies and solutions, especially in grocery and food supply chains. Automation is helping grocers and retailers overcome fulfillment challenges by bringing distribution points closer to the consumer.
Food Logistics: The cold food chain continues to face a host of risk/security challenges. What can companies be doing now to adapt for the future?
Schmidt: Cold chain compliance is important, and while companies that operate in the freezer space have good processes in place to offer the needed protection, we have seen a trend toward automated warehousing that helps increase reliable tracking and guarantee food safety during storage.
Food Logistics: Let's talk supply chain visibility. What is your company – or what should companies – be doing to improve their own supply chain visibility?
Schmidt: Digital transformation marks one of the most significant changes in business in recent years as organizations seek to harness digital technology and data to increase supply chain visibility, thereby improving the customer experience and business performance. Through digital transformation, organizations are harnessing both historical and real-time (or near real-time) data to proactively anticipate changes in demand and using automation to respond.
The key to harnessing the power of warehouse data lies in warehouse management and execution software. As warehouse software has evolved, siloes have been created, with warehouse management, warehouse execution and automation control systems all operating in a way that leaves data isolated, limiting its potential to improve operations. Not only is data siloed between production and the supply chain that supports it, but within the supply chain itself. The new generation of warehouse management software integrates these various data streams into a single platform to unleash the power of the data.
This data is fuel for the artificial intelligence systems that will enable logistics systems to learn and evolve on their own. Through the power of data and artificial intelligence, supply chain systems will learn to recognize patterns, regularities and interdependencies from structured and unstructured data to anticipate demand and adapt, dynamically and independently, to new situations. Working with similarly intelligent productions systems, these self-learning supply chain systems will enable organizations to meet global customer requirements with greater speed, customization and efficiency.
Food Logistics: The labor shortage is a real thing, and it's impacting several facets of the supply chain. What is your company – or what should companies – be doing to hire, onboard and retain good quality supply chain workers?
Schmidt: As companies continue to deal with labor shortages, warehouse automation solutions have provided a means for many of these companies to maintain productivity and efficiency levels while dealing with a reduced labor force. A number of companies are also using automation technology as a way to attract potential employees who are looking for opportunities to work with technology and want to be a part of a modern, enhanced work experience.
Food Logistics: When it comes to grocery retail shopping and/or foodservice establishments, what are some trends you see sticking around post-pandemic, and which ways of doing business will somewhat go away?
Schmidt: Over the last few years, as e-commerce volumes have increased and customer expectations have shifted, there has been a steady race to move fulfillment closer to the consumer to enable agility and freshness. Something once as innovative as two-day delivery has led to next-day delivery, which is quickly becoming obsolete as consumers demand same-day or next hour delivery or pickup. This trend has accelerated during the COVID-19 pandemic, especially as more consumers become comfortable with online ordering of perishable items, groceries and this is expected to hold post-pandemic.
Moving storage and fulfillment closer to consumers, while maintaining the agility to quickly adopt to future volume changes as market demand shifts, will be an essential characteristic of the supply chain of the future.
Typically, one of the dominant components in a company's supply chain was the large warehouse or distribution center that acted as a central hub from where products are shipped to retail outlets. These are now being joined by a network of micro-fulfillment centers (MFCs) that focus on localized, direct-to-customer service. They are designed to primarily get online orders fulfilled quickly and efficiently to meet changing customer demand. These facilities have become a powerful tool in creating a pleasant, seamless customer experience, while helping with the last-mile challenge.
MFCs are a simple to operate, compact order fulfillment solution that can be deployed with minimal requirements, especially where real estate space is limited or cost prohibitive. While they are generally smaller in size than regional or metro-fulfilment centers, they can be virtually any size, providing the needed flexibility to meet customer needs and fit nicely into a wide range of supply chain strategies.
Food Logistics: What are some things not addressed above that may be pertinent to our readers?
Schmidt: Many high-volume grocers have already addressed the limitations of manual in-store fulfillment through the deployment of MFCs that help the fulfillment of orders by automating processes closer to customers. But, their success has exposed an additional aspect that must be addressed to optimize the supply chain with the introduction of MFCs -- the impact of the MFC on the main distribution center (DC).
The reality is that not only do MFCs put new demands on the DC, but changes in the DC can also impact inventory levels within the MFC and enhance its efficiency. Replenishment schedules are one example of the upstream effects of the MFC on the DC. Replenishment at the same frequency as the store drives inventory level highs, whereas more frequent delivery can keep inventory levels lower.
What happens to carefully calculated schedules when grocers add an MFC to a store, particularly if that MFC is serving as a hub for multiple stores? The MFC may increase the volume of business a store is doing each week, stretching inventories for fast-moving products beyond the comfort zone. Or, what if the MFC doesn't have adequate space to break down the pallets traditionally shipped to the store? Could mixed case palletizing at the DC save time and space across each MFC in the network?
While best practices are emerging, there is no standard solution to this challenge. However, there are some steps early adopters taking to better harmonize DC and MFC operations, including enhancing upstream carton handling processes, shifting unpacking upstream and aligning automation capacity with replenishment schedules.
[CLICK HERE to read the article in full].