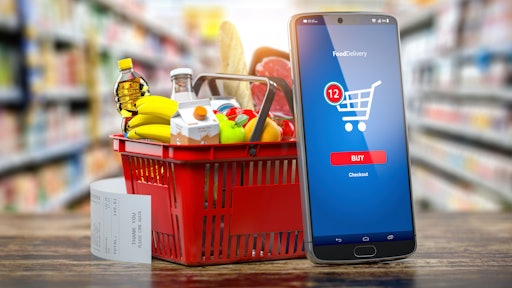 Maksym Yemelyanov AdobeStock_332228476
For years, it's always been grocery shopping in store vs. online. Very rarely has this shopper ever been one and the same. For some time, there were customers who only preferred the in-store environment, which included the touching and feeling of produce and other products, while others only opted for the convenience of clicking and collecting from their couch.
Then the pandemic hit, forcing many in-store shoppers to convert to online shopping, and prompting the already-in-place digital shoppers to get even more comfortable.
Fast forward to today, when many grocery retail outlets offer in store, delivery, curbside pickup and more. Can't find what you're looking for in store? Or need something right away? Click, order and pick up curbside in less than an hour.
The grocery shopping landscape is anyone's game.
Enter the hybrid shopper, a customer who shops both in person and online, depending on the product being purchased and the situation at hand.
And, hybrid grocery shopping is on the rise, as outlined in a study by IBM and the National Retail Federation (NRF).
"While many surveyed consumers still place high value on the traditional in-store shopping experience, they also now expect the flexibility to build their own shopping journey, according to the behaviors prevalent to their age range, available tools and the product category they are looking to purchase," Mark Mathews, VP of research development and industry analysis at the National Retail Federation, said in a press release. "This 'hybrid' approach is a fundamental shift in consumer behavior."
In fact, 84.51°, Kroger's data analytics subsidiary, revealed a 97% increase in households using two shopping methods, a 62% increase in those using three and a nearly 500% increase in those using all four.
"While some households may have started shopping online out of necessity during the pandemic, those who remain mostly do so because the convenience fits their lifestyle. They can shop at home, any time of day, and they feel it saves them time. Interestingly, 51% still claim staying away from crowds as being a reason for shopping online, but this is down from 68% when we asked this a year ago," says Kelli Fulton, collaborative projects insights lead, 84.51°. "Getting online shoppers comfortable with having cold items delivered (and having others pick those items) is a key to unlocking an increasing household penetration for those categories being delivered."
Here's how the rise of the hybrid shopper is impacting the grocery retail channel.
Uptick in brick-and-mortar
Some data shows an uptick in consumer spending in the brick-and-mortar grocery retail channel.
"There is an inverse correlation between pricing and discretionary spending. As that spending gets tight, people stop going out to restaurants and they start cooking more at home, which would lead to an increase in grocery spending. It is a little early for that, but you typically see much higher grocery spending during recessionary times than you do at restaurants. This is similar to what we saw during COVID-19, where grocery stores did really well," says Andrew Benzinger, business development manager, AutoStore. "There will also be a move away from premium grocers, as consumers seek to shop within their budgets. This will mean increased spending at the average grocery store and at discount grocers. In particular, discount grocery stores are going to be the ones that do really well. This will be reflected in private labels and private brand products that have had success within the last year or so, but will likely see a decrease going forward."
What's more is, consumers will shop wherever they feel is best for their buck, and sometimes, that's in store.
"In-store shopping gives the shopper a better sense of all of the savings available to them as it is easier to comparison shop and get access to the best deals. Consumers also feel more confident in their perishable and meat purchases when they make the choices themselves, which keeps consumers coming to the stores," says Chris Wilson, VP of business development, TA Services. "The brick-and-mortar grocery retailer has been a cornerstone of how consumers shop and feed their families since the beginning of the industry itself. There is nothing like a face-to-face interaction that allows the consumer to use their own senses to determine which grocery item is best for them and their families. I believe brick-and-mortar grocery retailers will always have a solid place in the market," adds Dani Etkin-Spigelman, chief revenue officer, TA Services.
Furthermore, a study from PYMNTS in collaboration with ACI Worldwide reveals that a majority of consumers still opt to do the bulk of their grocery shopping in stores. However, e-commerce is slowly gaining share, product category by product category.
"Brick-and-mortar grocers may still retail the lion's share of sales of produce, meat and other fresh items, but as online players pick off their consumer packaged goods (CPG) customers one by one, traditional grocers will be left with only a fraction of the sales they once had," the study says.
Delivery subscriptions and drastic price decreases online will continue to sway customers to the digital shopping world.
On the other hand though, online's share of total grocery spending fell 30 basis points to 12.9% in February. Excluding ship-to-home, since most conventional supermarkets don't offer it, the adjusted contribution from pickup and delivery dropped 60 basis points and finished at 10.5% for the month, according to Brick Meets Click/Mercatus survey.
"Given that ongoing price inflation is clearly influencing shopping behaviors, grocers should promote ways customers can save more money," says Sylvain Perrier, president and CEO, Mercatus. "Grocery retailers can consider highlighting store brands, offering pricing promotions, creating personalized digital coupons, and implementing variable fee structures that lower fees for customers and reduce the cost to assemble."
Last-mile's role in a hybrid world
Last-mile delivery plays an important role in the e-commerce side of grocery retail. Pre-pandemic, last mile wasn't really an option for many grocers. But thanks to the growing adoption of buy-online/pickup-in-store (BOPIS) and even direct-to-consumer (D2C), the last mile has become an extension to many of today's grocery retailers' platforms.
Despite the fact that last mile is the most expensive leg of the chain, the last mile is also interesting "because it's where all the money is made or is lost, whether retailers have customers come to pick up their grocery orders or have products delivered directly," says Benzinger. "The main challenge of the last mile is going to continue to be labor availability. How do companies find people in the gig economy to do these deliveries and how can organizations ensure that these individuals have a passion to take care of the product? Overall, the biggest challenges to the space will be labor and the equipment used to maintain cold product quality in the last mile."
And, because it deals with temperature-controlled products, the last-mile leg for e-grocers can become cumbersome.
"Grocery delivery can be a very expensive way for retailers to get food in the hands of consumers. Three temperatures are required in the delivery vehicle, making grocery delivery costly and challenging. A more economical – but potentially risky – strategy is using a delivery service that doesn't protect the cold chain, such as DoorDash or Uber Eats. This method leverages the 'shared use' benefits of the supply chain, such as the sharing of equipment and resources to maximize efficiencies," says Rick MacDonald, president of retail, DHL Supply Chain.
With the last mile space rapidly expanding and continuing to show signs of growth, "we see an indication of its great importance. I expect this space to continue seeing strong growth, and experience significant change and ongoing upgrades based on both objective and subjective feedback. Consumers enjoy the ease of e-commerce grocery retail; it saves valuable time and energy. That said, many other consumers appreciate picking their own grocery items and the ability to adjust if another item looks more appealing," says Etkin-Spigelman.
In fact, last-mile logistics for groceries has become so important that its increased demand has even caused a shift in available warehousing in the cold chain.
"One way grocers have responded to the market shift is to build more warehouses to bring products closer to the end consumer and facilitate same-day delivery. The global demand for warehouses is expected to grow from $285 billion in 2022 to $326.3 billion by 2024. In the United States alone, warehouse space is expected to reach 420-450 million square miles this year," wrote Dave Csontos, SVP of logistics at Transervice, in his expert column.
"While there are a number of challenges in last-mile cold chain, there are opportunities as well. It just requires some creative thinking, data analytics and a focus on partnerships to be successful," Csontos adds.
The evolution of e-grocery
When envisioning how the in-store vs. online war will play out for the remainder of 2023, some industry experts predict e-commerce to pretty much stay the same.
"A few players in that space will see below single-digit growth and most companies will be at a plateau or down in low single digits. This is mainly because of the competition of consumers going back into stores. That's going to be the biggest challenge," says Benzinger. "Customers are going to continue to expect high inventory fill rates, high accuracy, an outstanding customer experience when it comes to pick-up or notifications and geofencing. All of these things have transformed from being really nice features that separate a company from the rest of the industry to now just being basic table stakes to get started. That's another challenge."
Meanwhile, some industry experts predict in-store sales to soar as more and more retailers adopt technology, increase warehousing and strive to become all things for all consumers.
"Brick Meets Click forecasted that e-grocery sales, which encompasses online orders received via pickup, delivery or ship-to-home services, will fall nearly 3% while in-store sales rise by just over 3% in 2023. These divergent trends reflect in part a return to more in-store shopping as concerns about respiratory infections wane and cost considerations climb, driven by inflation and the loss of pandemic-related payments that expire. Within e-grocery, we expect that delivery will face the stiffest headwinds in 2023 as those who like shopping online but are looking to stretch a buck will shift toward pickup," says David Bishop, partner at Brick Meets Click.
For its part, 84.51° data shows a consistent percentage of households purchasing in-store month to month.
"In our most recent Real Time Insights monthly survey, we asked shoppers how they plan to change their grocery shopping habits going into the summer, and about 40% of them claim they will do less shopping online for their groceries (55% claim they will do the same amount of online grocery shopping)," Fulton says.
In the long-term though, online grocery delivery is expected to maintain an upward growth trend with an estimated CAGR of 29% during 2020-2024, according to Deloitte.
Economists at Future Market Insights say that online grocery shopping has become one of the fastest growing sectors in the U.S. retail market, as outlined in this cover story from September 2020.
In fact, online grocery sales will surpass 20% of the overall U.S. grocery retail market in the next five years, according to Mercatus/Incisiv predictions. From there, online's share is projected to expand to 11.1% of $1.124 trillion in grocery sales in 2022 and to 20.5% of $1.285 trillion in 2026.
"I think we'll see a big trend in cost vs. convenience and store experience vs. added online options and amenities. We'll also see AI and other automation making the brick-and-mortar experience faster and more efficient," says Wilson.
Disrupting the already disrupted
While e-commerce continues to disrupt the supply chain, specifically the grocery retail space, it also experiences its own set of disruptions.
Factors such as inflation, labor shortage, lack of warehousing and more pose ongoing challenges to a segment that was thrown into pivot-mode almost overnight thanks to the COVID-19 pandemic.
MacDonald says it's important to consider the ongoing rise in inflation, for starters.
"If inflation begins to decline, consumers may settle back into their pre-inflation shopping habits," he adds. "But for now, we expect to see a continued increase in e-commerce as we've seen in years past, with brick-and-mortar retailers still owning the majority of consumer grocery purchases. Brick-and-mortar retailers providing click-and-collect services will continue to attract customers and provide a new and easier option for shoppers looking to save time and money."
Likewise, inflation, recession and the economy will continue to dictate the direction that the in-store vs. online war takes in 2023.
"What does the consumer value more – extra time or extra savings? For some, the extra time provides more opportunity, while for others, the added cost is just not worth it. The economy will decide which group grows in 2023," says Wilson.
Another trend is the rise in resellers, thus further complicating the last-mile leg of the transaction.
"Many major brands are offering their goods directly to consumers, cutting out the retailers. Additionally, we're seeing a rise in resellers – or online marketplaces – of commodity-type items that are generally non-perishable or shelf stable. These resellers allow consumers to subscribe and/or spot buy products that they prefer to have delivered directly to their home rather than pick up at a traditional grocery store," says MacDonald.
However, the effects of the rapid adoption of e-commerce platforms by consumers is still not fully understood, according to Etkin-Spigelman.
"The pandemic was highly influential and adapted how consumers engage with the retail world. As professionals, we are still in a 'wait and see' phase. Still, we need to remain nimble and be ready for changes in the market as they occur, including any variances in the buying patterns of consumers," adds Etkin-Spigelman.
What's more is, grocers are in a bit of a balancing act as they determine how to cater to consumers who prefer shopping online, says Benzinger, while maintaining experiences for those who regularly shop in-store.
"It's important for retailers to think about how they will compete against the alternatives in an effort to capture as much of a shopper's basket as possible," says Benzinger. "Grocers want to keep consumers in their ecosystems, so they pay less attention to shoppers who purchase only a few products from their store and then other items from another grocer. Everyone wants to capture as much of the basket as they can."
Whichever way the future of grocery shopping turns, the hybrid shopper is here to stay and already impacting the future of grocery retail.