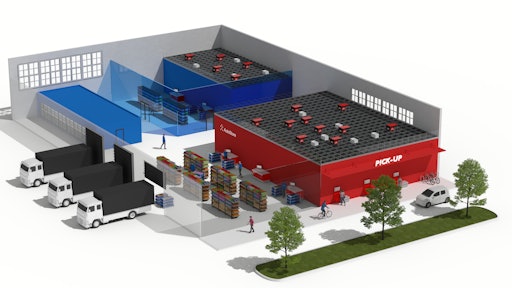 AutoStore
For years, it's always been grocery shopping in store vs. online. Very rarely has this shopper ever been one and the same.
Fast forward to today, when many grocery retail outlets offer in store, delivery, curbside pickup and more.
That's why the grocery shopping landscape is anyone's game.
In Food Logistics' May/June 2023 issue, editor-in-chief Marina Mayer talks with several industry experts about how the rise of hybrid shoppers continues to impact the grocery retail channel.
Here's an exclusive interview with Andrew Benzinger, business development manager, AutoStore, who details why e-commerce in grocery is here to stay. [CLICK HERE to read the article in full].
Food Logistics: E-commerce continues to disrupt the grocery supply chain. What do you see as some of the Top 3 trends to watch in the online grocery vs. brick-and-mortar space?
Andrew Benzinger:
1. Rising cost of groceries. E-commerce/online grocery comes at a higher cost to consumers, whether it's directly through the obligation to tip or indirectly as a baked in cost or service fee. American consumers are paying a premium for online grocery services, so cost is a big driver of whether consumers shop online or in-store.
2. Budget-minded. As inflation increases and consumers start feeling the effects of the recession, they are thinking more about how they spend their money. Grocery shopping is an area where they can exert some control. Shoppers are weighing their options as to what makes the most sense for their budgets – buying online or at brick-and-mortar stores.
3. Declining concern for COVID-19. The number of consumers who are still seriously concerned about COVID-19 relative to two years ago has fallen. As a result, people are getting back into their regular patterns, such as shopping for their own groceries instead of making purchases exclusively online and going back to stores.
Whether it's the decrease in concern over COVID or reduced discretionary spending due to the recession, the rate at which consumers are turning to stores again is picking up.
Food Logistics: How will inflation and the ever-increasing rise in cost of goods impact how and where consumers shop for groceries?
Benzinger: I believe that shoppers are going to focus on three decision factors in determining how and where they will purchase their groceries: knowledge, experience and pricing. We're going to begin seeing people equip themselves with more information through thoughtful research as they start shopping more appropriately for their budgets.


Food Logistics: How are grocery retailers responding?
Benzinger: Grocery retailers are trying to keep labor costs low, which is their biggest driver. There's not a lot they can do about product costs. As a result, they're passing most of it on, if not all of it.
Additionally, grocers are in a bit of a balancing act as they determine how to cater to consumers who prefer shopping online, while maintaining experiences for those who are regularly shopping in-store. It's important for retailers to think about how they will compete against the alternatives, in an effort to capture as much of a shopper's basket as possible. Grocers want to keep consumers in their ecosystems, so they pay less attention to shoppers who purchase only a few products from their store and then other items from another grocer. Everyone wants to capture as much of the basket as they can.
Food Logistics: Some data shows an uptick in consumer spending in brick-and-mortar grocery retailers. Thoughts on this?
Benzinger: There is an inverse correlation between pricing and discretionary spending. As that spending gets tight, people stop going out to restaurants and they start cooking more at home, which would lead to an increase in grocery spending. It is a little early for that, but you typically see much higher grocery spending during recessionary times than you do at restaurants. This is similar to what we saw during COVID-19, where grocery stores did really well.
There will also be a move away from premium grocers, as consumers seek to shop within their budgets. This will mean increased spending at the average grocery store and at discount grocers. In particular, discount grocery stores are going to be the ones that do really well. This will be reflected in private labels and private brand products that have had success within the last year or so, but will likely see a decrease going forward.
Food Logistics: Last-mile delivery plays an important role in the e-commerce side of grocery retail. What are some of the opportunities and even challenges with regards to the last-mile space in the cold food chain?
Benzinger: The last mile is interesting, because it's where all the money is made or is lost, whether retailers have customers come to pick up their grocery orders or have products delivered directly.
For grocers, grouping orders as best you can to make a really efficient route is key, especially on the cold food chain side. You really have to protect the product as best you can. A lot of companies use insulated bags and some use freezer blocks, ice blocks, or occasionally even dry ice. All of those things can be helpful in ensuring a product maintains its quality, especially when you have longer routes that can be 45 minutes to an hour drive between the different destinations.
The main challenge of the last mile is going to continue to be labor availability. How do companies find people in the gig economy to do these deliveries and how can organizations ensure that these individuals have a passion to take care of the product? There are companies, like Instacart, that are more integrated and the picker is also being incentivized to maintain product quality. Other drivers, without that incentive, care a bit less and may not have the right equipment, unless the grocer dictates what equipment has to be used, whether it's specifically lined bags or something else.
Most of the time, the challenges aren't too bad, because cold food chain compliance is very well maintained across the industry within the four walls of retailers and beyond. The industry is doing a good job of taking care of the food chain within that space.
Overall, the biggest challenges to the space will be labor and the equipment used to maintain cold product quality in the last mile.
Food Logistics: How do you envision this grocery e-commerce vs. retail war playing out for the remainder of 2023?
Benzinger: E-commerce is going to pretty much stay the same. A few players in that space will see below single digit growth and most companies will be at a plateau or down in low single digits. This is mainly because of the competition of consumers going back into stores. That's going to be the biggest challenge.
Customers are going to continue to expect high inventory fill rates, high accuracy, an outstanding customer experience when it comes to pick-up or notifications, and geofencing. All of these things have transformed from being really nice features that separate a company from the rest of the industry to now just being basic table stakes to get started. That's another challenge.
E-commerce is a strong part of the market and is not going away. However, people that didn't like e-commerce, but turned to it out of necessity because of COVID or because of busy schedules, will likely not stick with it.
Food Logistics: What are some things not addressed above that may be pertinent to our readers?
Benzinger: The biggest thing is being able to serve the grocer and the customer the way they want to be served. Looking at e-commerce and getting it to work well – the ability to put the right amount of product based on the demand in the right spot is there. Gone are the days that every single thing is going to be shipped via case. Gone are the days when big cases were the key drivers.
Smaller, regional grocers may want to have more off product offered, but have more frequent deliveries and maintain some products in lower units, because the demand is low. Most of the online e-commerce players that are doing well have a low number of days on hand. In order to have that equation match up, you have to have a very small number of SKUs to make it work.
You need to have the right number of products and the right number of days on hand. If you have too many days, some of these products are going to spoil. So, how the food logistics industry can enable more e-commerce growth is to put the right amount of packaging in a cost-effective way and deliver it at the right time, as opposed to saying customers can only get a delivery once a week.
[CLICK HERE to read the article in full].