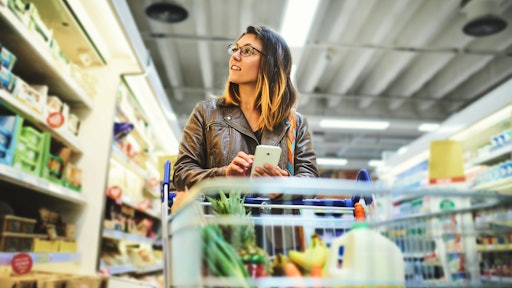 Getty Images
For years, it's always been grocery shopping in store vs. online. Very rarely has this shopper ever been one and the same.
Fast forward to today, when many grocery retail outlets offer in store, delivery, curbside pickup and more.
That's why the grocery shopping landscape is anyone's game.
In Food Logistics' May/June 2023 issue, editor-in-chief Marina Mayer talks with several industry experts about how the rise of hybrid shoppers continues to impact the grocery retail channel.
Here's an exclusive interview with Chris Wilson, VP of business development, TA Services, and Dani Etkin-Spigelman, chief revenue officer, TA Services, detail why brick-and-mortar grocery retailers will continue to be the cornerstone of how consumers shop. [CLICK HERE to read the article in full].
Food Logistics: E-commerce continues to disrupt the grocery supply chain. What do you see as some of the Top 3 trends to watch in the online grocery vs. brick-and-mortar space?
Chris Wilson: I think we'll see a big trend in cost vs. convenience and store experience vs. added online options and amenities. We'll also see AI and other automation making the brick-and-mortar experience faster and more efficient.
Dani Etkin-Spigelman: The effects of the rapid adoption of e-commerce platforms by consumers is still not fully understood. The pandemic was highly influential and adapted how consumers engage with the retail world. As professionals, we are still in a "wait and see" phase. Still, we need to remain nimble and be ready for changes in the market as they occur, including any variances in the buying patterns of consumers. At TA, we're keeping an eye on additional costs sometimes associated with online grocery ordering as well as the quality of produce delivered when the consumer is not involved in the selection.
Food Logistics: How will inflation and the ever-increasing rise in cost of goods impact how and where consumers shop for groceries?
Wilson: The economy and the continued rise in the cost of everyday goods is first and foremost on consumers' minds. The convenience that drew consumers to migrate to online grocery shopping and delivery has now taken a backseat to what keeps dollars in their pocket. With costs hitting record highs consumers will re-evaluate their previous decisions and habits. Consumers are also looking to club stores for extra savings on household goods and foods which is hurting both online and brick-and-mortar grocery companies.
Etkin-Spigelman: The cost of inflation is experienced by everyone across multiple avenues of every business. From the cost of fuel to the cost of packaging, to the cost of labor, to the devaluation of the dollar and everything in between – inflation is never a positive force. The increase in the cost of goods leads to erratic buying patterns that are exceptionally difficult to predict. Consumer market awareness has increased and will continue to do so out of necessity. Consumers are now making decisions on which grocery items to purchase based on price.
Food Logistics: How are grocery retailers responding?
Wilson: Stores are automating as much as possible to make the shopping experience faster and easier. This also addresses the workforce shortages all businesses are experiencing throughout the country. Retailers are getting innovative on sales and price reductions to draw back and retain customers. Retailers are improving their customers' in-store experience with in-dining options and improved apps. Private label options are increasing with better quality and cost saving options.
Etkin-Spigelman: Grocery retailers face a difficult challenge, especially given the unknown state of our future economy. Many retailers are rethinking the products they purchase and the quantities; if the cost of lettuce increases from $30-100 per delivered box (as it did in the winter) and consumers are not paying the premium, retailers will not continue to purchase in the same quantities until the price drops again. This is not the first time retailers have faced adversity due to market conditions. Although the current marketplace presents a unique challenge, I have the utmost confidence that our friends in grocery will continue to adapt and support the consumers that frequent them.
Food Logistics: Some data shows an uptick in consumer spending in brick-and-mortar grocery retailers. Thoughts on this?
Wilson: Consumers will shop wherever they believe they will get more for their dollar. In-store shopping gives the shopper a better sense of all of the savings available to them as it is easier to comparison shop and get access to the best deals. Consumers also feel more confident in their perishable and meat purchases when they make the choices themselves, which keeps consumers coming to the stores.
Etkin-Spigelman: The brick-and-mortar grocery retailer has been a cornerstone of how consumers shop and feed their families since the beginning of the industry itself. There is nothing like a face-to-face interaction that allows the consumer to use their own senses to determine which grocery item is best for them and their families. I believe brick-and-mortar grocery retailers will always have a solid place in the market.
Food Logistics: Last-mile delivery plays an important role in the e-commerce side of grocery retail. What are some of the opportunities and even challenges with regards to the last-mile space in cold food chain?
Wilson: Workforce shortages and quality service to the customer are challenges that companies continue to deal with daily. Consumer confidence in the selection of quality perishable items is a constant concern with online grocery naysayers.
Etkin-Spigelman: With the last-mile space rapidly expanding and continuing to show signs of growth, we see an indication of its great importance. I expect this space to continue seeing strong growth, and experience significant change and ongoing upgrades based on both objective and subjective feedback. Consumers enjoy the ease of e-commerce grocery retail; it saves valuable time and energy. That said, many other consumers appreciate picking their own grocery items and the ability to adjust if another item looks more appealing.
Food Logistics: How do you envision this grocery e-commerce vs. retail war playing out for the remainder of 2023?
Wilson: Inflation, recession, and the economy will dictate the direction that this war takes in 2023. What does the consumer value more – extra time or extra savings? For some, the extra time provides more opportunity while, for others, the added cost is just not worth it. The economy will decide which group grows in 2023.
Etkin-Spigelman: I never would want to refer to anything regarding people eating as a war. I believe we are in a "wait and see" phase. I believe there will always be consumers that prefer one or the other, allowing both to coexist. Provided we all stick together and stay honest, the future should be friendly.
[CLICK HERE to read the article in full].