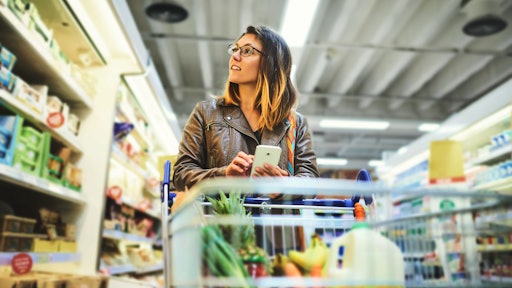 Getty Images
Today, profitability is a difficult subject for grocers as prices for everyday items continue to fluctuate. In fact, 73% of consumers are concerned about rising prices. As a result, many shoppers are bargain hunting, comparing prices across retailers or reducing basket sizes to protect their wallets.
What's more, consumers don't believe that retailers are on their side. According to The Feedback Group's June report, shoppers believe that grocers have a net profit margin of 33%. In actuality, this number is closer to 1%.
How can grocers squash this rumor and prove to their shoppers that they're on the same side? And how can grocers improve profitability during inflation? The answer to both questions is personalized pricing.
Grocery margin misconceptions
According to the Feedback Group, there is a serious disconnect between the way consumers perceive grocery margins and the reality of the situation. Therefore, during inflation, shoppers often become resentful of grocers, and retailers in general, because they believe the prices are really controlled by the grocer. While this is true in some regards, many grocers already set the lowest possible prices to maintain profitability with margins as low as 1%.
This misconception negatively impacts customer loyalty. When shoppers believe that grocers are being greedy at the customer's expense, they will be less patient and accepting of price changes. As a result, shoppers will begin comparing prices at competing grocery stores and decreasing basket sizes.
The key to fixing this misconception is innovation. By prioritizing the in-store experience and showcasing a personal interest in the shopper's needs, customers will develop deeper relationships with their favorite grocers. This connection will benefit grocers when they experience hard times because the customers will be more understanding. At a time when customer loyalty is critical to profitability, grocers must go the extra mile to create the best value for shoppers.
How personalized pricing works
Grocers have a lot of data at their disposal that can be used to create personalized experiences. These experiences include personalized promotions based on a customer's previous shopping behavior. For example, if a shopper used to buy more jelly before the price increased, grocers might benefit from offering them a coupon that brings the price closer to the one they were used to paying. While this will cost the grocer, they can save money by not offering that shopper a coupon for the bread that they've continued to buy, despite the price increase.
This simple shift in strategy keeps grocers from offering unnecessary promotions while effectively encouraging shoppers to increase their basket size. These deals should also go beyond a finite list of vendor-approved promotions. With increased flexibility, grocers can encourage consumers to shop across more categories and brands to discover the full value of the store's assortment.
What's more, every aspect of these promotions can be customized to the shopper's preferences. If a shopper is drawn to photos of the discounted food, as opposed to designs that primarily highlight the drop in price, the grocer can tailor the offer accordingly. Similarly, if a shopper engages with the brand via the store's app, promotions should be delivered there instead of over email. By personalizing every aspect of the promotion experience, grocers can maximize profitability and customer loyalty.
The benefits of personalized pricing
As explained above, consumers need to feel like their favorite grocers are giving them the best deal. To avoid losing customer loyalty, grocers must provide the best value on the block. This is done by tailoring the in-store experience, including promotions and outreach, to the shopper and their current needs.
By creating unique deals for individual shoppers based on their online and in-store behavior, grocers can help shoppers make the most out of their limited budgets. In turn, consumers will reward loyalty and understanding to the grocers who support them during these uncertain times.
Optimizing pricing decisions amid inflation
With low margins and high costs, grocers are struggling to strike the balance between profitability and customer satisfaction. Personalized pricing can address this issue by offering customers the optimal deal – one that encourages them to purchase, without the retailer having to consider unrealistic discounts. Personalized pricing ensures that customers can fill their baskets without breaking their bank or threatening the grocer's bottom line.