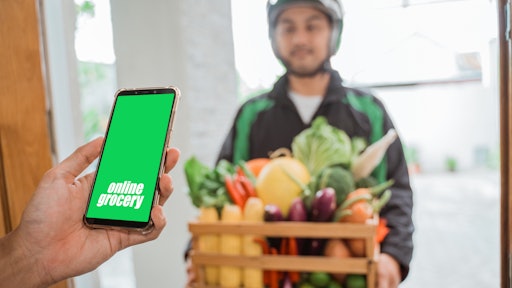 AdobeStock_346469883
The Coronavirus disease (COVID-19) pandemic has changed the way consumers shop, with online grocery shopping increasing by 54% in 2020, reaching sales of $96 billion, according to data from eMarketer. That same report projects sales to surpass $100 billion by the end of 2021.
At the same time, the demand for plant-based products has increased significantly. The Good Food Institute reported that plant-based food sales in 2020 grew twice as quickly as overall food sales. This growing demand for plant-based products has driven a surge of innovation and new product launches. This coupled with increased demand for online grocery options has changed the game for brands launching new products.
Historically, the grocery store has been the prime distribution channel for food brands, but this channel has become increasingly competitive, making the grocery store listing process expensive with high slotting fees for shelf space and other costs associated with in-store promotion. Further, this channel cannot offer brands complete visibility into how consumers interact with their products, who each customer is and what other products they are purchasing. There is also no way for brands to proactively re-engage a customer that has purchased a product in the past.
While this makes a strong case for e-commerce and direct-to-consumer sales, this channel too is not without its challenges. E-commerce requires a significant investment in infrastructure for distribution and logistics, which can be costly without significant economies of scale or a partner that handles this aspect for the brand.
Logistical challenges have been further compounded by disruptions to the global supply chain caused by the pandemic. The massive increase of online sales combined with capacity shortages and COVID-19 outbreaks at major ports meant long delays. Cargo ships are waiting to be unloaded, there is a shortage of truck drivers, fuel prices are high, borders have remained closed and shipping container prices have skyrocketed. This has made delivery timelines unpredictable and especially complicated for cold/frozen storage items, which can cost triple the price of dry storage, averaging around $150-170 per square foot.
The bottlenecks and slowdowns at every link in the supply chain have hit small brands the hardest because they often lack the flexibility of their own warehouse and shipping network and can't afford to lose any inventory to spoilage.
The digital opportunity
Despite these challenges, moving online creates a tremendous opportunity to leverage data to ease many logistical challenges, and a McKinsey report stresses that smart use of automation can improve supply chain efficiency.
When consumers purchase groceries in brick-and-mortar stores, the opportunity to gather purchase data is much more limited. Loyalty card programs can begin to create some customer profiles, but it is impossible to gather data on every customer, and you do not know what items they searched for and didn't purchase or an item that they purchased elsewhere.
So, with more grocery shopping moving online, there is an opportunity for a centralized, brand-agnostic platform to track who the customer is, where they live, when they shop, what they searched for, what they repurchased and how often they shop, creating far more robust data sets where no customer interaction goes unrecorded. That data also then becomes usable by marketing and logistics teams immediately and is updated in real-time.
A centralized e-commerce platform that is focused on a particular niche can create a targeted sales channel to reach a particular target customer, while also creating an opportunity to create economies of scale for logistics.
By using the platform to track consumer patterns, sales and regional trends for products, logistics can be properly planned and ultimately made more cost-effective. Multiple brands are able to share storage and shipping capacity and warehouses can be more effectively stocked with the right goods. Brands can also use this data and data on what products are stored where to plan their marketing and merchandising priorities.
The pandemic has accelerated existing business trends toward plant-based products and health-and-wellness consumer interest. Small businesses competing in this growing economic sector need to find any edge they can. Smart deployment of consumer and web data can help vendors maximize their resources and find efficiencies in marketing, manufacturing, shipping and other business logistics.