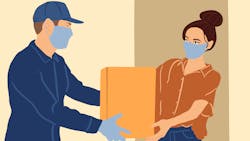 ©rh2010 - Stock.Adobe
Transportation companies have mastered efficiencies in every other step of the process, yet no one has completely solved last-mile delivery. Several modern processes and economies of scale have been incorporated into the shipment of goods throughout the supply chain network, but delivering packages along the last leg have continued to be slow and costly.
According to a survey conducted by Food Logistics and Supply & Demand Chain Executive, companies are investing in track and trace and visibility technologies to improve last-mile delivery success. Of those surveyed, 78 percent said they were investing in re-assessing their distribution networks and are using GPS (69%), track and trace (57%) and delivery apps (47%) in last-mile delivery.
DOWNLOAD THIS FREE WHITE PAPER
Landing on the Doorstep: Achieving Last-Mile Delivery, part three of a 4-part series, details how the pandemic revealed a lack of preparation in the supply chain, and how top-companies are implementing innovative last-mile solutions — allowing for the supply chain to adapt and overcome monumental challenges.
This entire series of white papers will break down grocery retail, last mile and warehouse automation, revealing how procurement software, enterprise resource planning (ERP), warehouse management systems (WMS), robotics and other automated solutions help companies better forecast for inventory, waste reduction, fleet management problems and more. 
Download this FREE white paper to learn how top companies are avoiding potential problems during the last-mile.