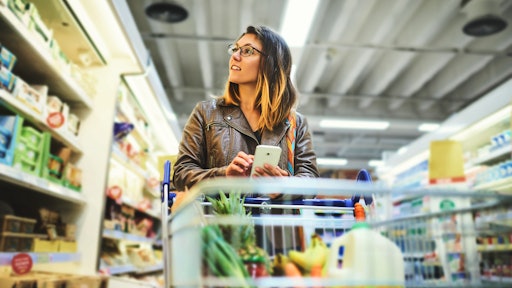 Getty Images
The U.S. online grocery market generated $8 billion in sales during September, driven by $6.4 billion from the pick-up/delivery segment and $1.7 billion from ship-to-home, according to a recent Brick Meets Click survey, sponsored by Mercatus.
"The combined pick-up and delivery segment now captures nearly 80% of sales in the U.S. e-grocery market, and pick-up hit a record-high portion of total sales in our September research wave, underscoring its critical role in a grocer's strategy," says David Bishop, partner at Brick Meets Click.
From Brick Meets Click:
During September, 64.1 million, essentially one out of two U.S. households, bought groceries online, a 16% increase vs. August 2020. For the same period, pickup/delivery's combined monthly active user (MAU) base grew more than 33% while the ship-to-home user base contracted by over 12%.
"Both the lift in order frequency and the shift to delivery/pickup as a receiving method illustrate how the pandemic has changed the way a sizable number of consumers shop for groceries," says Bishop.
"Conventional grocers need to take a closer look at their local market dynamics to understand how well they are performing online," says Sylvain Perrier, president and CEO of Mercatus. "The mass merchandisers continue to set the pace and define the standard for digital grocery against which other retailers' services are increasingly evaluated. Now more than ever, it's essential for grocery retailers to align their operational processes with a best-in-class customer experience to retain a competitive edge."
Companies in this article