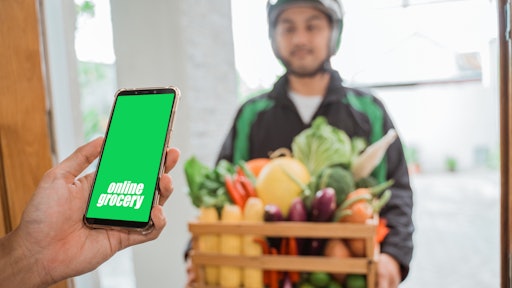 AdobeStock_346469883
The frequency of online grocery ordering increased as a result of the Coronavirus disease (COVID-19), but first-time online grocery shoppers signed up at an unprecedented rate as well. In March 2020, for example, online orders for food and beverage increased 65%, peaking in April 2020 at a 129% increase. Overall, the grocery industry in 2020 saw a 65% increase in online orders compared to 2019.
This increase in e-commerce adoption for grocery shoppers has continued into 2021 and shows no signs of slowing down. Through February, food and beverage online sales are seeing an increase of 74% compared to the same period in 2020, which was prior to the pandemic.
Grocery shopping isn't only seeing an online acceleration, as delivery and curbside pickup options are growing substantially due to the convenient and COVID-19-safe benefits they convey for shoppers and grocery stores as well. Retailers who invested early and substantially in buy-online, pick-up-in-store (BOPIS), curbside delivery or fulfilling orders using store footprints have been seeing great success during this time. Plus, more importantly, shoppers like it. In fact, 83% of consumers who have tried new shopping models or brands during the pandemic intend to continue purchasing from that subscription service or brand going forward, according to an e-book produced by Bazaarvoice.
As online grocery ordering has increased, so too has the volume of ratings and reviews left on grocery stores' websites. Last year, review counts on food and beverage websites saw a 134% year-over-year increase. Through February, the same area has seen a 151% increase.
Because online grocery shopping has just begun to hit the mainstream, ratings and reviews were likely not part of the grocery industry's e-commerce or online strategy in the past. But, now that they have been flooded with a priceless amount of user-generated content (UGC), they can benefit from the wealth of information accessible to them.
Utilize UGC beyond the product page
Ratings, reviews and other types of UGC such as customer photos and videos can be used in a variety of ways. While they should always be prominently displayed on product pages and perhaps even website home pages, be sure to utilize them on social media, advertising campaigns and even in-store signage. There are endless avenues to amplify the voice of the customer. Doing so is a perfect way for grocery stores to both attract and retain customers to their online avenue of ordering.
Make sure to collect reviews continuously
While it's great to gather as many high-quality reviews as possible, it shouldn't be a one-time endeavor. In order to make your UGC as effective as possible, you have to diligently and continuously work to gather fresh, authentic content on your brand's product pages. Less than half (47%) of consumers think product reviews older than 3 months are still relevant, and only 25% of shoppers feel that a review retains its value after 12 months.
According to a Bazaarvoice survey, almost all (85%) of consumers look at how recently a review was written when reading product reviews to inform their purchase decision. In fact, only 4% of global consumers never check the date a review was written. Almost half (44%) think the date when reviews were written is either important or very important in their purchase decision. If a product has no recent reviews, 47% of consumers say that is an indication that the product is unpopular. Simply put, the more recent a product's reviews, the more likely consumers are to buy it. Over half (55%) of consumers would rather purchase a product with fewer reviews written in the past three months over a product with more reviews written over a year ago.
Don't dread negative reviews — see value in them
While many companies dread negative product reviews, this form of customer feedback can actually be as helpful for a business as a positive product review. How brands receive, respond to and resolve negative reviews signals to consumers what they can expect from a brand. In this spirit, the world's best brands are embracing negative reviews, viewing them as opportunities to improve all areas of their business.
Negative reviews can help inform everything from product development and innovation to price strategy. They can also help brands and retailers enhance their customer support processes and tools. Customers are also likely leaving valuable information that helps businesses to understand how their products compare to competitors'.
Now that both businesses and consumers have embraced e-commerce when it comes to grocery, it's time for UGC to become an integral part of the business strategy. Continuing to gather fresh, relevant, authentic reviews, utilizing them beyond the product page and not screening out as well as finding value in negative reviews is a great place to start.