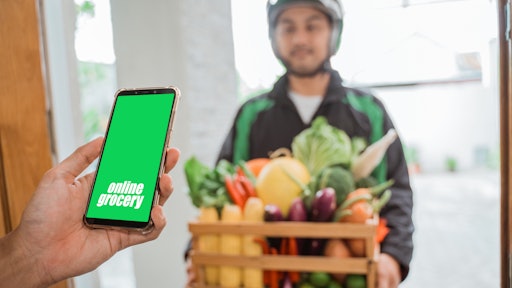 AdobeStock_346469883
Over the past year, it has become a truism that the post-pandemic normal won't be a return to the pre-COVID-19 status quo.
Case in point: the surging grocery e-commerce market. According to Incisiv's 2020 Grocery Digital Maturity Benchmark Report, online shopping will account for 21% of the total grocery retail market by 2025 – a share that's about 60% higher than pre-pandemic forecasts had suggested. Even as the economic reopening proceeds apace, many consumers aren't about to sacrifice the efficiency and convenience that e-commerce provides.
But, while millions of consumers are prepared to continue shopping online for the foreseeable future, not all grocers are prepared to navigate the new digital normal. Among consumers surveyed for the Incisiv report, 43% said that they had shopped online within the previous six months, but only 26% had done so with their preferred grocers – a disparity that suggests that many popular retailers haven't successfully undergone the digital transformation required to be competitive in the new grocery landscape.
Smaller, local stores are disproportionately hit hard by this dynamic, as they tend to lack the technological expertise and knowhow boasted by industry leaders. But, size need not be a deterrent to delivering customers quality online experiences that will keep them coming back. Here's how small grocers can elevate their online presence.
Personalization: Tailoring bespoke, authentic customer experiences
One reason shoppers' offline store preferences aren't translating to their online purchasing behavior is that their favorite retailers' online channels often lack the personal touch provided by the in-store experience – from employees' friendly greetings to the seasonal decorations that enliven the store. By comparison, a generic online interface is a major disappointment, as is any site experience that makes visitors feel like numbers in a system rather than valued shoppers.
But, by implementing personalization tools that remember customers' past purchases and tailor their online experience, including product placement, pairings and promotions, according to their shopping history, retailers can achieve the online equivalent of a vendor behind the counter asking if a customer would like "the usual."
Grocers can also easily provide online versions of in-store gimmicks, from brand mascots to music selections. Every store has its unique charm. The online arena should be a place to empower that charm, rather than subdue it.
Holistic solutions: From smartphones to supply chain networks
When the onset of the pandemic sent retailers scrambling to pivot to online sales, many grocers implemented e-commerce solutions and apps that may have provided quick fixes but failed to facilitate a holistic digital transformation process. Given that there's no going back to the status quo ante, it's imperative for retailers to begin that process if they haven't already.
What does that look like? Take apps for example. They're a vital feature for 21st Century consumers who increasingly expect whatever good or service they want to be available at their fingertips. But, it's not enough to offer an app that's disaggregated from the rest of the store; it must be linked to other features and services, including inventory visibility and curbside pickup.
Attaining full digital maturity is possible when grocers partner with technological vendors who can optimize every stage of the supply chain.
Simple does it
Advanced technology shouldn't be confused with excessive complexity. Simplicity is key, as a recent consumer survey suggests: Researchers found that cumbersome or difficult-to-navigate site experiences are a big turnoff for shoppers, with 59% saying that a poor site appearance is either "very annoying" or a "dealbreaker."
Individual brands are more likely than major retailers to suffer from glitches and subpar online journeys, but a tidy, user-friendly site layout can go a long way toward converting and retaining visitors. Just as in-store customers base their shopping preferences on the cleanliness and appearance of a physical location, the same is true for online shoppers, who dislike digital clutter as much as they do messy aisles or haphazardly arranged shelves. A wider range of digital features adds value but should never come at the expense of practicability.
The bottom line
When it comes to digitization and the adoption of tech tools, success truly begets success. Once grocers incorporate an entire end-to-end digital journey for their e-commerce operations, they're also widening their scope to pick up data-driven insights – from consumer preferences to full supply chain visibility. Armed with this information, grocers can fine-tune their operations to make them more efficient and customer friendly.
Digital transformation isn't a one-and-done proposition. It's a process. When grocers move online, they're still offering the same core services as brick-and-mortar retailers, which smaller grocers would do well to remember as they embark on what might seem a daunting journey. A gradual transition aimed at transferring the best aspects of grocers' brand identities to the online realm will help retailers improve their competitive position.
If grocers build quality online experiences, customers will come.