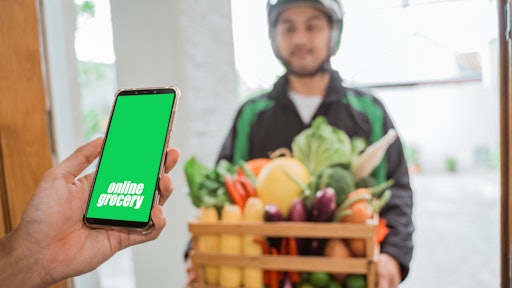 AdobeStock_346469883
Worth more than $2 trillion, the U.S. consumer packaged goods (CPG) industry is changing fast. In 2019, online purchases accounted for roughly 3.4% of all grocery sales; by 2020, this figure shot up to 10.2% and in 2021, is rising further still.
It's clear that the Coronavirus disease (COVID-19) pandemic and subsequent lockdowns have accelerated the existing trend toward online grocery shopping and there are already indications that the buying behavior of many shoppers has changed permanently.
One example is how the traditional peaks in both online purchases and in-store foot traffic has flattened out across the week. No longer tied to their usual working routines and keen to avoid busy stores at the weekends, shoppers are being more flexible when making their grocery purchases.
Another major factor in enabling these shopper behavior changes has been the incredible growth in smartphone usage. Research found that 70% of shoppers now use a mobile device while shopping in a store. Almost 50% of shoppers searched in-store using their smartphone, while 25% performed comparison shopping on their phone while assessing a purchase. What's more, as the comfort with mobile payments increases, the integration of mobile devices with shopping becomes even more important. Retail executives believe 56% of all transactions completed in a store will be via mobile point-of-sale, self-checkout terminal or shopper's mobile device in the next five years.
With traditional brick-and-mortar stores already under pressure from smartphone-enabled comparison shopping and "showrooming" (customers checking out a product in-store before buying online at a better price), grocery retail marketers are now fighting back and utilizing the smartphone as an essential tool to close the shopping loop between mobile, web and brick-and-mortar.
Right time, right location
Shopper marketing can be defined as the process of understanding shoppers and using that understanding to develop a marketing mix which influences shopper behavior positively toward a brand.
Today's shoppers demand to move seamlessly between the physical and digital worlds, with lots of choice at every step. More than ever, grocery brands must find new ways to reach niche audiences in a manner that resonates with their lifestyle in 2021. This requires a holistic picture of their customer -- who they are, where they go and when is the right time to engage.
In light of the contemporary challenges facing CPG brand marketers, perhaps the most important element of this holistic picture is location data. By pinpointing where a customer is at any given moment, a brand can provide immediate relevance and value to its customers by sending them targeted messaging. Whether data is being used to drive a customer in-store, or to the shelf whilst in-store, understanding and utilizing location data has become imperative for brands.
There is a major opportunity for brands to leverage location data in-store. Research has shown that almost 20% of shoppers change their mind about a purchase after being influenced by in-store media, while 83% of shoppers make multiple, low-value impulse purchases and more than two-thirds research and price compare right up until they pay for a purchase. Brands therefore have a huge opportunity to strategically drive consumers away from competitors, so long as they understand what resonates with them.