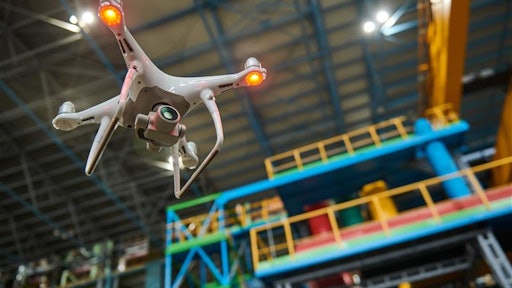 Kadmy-Drone
The Coronavirus disease (COVID-19) has changed grocery retailing forever, accelerating trends that have been in the works for many years. That being said, technologists and retailers alike continue to experiment with interesting, and sometimes strange, tools and tactics that spark our interest and inspire our future.
According to Coresight Research, grocery sales are expected to surge 40% year-over-year due to the lockdown. What's more, 52% of consumers have bought groceries online, the first time that more than half of respondents have done so.
Changes are occurring in store fulfillment and in-store experiences alike, with retailers rolling out everything from biometric payment to delivery robots. Here are the latest trends.
It's not surprising that the increase in grocery sales has aligned with an increase in cooking at home. People are trying new recipes, thinking about how to eat healthier and giving consideration to their consumption of processed foods. According to a study by Hunter, 54% are cooking more, with 50% feeling more confident in the kitchen and 26% learning more.
Retailers are taking note of this trend and seeking to support shopping processes and fulfilment for more health-conscious shoppers. The industry overall will see a growing convergence in healthcare and food, with recommendations powered by big data and artificial intelligence (AI).
This convergence will impact the choices consumers make as it applies to which foods they buy for nutritional health and environmental health. Selecting products because they are organic, local or sustainably raised will require supply chain transparency and technology that can quickly surface this data. Mobile applications are expected to rise in prominence, helping consumers make more health-conscious decisions quickly and easily.
While delivery robots and drones have been deployed and in the market for years, they will enter new markets and expand in use over the coming year. In August, the Federal Aviation Administration (FAA) provided Amazon approval to operate its fleet of Prime Air delivery drones, and Amazon announced it will begin testing customer deliveries.
Online grocery has doubled, tripled or even gone up six-fold for many grocers during COVID-19, which correlates to a shift in sales percentages between in-store and online. Retailers will be looking for new options when it comes to fulfilling local orders quickly. The question is whether these fulfillment options are affordable. There are a lot of costs associated with delivery robots and drones, both in the upfront cost as well as maintenance.
At the same time, these options provide even more freedom to shoppers who can avoid the hassle and headache of visiting a store. Drones can make delivery timing much more efficient and continue to reduce the barrier to shopping online.
3. Quickening fulfillment through grocery delivery
The competition is heating up from a partnership perspective as Uber and DoorDash enter the grocery delivery space. Retailers will have more options when it comes to fulfillment partners, which will give them increased flexibility and possibly decreased costs.
In August, DoorDash announced its entry into grocery through a partnership with Smart & Final, Meijer and Fresh Thyme. Likewise, in July, Uber announced that grocery delivery will be available in Miami and Dallas.
With online orders increasing to 5-10% of overall sales, grocery retailers are looking for new ways to control relationships with their customers. For some, partnering with another company may provide the delivery method they desire from an economical perspective, but not the high-consumer touch and direct relationship they prefer. These will be the pros and cons grocers weigh.
4. Biometric payment and palm reading
Biometric payment, point-of-sale technology that identifies a user via fingerprint or palm reading is certainly the most "technology of the future" trend. In September, Amazon launched Amazon One, a contactless way for people to use their palm to pay at a store, present a loyalty card, enter a location like a stadium or scan their work badge. The technology is designed to be highly secure, and certainly takes "palm reading" to a new level.
While most local grocers will not roll out technology like this for years, if ever, consumers will begin to feel more comfortable with this approach as Amazon rolls out this payment method in Whole Foods and other affiliated stores.
Technology continues to make a big impact
As we evaluate hot trends and topics, one thing is for sure—technology continues to change lives, sometimes for the better. COVID-19 has physically separated employees and consumers alike, but technology has re-connected and enabled these employees and consumers to more quickly fulfill basic, fundamental needs. The coming year provides a perfect opportunity to experiment with new innovations and partnerships, crafting a more interesting and seamless world of the future.