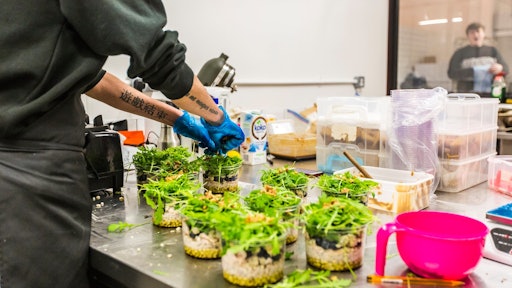 Karma Kitchen
While food delivery is nothing new, according to a recent Forbes article, online food delivery is expected to mushroom to $200 billion by 2025 and is rapidly changing the global food industry. Breakout services have capitalized on what customers want most -- convenience. The rise in popularity of food delivery has born a concept—dark kitchens.
Also known as delivery-only restaurants, ghost kitchens and virtual kitchens, dark kitchens meet the demand of a new generation who feeds off food delivery services. This concept enables restaurants to open in more industrial and affordable parts of cities without the need for the front-of-house furniture and fixtures because these kitchens streamline the culinary process by delivering directly to customers' doorsteps. With more kitchen space for back-of-house equipment, these kitchens offer more output for 24-hour food preparation. While this new trend saves restaurants money, it also creates new challenges, including potential impacts to a restaurant's supply chain.
As freshly prepared meals and snacks become a larger part of our lives, more production will move "into the cloud" with a growing separation between production sites, points of sale and consumer interaction. A Euromonitor prediction says the global market capitalization for cloud kitchens will go as high as $1 trillion come 2030; a more modest prediction by Acumen Consulting puts it at $201.1 billion by 2027.
Brands looking to capitalize on dark kitchens will need a supply chain partner that's up for the logistics involved with kitchen technology and equipment moves. It changes supply chains for restaurants drastically as they shift to focus more on partnerships with delivery service providers with the end-consumers' satisfaction always in view. In lieu of greeting patrons, ensuring their dining in-service experience goes well and is not disrupted with takeout services, these kitchens are focused on speed and accuracy and need technology that gets orders out the door promptly. These industrial locations also have more parking spots for delivery services to support traffic flow in the metropolitan areas they are serving. The concern for restaurants is that some third-party logistics (3PL) providers may shy away from meeting the challenges of dark kitchens.
Real estate companies rent commercial kitchens (catering kitchens, central production units, dark kitchens), bespoke, flexible spaces to growing food businesses of all sizes. They build, equip and manage the spaces with everything from kitchen porters and community managers to top-of-the-range equipment, even SALSA and HACCP accreditations.
Likewise, Filipino entrepreneurs are fast to take up and scale this model.
In 2020, when restaurants were forced to deliver or to go bust, a quick-service restaurant (QSR) leader responded with a $7 billion investment to build a cloud kitchen network. More recently, startups secured substantial funding from both venture capital firms and angel investors in a race to build cloud kitchens that would cater to the Metro Manila market.
While the model attracts food entrepreneurs because of the low setup and operating costs, parallel investments have to be made by their industry counterparts, especially those in logistics, to help cloud kitchens reach their full potential.
Cloud kitchens are here to stay
The Coronavirus disease (COVID-19) significantly altered the way of life for most people, including their eating habits. The accelerated growth of cloud kitchens is largely due to this change inhabits, but is not simply a response to COVID-19 though. The resilience of the hospitality industry in adapting to changing consumer behaviors has been evident for some years, and many predict that dark kitchens will only grow in popularity as the population adapts to the New Normal but retains the habit of ordering in.