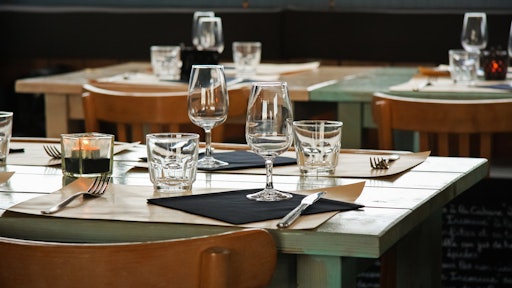 loki_ast
We've reached a point in time where consumers want to be out and about, but may not be ready to fully commit to eating at restaurants with the Coronavirus disease (COVID-19) cases back on the rise. As the Delta Variant continues to spread, carryout is a way that restaurants can give customers a little bit of the restaurant experience at home.
Over the last year and a half, restaurants have shown their creativity and flexibility to serve customers in the best ways possible – whether it be putting up tents and temporary structures for outdoor dining or reducing contact points to ensure digital menus and QR codes available to customers. It's these types of initiatives that carryout services will have to mimic in their own way to survive. Here are some examples of what can be done:
Creative serving. Many restaurants that didn't offer carryout prior to the pandemic, such as fine dining restaurants, have made the switch and are now offering it to stay connected to their patrons. But, they have had to find ways to keep up the same sophistication offered in the restaurant. For example, some places are offering half-cooked meals for the customer to finish preparation at home. Others have started offering hit and eat dishes for meals that can't be easily packaged. These dishes can be refrigerated or frozen, prepared ahead of time and sold via delivery or carryout. These types of initiatives are a great workaround for restaurants who never considered takeout prior to the pandemic.
Overcoming logistical challenges. It's no secret that there has been a significant shortage of workers across the industry. One way to handle human absence is to adopt technology such as artificial intelligence (AI) that learn the business model and give the best recommendation to improve the restaurant's efficiency. The end-to-end optimization systems that control the kitchen have become even more valuable in that they are doing a better job at sequencing orders and productivity to align with desired carryout times and ensuring that customers are getting hot and fresh food.
Click here to hear more about how human workers collaborate with technology:
Personalization. Many diners visit restaurants not just for the food, but also for the experience. Restaurant owners and operators can continue to up-level their service and ensure the best customer service by remembering previous customer interactions, learning and understanding customer preferences and keeping record of repeat customers – whether they are dining in or carrying out. When a restaurant is able to put this level of detail and service into their customer journeys, they will see the return.
With the winter months looming, restaurants will once again face changing customer preferences. Dine in may become a less attractive option for some, so being able to offer a carryout option (in addition to delivery) is imperative to success.
Additionally, visible safety protocols in restaurants will be essential in driving consumers to order for carryout. This includes contactless pickups to reduce interactions between consumers and restaurant workers and acts as a way to enforce social distancing. Many restaurants have already embraced COVD-19 safety protocols such as using technology that reviews and confirms orders were prepared by a single individual to avoid multiple touchpoints, preparation surfaces were cleaned, employees have washed hands or even if they're wearing gloves or a mask. These types of unique innovations can give consumers the confidence that even when they're carrying out, they are getting the best food with the safest preparation.
Carryout has become, and will continue to be, a major part of many consumers' interactions with restaurants. Given the adoption of technology programs to ensure that both restaurant staff and consumers are preparing and receiving orders safely and social distancing efforts in effect, there are tons of opportunities for restaurants to ensure their practices are up-to-par and can ultimately deliver an experience that every consumer expects.
In addition to carryout, innovations like contactless deliveries with drones is a way that consumers can still get the food they love, but offers a different, cost-effective solution to restaurants that reduces the need for manpower (especially with the massive need for more employees in the industry) and labor costs. It also provides the restaurants an opportunity to reach an extended customer base and quicker delivery – drones do not have to navigate traffic or other blockages on the roads. Another option is adopting robot-led deliveries, which operate by using camera, sensors and 3D city maps to determine the most accurate route to the customer.
The past year has continued to forced innovation in the restaurant industry. Crises, such as the COVID-19 pandemic, have often lead to breakthroughs that result in new business models and technologies that improve our lives in some way or another, and the restaurant industry has seen just that. Restaurants need to address the ongoing need for carryout service and ensure that customers are getting an in-person dining experience at home. Those who can put a creative, effective strategy in place will thrive.