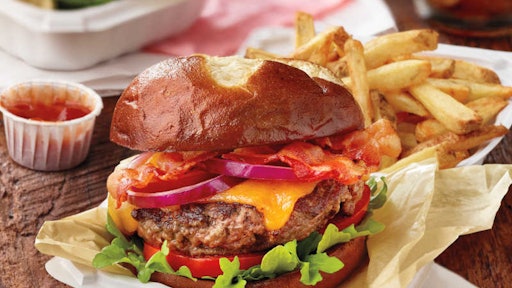 Grubhub
The Coronavirus disease (COVID-19) has made one thing abundantly clear to foodservice professionals—a new chapter of restaurant operations is here, and here to stay.
The pandemic has brought immense change to the restaurant industry, expediting the Food 2.0 era, when food business decisions are based on technology, semi-automation and efficiency. Restaurant leaders attached to the "old ways" of the industry, or rather unwilling to implement third-party delivery services and tied to brick-and-mortar dining, are quickly going out of business.
These traditional restaurants are shuttering across the United States, as they struggle to maintain revenue without foot traffic. In fact, one in four restaurants aren't expected to survive this year as a result.
Too pessimistic?
The restaurants on the other side of Food 2.0 are finding crazy growth opportunities through a host of new tech-enabled services and new restaurant formats. An increasingly popular option — which is inherently different because it forces food professionals to embrace tech from the get-go — is ghost kitchens, which are delivery-only restaurants designed solely for orders to be enjoyed off-premise.
Ghost kitchens aren't new—commissary and shared kitchens, where restaurants rent space from a shared kitchen alongside up to 20 other delivery-only competitors, existed long before today. But, the ghost kitchen operational structure has recently piqued the interests of restaurateurs needing revenue with dining rooms empty.
They're a natural progression for restaurant evolution, as restaurant delivery sales have grown 52% year-over-year, with COVID-19 undoubtedly expediting the process in 2020. A new wave of entrants to the space are making ghost kitchens more affordable and available than before.
No dining room, no problem—ghost kitchens support the "New Normal"
Though independent restaurants have been hit hardest by pandemic-related lockdowns, several chains have also been forced to close stores nationwide.
However, all foodservice companies can benefit from opening ghost kitchens, even if it's in parallel to resuming normal operations as the economy begins to re-open.
Ghost kitchens are a solid concept for:
● New chefs and entrepreneurs. While timing isn't ideal to open a brick-and-mortar restaurant, those new to the industry can soft open their operations with a ghost kitchen. In fact, 60% of restaurant orders are already off-premise; and 75% of operators consider off-premise food their best growth opportunity, making it a solid option for those who are just getting started.
● Independent restaurants. With only a few locations that have traditionally relied on brick-and-mortar diners to remain viable, smaller restaurants can expand, and in some cases, introduce, delivery by turning to ghost kitchens. It's a cheap, easy solution to reach customers.
● Food truck operators. Food truck workers who may be concerned about the health and safety of themselves and their customers out-and-about can open ghost kitchens to fulfill orders.
● Established chains. Brands have invested in ghost kitchens for years. Now, they are more than coming in handy to keep pace with shifting, pandemic-fueled industry demands.
Benefits of a Food 2.0 approach
Food 2.0 enables a more tech savvy back-of-house, and ghost kitchens are a huge part of that. Ghost kitchens come with a host of benefits that many foodservice pros aren't accustomed to in traditional restaurant settings.
For one, restaurateurs don't require as much square footage for their physical space, given the drastic decrease in (read: elimination of) brick-and-mortar customers. That means less money spent on rent, utilities, decor, dining room furniture, new-space construction, bar equipment — the list goes on. And since ghost kitchens don't necessitate a high-traffic location, food pros can avoid rent premiums. For this reason, ghost kitchens are gaining steam in mid-sized cities, and even small, rural towns are picking up on the trend.
Ghost kitchens can also help keep labor costs low. The general knowledge that restaurants need to keep labor cost percentage between 20-30% of gross revenue may be true for those operating traditionally. But this percentage can be much lower with ghost kitchens. Ghost kitchens don't require tableside service, busboys, bartenders or hostesses. Your entire team works efficiently in a 500-square-foot kitchen.
That's where technology comes in. By batching food production, ghost kitchens allow restaurants to optimize kitchen workflows and easily predict how many people to schedule, and when, to ensure resources are used wisely.
Ghost kitchens operate in the shadows
Some of your favorite restaurants may be operating ghost kitchens, and you'd have no idea. Food influencers, magazines, celebrity chefs and popular brands are turning to brand-driven ghost kitchens that are continuing to drive their popularity.
In fact, as ghost kitchens are reliant on third-party delivery apps, others have previously launched their own ghost kitchens and encourage their restaurant partners to also open delivery-only concepts to boost sales. For example, Grubhub launched a ghost kitchen powered by Bon Appétit and Whole30.
Chipotle launched a "digital make line," which severs online operations from in-house service. McDonald's even introduced a new ghost kitchen location in London that features a smaller menu optimized for the delivery experience. Similarly, Mealco offers a simple menu of Mexican-inspired favorites.
Optimizing the delivery economy
Ghost kitchens are a future-proof channel to help restaurants optimize recipes, produce food faster than ever and keep pace with the growing demand for delivery. Though they've existed for years, we're sure to see a huge uptick in independent and chain restaurants alike using the format to boost sales, especially as the pandemic forces brick-and-mortars to shut down.