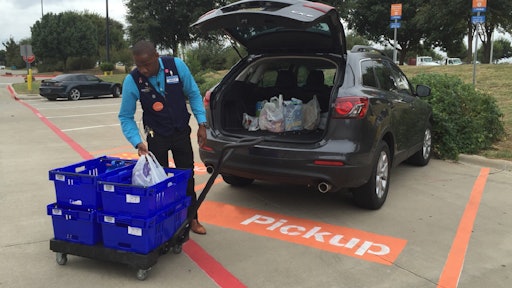 Pallets play a key role in the supply chain, and food safety concerns have resulted in new expectations for the pallet and tote industry. Manufacturers have responded with hygienic, cleanable products with improved durability.
Food Logistics caught up with two of the industry's leading pallet manufacturers to learn more about the challenges they face.
Paxxal Inc.
Paxxal Inc., recently launched its newest North American pallet to the U.S. market. The new platform, which is part of a new series of solutions from Paxxal, is made from 100 percent recyclable patented composite material and uses an automated rotational molding process to improve durability, making it stronger than wood or plastic, says Ben Stoller, executive managing director of Paxxal Inc.
Paxxal's new pallet weighs less than 50 pounds and is 30 percent lesser in weight than wood. It features reinforced blocks, 95 percent top deck coverage, a solid core and internal reinforcement for better rackability. It also has wider four-way entry, rubber inserts to prevent slippage, a one-piece top and bottom deck design and hand holds.
"The unique, leading-edge design of the Paxxal pallet is specifically tailored to today's changing pallet market. It is produced by exceptional engineering and design, revolutionary materials and patented roto molding technology. It is the most durable, lightweight, cost-effective pallet available in the multi-use plastic pallet market," Stoller says.
The pallet also has stretch-wrap corners and chamfered undersides and decks for easier pallet jack and forklift use and is exempt from fumigation requirements. Paxxal's pallet is 100 percent recyclable with an indefinite life span and longer life cycle. The pallet is resistant to extreme temperatures, corrosion, ultra-violet light and bacterial growth.
Hygiene is critical to food safety in the supply chain. "That's why there are no hidden spaces in our pallets where germs can hide. Even if the outer layer is punctured, the pallet is designed with a material that prevents contamination," Stoller explains.
Paxxal anticipates increasing demand for track and trace capabilities in the food supply chain, and its pallets have capabilities for both radio frequency identification (RFID) and barcode tracking. "In adjacent supply chains, like pharma where the average item price can be much higher than grocery, we see track and trace being deployed sooner," the Paxxal executive says.
Retrieving pallets is always concern. "Leakage has been a major challenge for poolers and others in the pallet business. The key to eliminating leakage is to have great controls in place that provide incentives for all trading partners to maintain the integrity of the system," Stoller adds.
For totes and pallets used in the food service industry, there is a significant focus on cleanliness, and ORBIS has designed its products for cleanability, says John Ledwith, national account manager for the company.
The 2017 trends in food processing operations report from PMMI, the Association for Packaging and Processing Technologies, reports 73 percent of surveyed food processors desire the ability to clean products the most. "Standardized, cleanable reusable packaging keeps plants and equipment clean," Ledwith says.
ORBIS' hygienic reusable packaging has several unique characteristics, including one-piece design and an open deck for flow-through for easy cleaning and fast drying. They also feature minimized areas for contaminants to collect, with no hidden cavities or hollow areas, as well as contoured surfaces and corners that reduce the risk of product damage from punctures or snags. Within foodservice, it also is important that pallets and totes are non-porous, don't absorb moisture or odor and are non-rusting.
Asset tracking has taken on greater importance within the food industry. "In most food segments, we are finding that food processors are looking to track entire pallet loads, not necessarily at the case or tote level," Ledwith says, adding that an exception includes high-volume segments, such as a bakery, where it is critical to keep trays in use at all times.
Most successful pallet retrieval programs are based on a very tight, controlled loop where all supply chain partners have collaborated on the packaging program and understand the benefits. "These companies take the time to train their associates to properly manage packaging assets, including receiving, handling and return," Ledwith says.
Reusable totes can be used for home grocery delivery as well as online grocery pick-up applications, which is a growing segment of the foodservice industry. "In this application, retail associates use picking carts and totes to pick merchandise. Consumer orders are staged in totes and transported to the consumer pick up area with mobile pallets or dollies," Ledwith adds.
Some of the benefits of reusable constrainers include the cost savings and reduced environmental impact. Ledwith suggests food processors conduct assessments to see the cost savings and environmental improvements, which help them understand the savings related to transportation, product throughput, and reduced solid waste and greenhouse gas emissions.
"Long service life, combined with cleanability, make reusable packaging an economic and environmentally strong solution for today's food processors," Ledwith concludes.