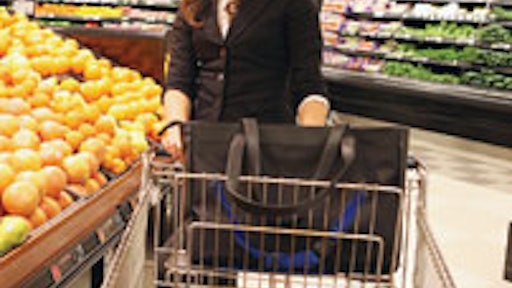 Organic foods in the form of consumer packaged goods (CPG) stand out on the shelves of conventional grocery stores and dominate the assortments of natural products retailers that cater to health-oriented shoppers. As consumer demand for these foods and beverages has increased, so has the sophistication of product distribution to thousands of retail customers around the country.
Expansion of facilities and advances in supply chain practices and technology have combined to produce more reliable distribution. That much is clear upon a close look at the two giant rivals in the business: United Natural Foods and Tree of Life.
At the latter firm, company officials say the foundation of its strategy is excellence in buying and selling, logistics and order quality-all of the fundamentals of food distribution.
Michael Funk, president and CEO of United Natural Foods (UNFI), has pledged to enhance value to retailers through everything from a "highly-evolved logistics network, on-time deliveries and promotional and marketing programs to industry-leading service levels and broad product availability." The company carries more than 40,000 products and supplies over 17,000 retail customers nationwide.
UNFI is the largest publicly-traded wholesale-distributor in the natural and organic foods industry. It services a wide variety of retail formats, including super natural chains, independent natural products retailers and conventional supermarkets.
Since 2002, the distributor has added approximately 1, 900,000 square feet of capacity-a 100 percent increase in distribution capacity. In 2003, UNFI became the first and largest certified organic distributor in North America. All of its DCs are certified by Quality Assurance International, the industry's underwriter of organic quality.
Recently, the company rolled out a new distribution facility-the largest in its nationwide network-after relocating from New Oxford, PA. Full commencement is expected to occur at the end of this year at the new 675,000 square foot distribution center in York, PA. The facility boasts "best-in-class" warehousing and inventory control systems, including state-of-the-art "pick-to-voice" order fulfillment systems.
It will serve as the hub for customers in New York, New Jersey, Pennsylvania, Delaware, Maryland, Ohio, Virginia and West Virginia.
"We continue to experience growing consumer demand and completion of this new location will help relieve our over-capacity at the New Oxford facility as well as enhance our overall capacity to grow," says Funk. "The infrastructure investments in our nationwide distribution network will ultimately serve to improve efficiencies, lower our operating costs and provide customers with enhanced product diversity."
For the York facility, UNFI will be pursuing LEED (Leadership in Energy and Environmental Design) certification-a third-party certification program and a nationally accepted benchmark for the design, construction and operation of high performance green buildings. LEED promotes a whole-building approach to sustainability by recognizing performance in sustainable site development, water savings, energy efficiency, materials selection and indoor environmental quality.
The leasing of a new, state-of-the-art distribution center in Moreno Valley, CA, is also in the works. The recently constructed 613, 200-square-foot facility will be UNFI's largest distribution center in its western region, serving customers in Southern California, Arizona, Southern Nevada, Southern Utah and Hawaii.
Operations are scheduled to commence during the summer of 2008 and the facility is expected to employ approximately 340 associates within the first year. Like the York operation, the Moreno Valley location is designed to enhance efficiencies, lower operating costs in its distribution network and improve productivity through "best- in-class" warehousing and inventory control systems.
The distributor's warehouse capacity is larger than any of its competitors in the natural products industry. Following the launch of the Moreno Valley facility, UNFI will have more than 5.8 million square feet of space at 21 distribution centers nationwide.
With humble beginnings in 1970 as a small store in St. Augustine, FL, Tree of Life had, by the end of the decade, become the preeminent wholesale-distributor and marketer of natural and organic foods in the southeastern United States with sales in excess of $30 million. After a series of acquisitions over the next twenty years, Tree of Life grew itself into a nationwide specialty food distribution network, eventually reaching into Canada by 1999.
The company prides itself on providing excellence in buying, selling, logistics and order quality-the fundamentals of good retail distribution. Armed with its exclusive marketing service called Smart Assortment, product assortments are optimized in its distribution facilities and at the store shelf. The program draws on point-of-sale transactional data to ensure that product assortments meet the evolving needs of the target consumer. At retail, Smart Assortment develops optimal natural, organic, gourmet and specialty product assortments customized to the needs of individual stores.
In 2007, the company made two key public announcements about streamlining its supply chain. In March, at Natural Products Expo West, Tree of Life and ECR Software said they were nearing completion of Phase One of their EDI-based supply chain and marketing automation link. This link is between Tree of Life and its retail customers who use the ECRS Catapult Enterprise Point of Sale and Supplier Integration Server (SIS).
Last September, at the Natural Products Expo East, Tree of Life announced the completion and launch of Phase One of its interactive Broker Portal. The company's new Broker Portal-Phase One is the third in a series of information-sharing technology tools that Tree of Life had launched in the preceding year.
The first of these tools, the Tree of Life Retailer Portal, premiered at Natural Products Expo East in 2006 and the second (the Supplier Portal) has been in use by the company's Vendor/Manufacturer partners since early 2007. This provided a platform whereby further system and information sharing enhancements can be developed.
A catalog allows users to browse the complete lineup of Tree of Life-distributed products by distribution center and searchable by brand, category, product type and even by UPC code or item number. All new items are listed in an easy to understand format.
The bottom line: Organic products are in good hands with UNFI and Tree of Life leading the way in efficient supply chain and distribution practices.