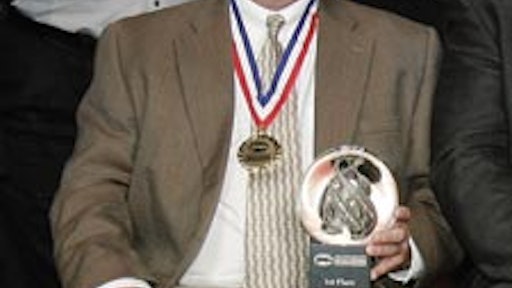 Let me start by congratulating you on winning first place in the 48-foot tractor/trailer class at the Food Industry Truck Driving Championship held during the Food Industry Productivity Convention. What was that like?
Carroll: It's not an easy competition. You have to qualify for it. Each company has its own competition, and I won that three years in a row to make it to the national championships. Then there are three parts to the competition: a written test on safety and operating procedures, a pre-trip truck inspection, where you have to find what they did wrong to the truck, and finally, the road course, where they put up everyday obstacles to see how you handle them. This year I'm just happy to be one of the fortunate ones to win. I'm the first from U.S. Foodservice to win, so I'm really proud of that.
How long have you been driving, and why did you get into that as a career?
Carroll: I've been driving for about 10 years, eight of them with U.S. Foodservice. I always wanted to drive when I was younger. A lot of people had to go to school to learn to drive. I didn't. My mother always said I could drive anything as long as it had four wheels and a steering wheel. I love it. You are your own boss when you're out on the road. I wouldn't trade my life for anything. I work for a good company and I wouldn't throw that away for anything.
Have you always been in the food industry?
Carroll: No, I started in the engineering field, and there was a lot of driving with that. There was a lot of traveling and a lot of overnights. I had just had a newborn and I wasn't home much, and I wanted to change that. I've been with U.S. Foodservice ever since.
Do you run the same route every day?
Carroll: I've run the same route for the last six years, from Fort Mill to Greensboro, NC. I make some deliveries to the same customers every day, but most are at least two times a week. I average about 14 or 15 stops a day. It's nice to come into work and know where you will be going every day and then be home at night.
How is driving for the food industry different than for any other industry? What makes hauling food unique?
Carroll: The food industry is not cut out for everyone. It's not an easy job. You have to want to work in it and love the job you're doing. If you don't, you'll never make it.
In the food industry, you're doing a lot more in a customer relations-type setting. You're really in front of the customers all the time, and you get to interact with them a lot more. They want to know a lot more about what's going on with the load. You have to enjoy meeting people.
It's a lot of responsibility. You can't just climb into a truck and get on down the road. There are a lot of other things to deal with. You have to make sure you make your deliveries on time, and that they're getting there at a quality level that will satisfy the customer. You really have to do whatever it takes to make sure that the customer is happy.
And, in the food business, there are so many different trucks—reefers, dry vans, coolers. At. U.S. Foodservice, we haul everything on one multi-temp truck, so there's a lot more to deal with there too.
I guess you have a lot of technology in the truck to make your job a lot easier?
Carroll: I'm driving a 2005 International model, and everything now is running off a computer in the truck. When I first started, we had just a basic tractor. Now, everything is computerized and I can just push a button to get whatever I want out of the truck.
At U.S. Foodservice, all our trucks are equipped with a XATA satellite system, so the company can pinpoint exactly where the trucks are all around the country. In the future, the system will eliminate all the paperwork that we have to do all the time.
What are the biggest problems you face every day?
Carroll: The biggest thing I have to deal with is other drivers. Normal drivers look at truck drivers and blame us for anything bad that happens on the road, and that is not the case. A truck driver has to be more cautious than anyone else on the road. We have to look ahead at all times, but we also have to be aware of everything around us at all times.
We keep hearing about a driver shortage. How do companies hire more drivers like you?
Carroll: I do not see a driver shortage as a big problem. Everyone knows that trucks are the only way to move products around the country, and there are always people applying for jobs. There are always people applying for jobs at U.S. Foodservice and we have to turn them away all the time because we have no spots for them. We have not had a problem finding someone to fill someone else's spot when they leave. D — Leonard Klie