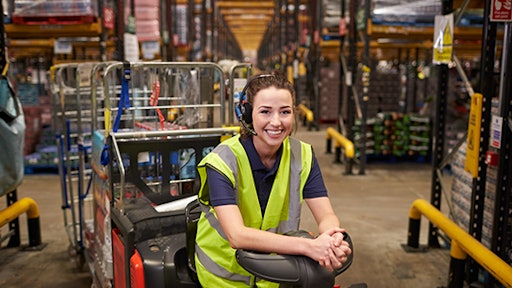 Symphony RetailAI
In the past few years, many consumers now think of voice assistants and wearables as an ubiquitous part of their personal lives, in their vehicles and in their homes, but these technologies are also prevalent throughout the warehousing space. In food supply chain warehouses, voice picking technology and wearables augment numerous tasks for workers, as the hardware and software in these systems grow in sophistication as well as availability.
"Voice picking technology is very advanced today," says Thierry Mole, logistics practice director at Symphony RetailAI. "There are a wide variety of solution providers with competitive technologies, so as a result, a few key trends have emerged within the voice picking industry. Today, almost all devices are Android, but just a few years ago Windows was the main provider. This shift has increased the number of devices offered, which lowers the cost of acquisition.
"Additionally, new IoT technologies are now compatible with voice picking solutions and can improve and simplify the process for the picker," he says. "A variety of IoT solutions are currently available, including connected glasses, digital tags and technologies that support automatic positioning such as gravity, WiFi and beacons."
The more artificial intelligence grows, the more advanced voice picking and wearables become.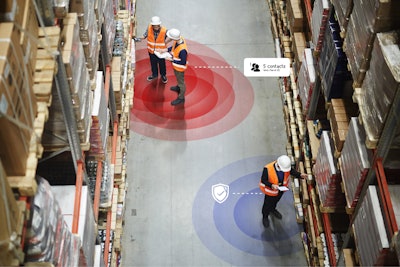 "One big trend is the AI-centric approach to wearables," says Charu Thomas, founder and CEO, Oculogx. "Earlier companies that built their backs on wearable technology were building 'assistive reality' technology, but with advances in AI, true augmentation is possible."
As the level of capability grows in voice, it also does in artificial intelligence (AI)-enabled robotics, which allows the two to come together for an extremely optimized experience in the warehouse.
"One trend we are seeing is using those same devices to direct autonomous mobile robots (AMRs) by triggering AMR workflows," says Stefan Nusser, chief product officer at Fetch Robotics. "For example, simple integration with a voice picking system like Vocollect enables a warehouse associate to drop a cart at the end of an aisle and then speak a command that the voice system will pass to the AMR system, and then trigger an AMR to go pick up that cart and take it to another zone for other items needed for orders on the cart or take the cart packout.
"Similarly, a warehouse associate can also use a wearable scanner to do the same thing," he says. "A barcode placed on the floor at the end of an aisle or on the racking of the aisle is associated by the AMR system with a specific workflow. The associate simply scans the barcode of the workflow he or she wants triggered, and an AMR will pick up the cart and take it to the location specified in the workflow. There can be multiple barcodes each labeled with the workflow that will be triggered. In either case, this functionality enables warehouse associates to use the devices that they use every day and also allows them to spend all of their time doing productive work instead of 50% of the time manually moving material all over the warehouse.
"Another trend is to leverage the picking optimization (WES-like) engines of voice systems and optimization engines associated with heads-up display devices to not only provide pick path optimization for the associates, but also orchestrate the AMRs," Nusser adds. "An example of a voice picking system that will do this is Voiteq, and an example of an optimization engine that leverages heads-up display devices is Zebra FulfillmentEdge. With both of these systems, the optimization engine will tell the AMR system to have a new cart waiting for an associate at the end of an aisle before the associate gets to the end, and then will automatically take the cart that the associate dropped off to a new zone or to packout without the associate having to do anything. While this is great for each picking, it is especially a great solution for pallet building as the warehouse associate can leverage both hands to pick cases to a pallet."
Decisions and implementation
These systems alone or combined offer an advanced warehouse that, when done correctly, offers a positive work environment, greater operation efficiency, less room for error and significant return on investment. However, the implementation of advanced technological programs and hardware offers its own challenges. For instance, while the pervasive nature of these systems lowers the initial investment cost, this can create other issues.
"The biggest pitfall is the sheer volume of voice picking solutions on the market," Mole says. "There are a wide variety of Android devices, plenty of new technologies and a plethora of automation options. This creates a more complex environment in comparison to the previous landscape characterized by one unique device and a single software provider. However, there are still opportunities for voice picking. In some countries, growth for automation is limited within logistics. McKinsey estimates that investment in warehouse automation will grow at the slowest pace within logistics, about 3-5% per year through 2025. In less logistically mature markets, there could be even fewer opportunities for automation. Another pitfall is the race to invest in the right technology. It can be difficult to decide which solutions will yield the greatest return on investment. This challenge among voice picking solution providers might encourage future collaboration rather than competition."
The decision on which technology, provider or program to choose is daunting, but the tough tasks do not end there. The implementation process of the actual technology into a warehouse's operation is another crucial aspect of adopting new systems such as voice picking and wearables.
"There are a few challenges companies face when deploying wearable technology," Thomas says. "The first is user experience. Wearables can offer significant improvements in efficiency compared to mobile or handheld technologies, but these savings can only be invoked when creating a seamless onboarding process and workflow. For Oculogx, it's why we built an on-device training module to enable users to get started within minutes of picking up the device. Another challenge is deployment vision."
Wearables are a great tool, but it is key for warehouses to have a roadmap in how these technologies fit into existing operations, Thomas says. Companies must focus on ROI and time-to-scale when it comes to devising successful pilots and proof of concepts.
"One pitfall is trying to just fit an AMR into an existing workflow as opposed to optimizing the workflow now that there is an AMR in place," adds Nusser. "This does not mean you need to change the facility layout -- most companies actually leverage AMRs because they don't typically require changes to the facility.
"However, there will be workflows that exist in the past that need to be amended without changing the facility," Nusser says. "A good example of this is pallet building. This is typically done with a person moving around a rider pallet jack and loading cases onto a pallet so that it is a 1:1 ratio of associate to pallet jack. If you implement an AMR for case picking, you can switch to a zone pick as the AMRs will show up and wait for a case or cases to be loaded before heading to the next pick. In most cases, you don't want to implement the same case picking workflow as you had before and have a person follow around an AMR. This enables an associate to handle more pallets as they can stay in zones and load cases onto many pallets. This is the case whether you are leveraging a voice picking system or an optimization engine that is associated with vision picking.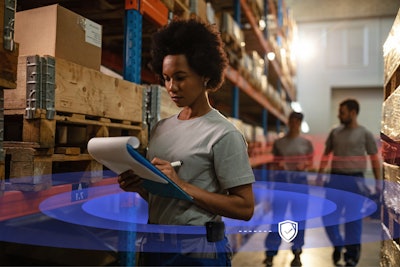 "Another potential pitfall is using robot-specific optimization software instead that does not work with existing wearables or voice," he says. "Some AMRs have optimization that is specific to each picking and also has built-in displays and scanners. This means that the customer will not be able to leverage its existing investment in voice and wearables, it will not be able to direct AMRs using voice and wearables and it will not be able to use these devices across all workflows -- each, case and pallet picking."
In addition to implementation and use issues, privacy and data is also at play. In personal lives, privacy in relation to digital devices is top-of-mind, but for a business, this becomes even more crucial.
"As more companies consider wearables, they face the apprehensions often associated with them – privacy and data collection concerns, ensuring workers wear the devices and cost," says Haytham Elhawary, CEO and co-founder, KINETIC, Inc. "However, these hurdles are increasingly easier to overcome as the use case for keeping workers safe during COVID-19 is obvious to, and even embraced by, employees who willingly wear the devices for their protection. And, when the investment for immediate needs is considered alongside the long-term injury-reducing value of wearables, the cost is actually lower than the return on investment."
Beyond COVID-19
During the Coronavirus disease (COVID-19) pandemic, technology in the supply chain thrives, as it keeps individuals connected and maintain social distancing. This remains true with voice picking and wearables in the warehouse, as employees become more comfortable with the technology to keep them safe and allow them to continue their jobs.
"The use of wearable tech was increasingly common in the warehouse space prior to COVID-19, and since the onset of the virus, is significantly more prevalent," says Elhawary. "This real use case has driven demand for units in the field, and we're seeing companies deploy up to three times as many wearables in the workforce than before COVID.
"The current demand is largely because the pandemic has intensified the labor shortage challenges warehouse operators have always faced," says Elhawary. "But, also is a result of the need for wearables among an entire workforce - not just those focused on intense physical labor. With their new social distancing and contract tracing capabilities, wearables can immediately benefit all employees. The devices reduce disruption, protecting workers from illness as well as injury, so employees stay safe and operations can keep running.
"Furthermore, the perception around wearables is changing among warehouse workers. In the past, they viewed the devices with curiosity, but apprehension," he says. "Amidst this pandemic, workers are now reporting they're grateful for a tool that helps keep them safe. And, they're appreciative of their employer's investment in their health and well-being during a time of such uncertainty.
"As COVID continues to disrupt warehouse workers and operations, the demand for wearable tech will just continue to rise," adds Elhawary. "And, as more and more workers get used to wearing the devices and form new habits around them, the closer wearables will move to becoming mainstream in this space. Eventually, we'll turn the corner on this disease and social distancing and contact tracing will not be as big of a concern. When this happens, wearables will remain on-site as part of a company's safety culture, continuing to reduce injuries, retain workers and increase productivity. The pandemic is simply accelerating the incorporation of technology into the industrial workforce as a means of keeping workers safer, and making them more productive and their work more rewarding. Companies implementing wearables now will have a long-term advantage over those who don't. This augmentation of the workforce with technology vs. the further-out replacement of workers with automation is the near-term opportunity companies should adopt to win."
Beyond COVID-19 and 2020, voice technology and wearables in the warehouse will likely grow to create an even more optimized workspace.
"I think the future involves more of a system-wide optimization of warehouse tasks based on transportation schedules and other external factors instead of isolated pick optimization simply based on orders being sent out of the WMS," says Nusser. "An example of this would be prioritizing picks for a specific order based on trucks leaving the warehouse and sending the priority pick info to devices being used by associates while also orchestrating AMRs accordingly."
Automation technology continues to transform the warehouse and logistics process, and along with it, the day-to-day tasks of a supply chain employee. As human and machine work together, a truly optimized warehouse becomes more of a reality.
Companies in this article