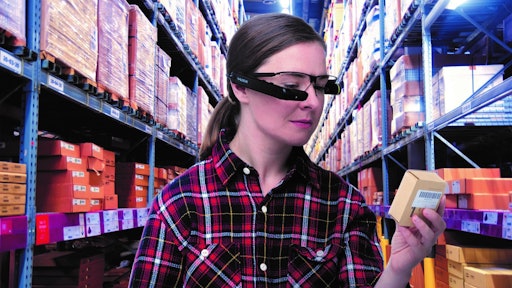 Voxware
For warehouse and distribution centers (DCs), efficiency, accuracy and comfort are all intertwined when it comes to productivity. Today's voice-picking technologies aim for all three while advancing what can be achieved by employees.
Food Logistics spoke to three leaders in voice-picking equipment and technology to learn the latest trends and technological innovations shaping the industry.
Over the last 10 years, voice technology for use in the warehouse has improved dramatically, and the interest in voice has increased throughout the supply chain. A significant reason voice is now trending more in the supply chain industry is due to the improvements made around voice recognition in noisy warehouse environments, says Scott Deutsch, president, Americas for Ehrhardt Partner Group (EPG).
"While today's solutions have evolved over the past decade, many voice-directed solutions still require time-consuming processes that have not changed, such as requiring workers to run through a 20- to 40-minute voice template training exercise," says Deutsch. "However, while voice technology has improved, many of the old processes still have not, resulting in a considerable loss of time and productivity, which is especially concerning for the food industry due to the nature of their business."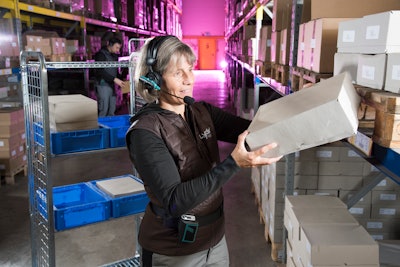 EPG's Lydia Voice 8 is the first industry voice solution to leverage deep neural networks, the same technology used by Amazon Alexa and Google Home. Deutsch says Lydia Voice 8 provides a 25-percent increase in voice recognition accuracy and eliminates the need for voice template training.
"By eliminating the need for traditional voice recognition 'training' or 'enrollment,' onboarding new or seasonal workers is much faster. It reduces training time by days while increasing worker productivity and accuracy results," he says. "These benefits are especially critical for the competitive grocery industry where margins are incredibly tight and the need to move perishable items quickly is imperative. Therefore, investing in a modern voice solution is now more attractive than ever as businesses can realize a cost savings of 35 percent, on average, when deploying or upgrading to a newer voice solution, in addition to increased worker productivity and accuracy results."
Moreover, just as voice technology is improving, the associated hardware is also evolving. In the past, use of voice technology required mobile devices and headsets. Now, with Lydia Voice VoiceWear, workers can perform their tasks hands-free, eyes-free and headset-free, says Deutsch. Wearing a Lydia Voice VoiceWear vest enables workers to "speak" directly into beam-forming microphones embedded in the vest. Due to increased voice recognition, the microphones hear commands clearly, while the vest provides a comfortable, ergonomically superior user experience that is headset free.
"Among our clients is a large distributor of specialized food products with a nearly 120-year history. After adopting the Lydia Voice solution, they were able to eliminate paper picking and increase efficiency by 15 percent," says Deutsch. "By voice-enabling the picking workflow, Lydia Voice provides employees with the best possible route, ensuring that dry goods are picked first and perishable items are picked last.
As noted, Lydia Voice VoiceWear enables hands-free, eyes-free and headset-free picking, providing workers with a superior experience when performing their daily tasks, while eliminating headset infrastructure and associated maintenance costs for the client.
"Our client's workers have increased their productivity and have communicated that VoiceWear has provided a much more satisfying experience when picking with voice," says Deutsch.
At ProCat Distribution Technologies, the company is tracking a couple of significant customer trends. First, is the adoption of barcode scanning technology. Distributors are demanding higher levels of accuracy from their operations, says Steve Stomel, CEO of ProCat Distribution Technologies. They are finding that by implementing software solutions that scan product barcodes at both the receiving dock and in the picking process, their accuracy is much higher.
"Traditional voice systems are certainly better than paper-based picking, but barcode scanning is far more accurate than voice picking with check digits," he says. "As a trend, distributors are looking to find ways to improve picking and receiving with scanning technology."
Second, is the adoption of GS1 barcode scanning technology. As more manufacturers learn about the capabilities and benefits of using GS1 barcodes to communicate package-specific information, they are increasingly adopting the technology. Stomel says this means more cases are flowing through the supply chain with barcodes that will allow distributors to confirm and/or capture data that includes expiration dates, lot numbers, random weights and more.
This case-specific information is being made available to distributors for scanning on the receiving dock.
"With a scan, they can confirm product available shelf life by checking expiration dates, and capture inbound lot numbers," he says. "At point of pick, distributors can again with a simple scan, test expiration dates, capture random weights along with lot numbers with no additional time or effort required by the picking staff."
Stomel adds that scanning software can automatically extract and process the relevant information about the picked item when using GS1 barcodes. The result is higher productivity and near-perfect accuracy for the receiving and picking staffs.
"A hands-free wearable device with barcode scanning and voice-directed prompting creates a hybrid technology that is both highly accurate and easy for warehouse employees to learn and use," explains Stomel. "This is exactly what we have designed with our PickRight technology."
PickRight allows for immediate product verification to assure accuracy and data collection for reporting, traceability and warehouse management. Its modular architecture design enables companies to expand technology to the entire distribution center one area at a time and also integrates with all ERP systems.
"Our solutions can accommodate four to 100 order pickers, so operations can easily scale up as a company grows. Employees learn the PickRight system in minutes," says Stomel. "There are no commands for pickers to memorize and the display screen prompts the employee for their next work assignment. The result is amazingly high accuracy with increased productivity. Our customers typically achieve ROI on average in nine months."
Henry's Foods, a ProCat customer in Alexandria, Minnesota, needed to upgrade its aging voice pick system. Henry's converted 48 order selectors from voice picking to PickRight scanning over a 30-day period, says Stomel. Order accuracy improved, and employee productivity maintained the high level that Henry's was expecting.
"The food distributor reported 100-percent ROI in under 12 months after using the PickRight system. The conversion to PickRight was a total success for Henry's Foods," says Stomel.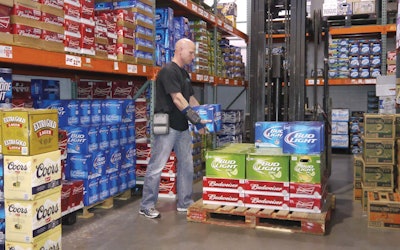 Voxware continues to see the push for automation (i.e., voice) throughout the entire distribution center, not just for picking. Keith Philips, president and CEO of Voxware, says it's about the multimodality of the solution and providing its customers with the right technology to complete their specific tasks.
"Companies need to layer in analytics. People are learning that just automating with a multimodal solution is only part of the puzzle," says Philips. "Once you automate, you need to actively manage it effectively to get the maximum output out of the workforce."
He adds that the other trend Voxware is seeing is the emergence of natural language model voice recognition technology, which holds the promise of eliminating the necessity to train specific users into the system.
"This creates huge time savings when new employees come into the organization, whether that be temporary employees during the busy seasons or new, permanent staff members," says Philips.
How are Voxware's customers succeeding with its technology? Philips explains that one of its large, national grocery store customers had plans to open a second distribution center in a very large market. The customer automated its primary DC using a multimodal approach across multiple processes in the warehouse. It then deployed Voxware's enterprise analytics software, VoxPilot®, to actively manage the workers.
"The company realized it could scale back its planned openings for additional facilities," says Philips. "In fact, this customer canceled plans altogether for opening the second DC because of the increased throughput it realized in the primary location. This is only one example of many where our customers realized a cascade of benefits by applying voice capabilities to other workflows in the DC.
"It's important to remember that voice is not the only technology helping to bring improvements to the distribution center," Philips adds. "By supporting multimodal technologies across all workflows, Voxware allows its clients to match specific modalities to specific tasks and individuals."