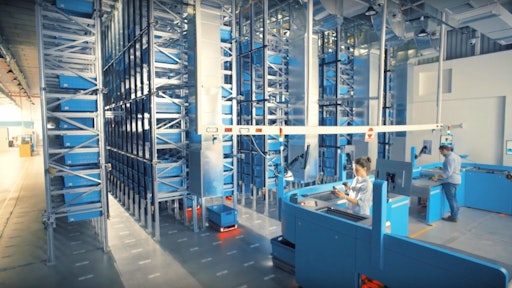 Fabric
Seven months into the Coronavirus disease (COVID-19) pandemic, no industry has been spared significant change. While the "New Normal" looks radically different for different sectors – some of which are booming (digital health and e-commerce) while others face dire threats – there is a consistent theme. Long-anticipated changes have moved to the forefront much sooner than expected, and grocery is no exception.
The challenge facing grocers is formidable. Faced with surging demand, the industry must find ways of scaling fulfillment. Automation is an indispensable part of the solution, as it will enable grocers to increase throughput and speed to cater to the growing number of home-based online shoppers.
What was true before the pandemic struck is just as true now: Grocers that fail to adapt by investing in automation will lose their competitive edge. The only difference is that consumer behavior has shifted so rapidly that stores can no longer afford to wait.
The New Normal is here to stay
But, just how different will the future of the industry look, and what will it mean for grocers' innovation strategies?
A recent Fabric analysis found that by year-end, online grocery penetration could triple or even quadruple initial projections. Bain & Company projects that e-commerce grocery sales will eventually settle at around 5-10% of total sales – an increase of as much as 233% compared to the pre-pandemic era, when e-commerce accounted for between 3-4% of grocery sales.
Simply put, many consumers have grown accustomed to the convenience and ease of doing their shopping from the comfort of home, and they don't plan to change their habits any time soon.
With online demand set to remain permanently higher, grocers need the infrastructure to efficiently and reliably meet it. To do so, retailers will need to think beyond the makeshift solutions that have characterized their COVID-19 response.
Stumbling blocks
As grocers grappled with a surge in online sales during the pandemic's early phase, they expanded delivery and curbside pickup hours, hired new workers and converted existing (and redundant) brick-and-mortar locations into dark stores. While these steps helped retailers adjust to the new reality, they won't suffice as long-term solutions.
Converting existing stores into dark stores, for instance, will inevitably become cost-prohibitive over time, as a combination of labor, real estate, and other operational costs begin weighing on retailers. Indeed, Fabric calculates that for every order they manually fulfill in their stores, grocers lose $3-$10, without accounting for labor costs. Pre-COVID-19, when online penetration was below 4%, that was a price retailers were willing to pay but losing money on 100% (or even a fifth) of orders simply isn't feasible. What's more, the operational costs of physical stores are no longer offset by offline sales as they were before the pandemic, compounding the challenge.
Meanwhile, although hiring more employees and extending hours of pickup and delivery may have worked in the past to scale operations, this is the time to invest in technology to dramatically increase throughput and limit human contact to keep employees and shoppers safe.
Automation: The saving grace
With a record number of consumers now needing same-day fulfillment, how can automation help retailers address the associated logistical, strategic, and financial challenges?
Investing in centralized automation, as some retailers have, can reduce costs – addressing the financial element – but in terms of same-day fulfillment, this approach comes up short, as it can typically only support next-day deliveries at best. How can retailers achieve both speed and cost-efficiency? The answer lies in automated micro-fulfillment.
Taking up as little as 5,000 square feet – compared to the 300,000 square feet in a typical warehouse – micro-fulfillment centers don't require massive new investments in real estate, but instead enable retailers to make the most of space within their existing stores while rapidly fulfilling customer demand, making micro-fulfillment the ideal approach for scaling automation amid a dynamic and still-turbulent economic and public health landscape.
With automated micro-fulfillment unlocking a 75% reduction in overhead costs, retailers will rapidly come to see such solutions as essential, not merely as nice-to-haves. Located in urban centers – rather than exurban locales like many warehouses – micro-fulfillment centers are ideal for enabling same-day delivery even in high-demand areas, which will only prove more essential as populations become increasingly urbanized over the coming decades.
As e-commerce cements its role in the future of the grocery industry, brick-and-mortar will remain a force, which means that grocers' innovation strategies must be omnichannel, with a focus on seamless customer experiences both online and in-store. It's more than a matter of sleek technology and smoother operations – for tomorrow's grocers, it's about remaining competitive in the marketplace.