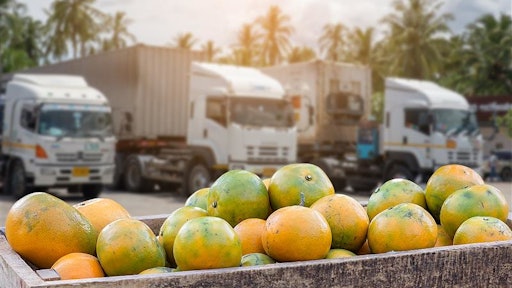 kamonrat - stock.adobe.com
Food logistics professionals who were hoping to return to a more "normal" supply chain driven by seasonal demand surges over the summer may have to wait a bit longer. As the 100 days of summer produce season unfolds between now and Labor Day, logistics operations are still dealing with supply chain irregularities left over from the pandemic as well as challenges like the severe weather impact on California-grown produce.
As food logistics pros know, seasonal freight demand is specific for commodity types and subject to weather and planting schedules. It is driven by U.S.-grown crops and imports that arrive in the United States, including at terminals in Los Angeles and Seattle. A weaker than usual 100 days of summer means carriers, truckers and shippers will have to adjust expectations. Here's a closer look at the factors shaping the summer produce season and some ways haulers and shippers can roll with the changes.
Why this year's 100 days of summer is different
Historically, freight market conditions tighten during the period between mid-May through July 4 as produce comes in from the fields, with crops harvested first in the South and then in other regions, including California, which grows 90% of the tomatoes that are processed for canned goods. But flooding caused by unusual atmospheric river rain events and other inclement weather has destroyed some crops and delayed planting in many locations, throwing traditional patterns into disarray.
Another factor that has 2023 shaping up to be an atypical year is the freight market, which is still affected by the deflationary impact of excess capacity. More trucks are on the road, put into place by new entrants to the freight market as carriers and independent operators responded to pandemic-era capacity shortages. A strong 100 days of summer might have alleviated the deflationary environment, but the flooding in California and weather events elsewhere make that unlikely this year.
Scarcity imposed by crop losses and planting delays will raise demand for products, so shippers will need to have the resources in place to move their products from the fields to customers as quickly as possible. As always, carriers and truckers should aim to position trucks where they can maximize the rate per mile, but predicting where to place trucks to generate the highest value may take more effort this season.
How carriers and truckers can roll through an atypical produce season
Carriers and independent operators will have to adjust to an extended deflationary environment and maximize the assets and experience they offer to overcome increased competition. Those with cold chain experience will have an advantage over newer market entrants. Experienced drivers are more valuable because they understand the special requirements and rules around perishable item transport. They don't do quality control checks, but drivers can flag wet cases, etc., to help maintain quality.
The agricultural exemption for hours of service can also be a factor, extending driver availability to transport products. According to the Federal Motor Carrier Safety Administration, truck drivers are not required to log hours using an ELD or paper log within a 150 air-mile radius of a commodity's source. This is a critical rule because produce takes longer to load than commodities that come off a conveyor belt.
Thanks to the agriculture exemption, drivers can rest up while commodities are being loaded onto trucks at the source. The exemption applies as long as the commodity isn't significantly altered at the site after it is harvested. For example, heads of lettuce that are harvested in the fields and then transformed into bagged lettuce onsite do not qualify for the exemption.
Carriers and truckers will need to follow planting maps and weather to optimize their position, going where the capacity demand is after events like the record-breaking rain in certain regions of California delayed planting and therefore will delay harvests. Product demand will likely remain steady, so incoming produce from other regions will need to be transported to offset the loss of crops and harvest delays. Carriers and operators can anticipate those capacity needs to stay productive this summer.
How shippers can keep delivering from farm to fork
Shippers can tackle an atypical 100 days of summer by leaning into their carrier relationships. Each commodity that will be harvested during the summer peak has specific handling, timing and temperature control needs, and shippers need to cultivate relationships with carriers that understand those requirements and have a track record of hauling their produce successfully. Due to new market entrants, it's a good idea for shippers to vet carriers more rigorously this year.
It's also important to work with carriers and truckers who understand customer expectations, i.e., the often complex requirements and agreements large retailers may have in place. Brokers with extensive food logistics experience can help shippers ensure the carrier handles their freight correctly in this scenario because brokers typically have more training on large retailer requirements.
As is true every year, other factors may come into play to present new challenges. Carriers and truckers who move goods through the food supply chain will have to be flexible to maximize profits, and shippers will need to choose partners carefully to minimize obstacles in transporting produce from farms to forks. That's how to move through the 100 days of summer and into fall from a position of strength.