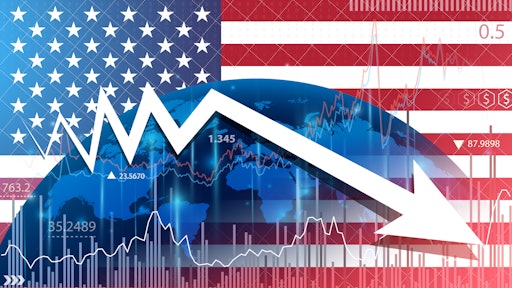 leestat AdobeStock_503946321
The New Normal… a phrase created shortly after the pandemic was in place to signify the new way of doing business.
But for many supply chains, that "new" way of doing business changes constantly, forcing decision-makers to continuously pivot.
Here's how it usually goes: Supply chain disruption occurs. Develop new plan. Implement new process. Execute. New disruption occurs. Pivot again. Rinse and repeat.
At some point, when is the "New Normal" not so new? At what point does the New Normal become Old News? Begs the question of, what does a normal supply chain really look like?
Is it disruption-proof? Is it cybersecurity-safe? Is it running on all cylinders with a full staff? Is it equipped with all the latest tools and technologies? Is it automated, cloud-based or hands-free?
Better yet, does this so-called "normal" supply chain even exist?
Prior to 2019, nearly all supply chains were considered normal. They operated the same way, day in and day out, with only a few hiccups here and there.
Post-pandemic though, normal has been redefined to better suit the nature of how supply chains operate in a disruption-laden environment.
Natural disasters, port strikes, rail strikes, worker shortages, inflation and risk continue to present bottlenecks in all facets of the supply chain, leading some to believe that the logistics space may never achieve normalcy again.
Case in point: Nearly 45% of economists surveyed by the Wall Street Journal estimated bottlenecks would ease by the second half of 2022. Yet, here we are, about to turn the page to 2023, and the supply chain still seems anything but normal.
China, for example, continues to enforce a zero-COVID-19 policy "that can partially or fully lock down major cities like Chengdu, Shenzhen, Xian, or Shanghai," says Mirko Woitzik, global director, intelligence solutions at Everstream Analytics. "While this persists, we will continue to see port, airport and city shutdowns, as well as extended travel bans, which will impact supply chain logistics." [CLICK HERE to read the full interview interview with Mirko Woitzik].
"The global economic slowdown and rising inflation rates will also create workforce and labor issues within the supply chain. This will add financial pressure to many parts of the supply chain that are still reeling from the impacts of COVID-19 coupled with the war in Ukraine. Cost-cutting measures will likely increase labor shortages in critical parts of the supply chain from food production to ports and railways, which have the potential to cause further turmoil," adds Woitzik.
Other factors such as inflation and rising fuel costs, to name a few, continue to put a strain on the supply chain.
On the other hand though, several industry leaders detail how this return to normalcy may not be as far-fetched in 2023 as currently perceived, but it will still be very different from pre-pandemic.
Supply chains are unlikely to stabilize until first half of 2024 and beyond, while 22% expect disruptions to continue until the second half of 2023, according to a Carl Marks Advisors survey.
In a separate report, Citi economists said logistics pressures from excessive consumer demand for goods are easing up, yet companies shouldn't consider an "all clear" just yet.
The physical shortage of capacity, which drives up freight rates, doesn't seem to be an issue at this time, according to Sea-Intelligence, with models suggesting that a return to "normal" at a 2% capacity loss baseline by early 2023 is possible.
"In supply chain circles battered by more than two years of upheaval, the word 'normal' is creeping into the outlook for 2023. From the Logistics Managers' Index to the New York Fed's Global Supply Chain Pressure Index, we're seeing forecasters more optimistic about the future outlook," says Ben Harris, senior managing director, client solutioning and strategy at Cushman & Wakefield. "And while we're optimistic that they're right, we continue to see continuing challenges around raw materials, labor shortages, which are unchanged since last year at this time. Hopefully things will start to substantially ease by summer 2023, but it is going to be bumpy and uneven."
In order to obtain somewhat of a normal way of doing business, companies must adhere to a New Normal, but in a way that's defined as new on a regular basis. Think of it as an alternate state of the supply chain, where the timeline has skewed to create a new supply chain space [Back to the Future fans, anyone?]. This new continuum is laden with bottlenecks, strikes and challenges never before experienced.
And, it's all happening at once. And, it's all normal.
"Instability and disruption are the New Normal. We must acknowledge the inevitable and shift our focus not only to building more adaptive, responsive and resilient supply chains, but addressing the systemic factors that contribute to ongoing risks and rising costs," says Tom Madrecki, VP of supply chain and logistics, Consumer Brands Association. [CLICK HERE to read the full interview with Tom Madrecki].
Rail strike strikes back
In early October, U.S. supply chains dodged a rail strike, one that would've embargoed shipments and further crippled global supply chains. President Biden enforced a 60-day cooling off period, where the Presidential Emergency Board looked at the disputed issues in the negotiations and issued a recommended settlement. These disruptions could have extended beyond the rail sector itself, and affected other transportation modes, primarily trucking, according to Uber Freight, who estimated that even if 20% of rail freight shifted to trucking, spot rates could've doubled in just that short period of time.
Fast forward a month later, and rail workers continue to express concern over their current labor contracts, prompting a second possible rail shutdown beginning Nov. 19.
Analysts say this next shutdown could "hamper passenger service and slow the flow of goods to stores and warehouses. A union strike could cost the U.S. economy up to $2 billion per day, according to an estimate from the Association of American Railroads. Roughly 40% of the nation's long-distance trade is moved by rail—more than any form of transportation—and a union strike could stop more than 7,000 trains from operating," according to Time.com.
Instabilities in this sector are projected to continue for the next couple of years.
"Although port congestion (mostly on the West Coast ports) [is] easing, labor strikes definitely aren't helping. Rail strikes (especially in the U.S.) will cause an added amount of pressure on the trucking industry. And due to the staffing complexities in trucking, we will see more congestion and bottlenecks, not just within maritime, but other modalities such as rail and trucking as well. In addition, lots of warehouses are short-staffed as well," says Adhish Luitel, senior analyst, ABI Research.
Problems at the port
Then there's problems at the port, which didn't just happen overnight and certainly didn't start when the EVER GIVEN got stuck in the Suez Canal.
The backlog of inventory compounded with the oversupply of containers is contributing to second-hand container market prices plummeting, according to analysis from Container xChange.
"The current situation of oversupply of containers is a result of a series of reactionary market disruptions that began soon after the outbreak of the pandemic in early 2020. With the rise in demand, congestion at ports increased and the container capacity was held up for a considerably long period of time. This led to the panic ordering of new boxes at record levels. With time, as markets reopen and demand softens, the oversupply is a natural outcome of demand-supply forces balancing at new levels," says Christian Roeloffs, co-founder and CEO of Container xChange.
With inflation and lockdowns, disruptions will continue to change the equation between supply, demand and prices. What's more is, ports worldwide face the same worker strikes as their rail counterparts.
In August, Felixstowe, a port town in Suffolk, England, experienced dock workers going on strike over a dispute in pay, and dockworkers in Liverpool, England, are set to strike starting end of October, further crippling an already congested port, just to name a few.
Supply chain disruptions to disrupt 2023
Currently the industry is faced with several disruptions.
For starters, the Russia-Ukraine war doesn't seem to be ending any time soon, and as a result, continues to impact many facets of global supply chains.
"Russia cutting off gas supplies to many parts of Europe is greatly affecting the price of energy in Europe. Currently, Europe is facing 10% inflation as of September 2022. We will likely see inflation soar even further during the winter months. The increase in costs has resulted in companies in Europe either shifting their production to other parts of the world or reducing their output. In some cases, companies that cannot afford it had to close, or stop production entirely. These problems will not be an overnight fix and will surely continue to be an issue into the new year," says Woitzik.
Heightened financial volatility, sustainable development divestment, complex global supply chain reconfigurations and mounting trade costs stemming from the war in Ukraine continue to impact trade and development, according to a new study released by the United Nations Conference on Trade and Development (UNCTAD).
"Soaring food and fuel prices will affect the most vulnerable in developing countries, putting pressure on the poorest households, which spend the highest share of their income on food, resulting in hardship and hunger," says UNCTAD Secretary-General Rebeca Grynspan.
In fact, "the biggest trend to watch has to be the slowdown in the growth of global trade. Between 2005-2019, there was an 84% increase in global trade. Obviously, the pandemic had an immediate and (so far) lasting impact on that growth. Now we're hearing from the World Trade Organization that they're projecting further slowdowns in 2023 due to economic headwinds," according to Harris.
What's more is, customer expectation remains a huge challenge for the supply chain.
"If parents have a sick child, they can order soup from a restaurant or cough drops from the local convenience store and have them delivered directly to their door through apps like UberEats and DoorDash. They can even track where their items are throughout the process until it arrives. This type of expectation of visibility and expediency is going to increase across the supply chain," says Jennifer Karpus-Romain, executive director for Transportation Marketing & Sales Association (TMSA). [CLICK HERE to see the full interview with Jennifer Karpus-Romain].
The availability of ingredients and shortages in some food products continue to challenge the food sector, specifically the frozen food category.
"Manufacturers may still need to reformulate or make labeling changes in response to ingredient shortages. The frozen food industry in particular is facing the diversion of soy and canola oil to make biofuels for government transportation subsidies and manufacturers face crisis-level shortages in edible vegetable oil for producing many frozen foods," says Alison Bodor, president and CEO at American Frozen Food Institute (AFFI).
"In addition, transportation remains a costly supply chain challenge for various industries across the manufacturing sector. Increased fuel prices and driver shortages directly impact the cost of freight to ship ingredients and supplies. Legislation such as the DRIVE Safe Pilot Act, which created a training program for Commercial Drivers' License truck drivers to get young people involved in the transportation industry sooner, are positive steps that will hopefully help alleviate this labor shortage," Bodor adds.
Furthermore, other disruptions such as inflation and labor shortages continue to put a damper on the industry.
"The trucking industry is already plagued with driver shortages. Warehouses faced similar issues earlier this year and last year. Staffing complexities and labor shortages will be an ongoing trend next year as well," says Adhish Luitel, senior analyst, ABI Research. "Inflation has grown rapidly this year globally and a lot of regions in the world are now dealing with the highest level of inflation in years. Businesses must be prepared for cost increases related to procurement, finished products, wages, transportation fees, storage space rent and more. Coping with inflation and trying to minimize its impact would entail fixing a lot of inefficiencies across supply chains." [CLICK HERE to read the full interview with Adhish Luitel].
And, it's those inefficiencies that could pose disruptions all on their own.
"As we approach the end of 2022 and enter 2023, I anticipate a state of continued supply chain instability and disruptions for the next year, if not longer. Consequently, issues of accuracy in demand forecasting will continue to be a major pain point for retailers," says Troy Prothero, SVP, product management, supply chain solutions, SymphonyAI Retail CPG. "From changes in purchasing and consumption patterns that resulted from the past two years to inflation and geopolitical events, all of these factors combined create a perfect storm for supply chain disruption. What's more, retailers can no longer rely solely on historical demand data as a basis for forecasting." [CLICK HERE to read the full interview with Troy Prothero].
"As a result, retailers must look to their demand forecasting technologies and ensure predictions are as agile, data-driven, science-based and accurate as possible," Prothero says. "In addition, it's crucial to proactively look at scenarios that might occur and plan how to act ahead of time, rather than just react to them."
The war on supply chain talent
The war on finding – and retaining – supply chain talent also poses a threat to the future of supply chain.
Over half (51%) of carriers polled in a Truckstop.com survey indicate they're looking to change jobs in the next 6-12 months even though 32% of respondents are making 50-74% more money.
Meanwhile, a Gartner survey reveals nearly 61% of supply chain leaders are increasing work flexibility in order to engage and retain Gen Z and Millennials employees.
"Organizations need to focus on the employee value propositions they offer to both frontline and back-office workers," says Susan Boylan, senior director analyst, Gartner Supply Chain Practice. "Younger demographics, who will be the supply chain workforce of the future, favor an experienced-based model in their workplace over linear progression within one particular area. Savvy organizations are offering exposure to multiple elements of the supply chain to understand where their workforce are the best fit and what they will enjoy doing most. Diversity both in terms of their work colleagues and the tasks they perform are key attributes to retaining the best talent in supply chain."
The labor shortage is just as much about retaining top talent as it is recruiting top talent.
"Too often when we discuss the labor shortage, we focus on recruiting and not enough on retaining quality employees," Karpus-Romain says. "Having workers understand how they fit into a business is key. When onboarding an employee, how much time is spent actually training? What type of ongoing support or training is given to team members once their initial onboarding is complete? Does a company have regular check-ins with employees or just conduct exit interviews when they are already out the door? Many employees will invest more in a company when they feel that investment is reciprocal."
Much of the war on supply chain talent also revolves around achieving diversity, equity and inclusion (DEI) initiatives.
For example, as many as 88% polled in a DNV study believe that a more diverse company is also a better performing company; however, only 32% see D&I as business critical.
And while workplace cultures strong in D&I have been linked to increased productivity, according to the 2022 WIT Index produced by Women In Trucking (WIT), there's still more work to be done.
Sustainable supply chains are the future
The impact of climate change will also continue to impact supply chains in 2023.
"With extreme weather predicted to continue and escalate into the New Year, heatwaves, drought and damaging hurricanes will cause significant disruptions," says Woitzik.
Take Hurricane Ian for example. It affected nearly 5 million acres of agricultural land, severely impacting growing fields for citrus and vegetables and wiping out $8.12 billion of agricultural products (crops, livestock, aquaculture, etc.), according to the University of Florida Economic Impact Analysis Program. Losses associated with animal operations (beef and dairy cattle, horses, apiculture, aquaculture, etc.) and for producers of animal products (milk, eggs, honey) due to damaged fencing, power outages and flooding equate to about $113-222 million. Stored inputs such as fuel for farm equipment, fertilizer and other agricultural chemicals might have been damaged or destroyed, according to preliminary reports, and previously harvested crops that were stored on-farm and not yet sold might now be less valuable.
"Even though the coast – an area with comparatively less agricultural production than inland areas – bore some of the worst impacts of the storm, the strong winds and heavy rains battered a wide swath of the peninsula that includes over 5 million acres of agricultural land," says Christa Court, director of the program and assistant professor in the UF/IFAS food and resource economics department. "This estimate only accounts for production losses, or changes in expected revenues for the current calendar or market year; citrus, for example, had not yet begun harvesting, and some fall vegetables, like tomatoes and peppers, were already planted."
Achieving Scope 3 emissions and a circular economy company-wide also remain top initiatives for both upstream and downstream.
"The cost of sustainability and the necessity to deliver sustainable supply chains continues to be a challenge for shippers and service providers alike – many organizations have already begun to review and pull the easier stainability levers, but it will only be through collaboration across organizations, industries and government bodies will we be able to produce sustainability solutions at scale and the infrastructure to support them," says Boylan.
However, mandates across the board, including those impacting freight forwarders, pose challenges to companies in need of the time, financing and guidance to meet the new terms.
Effective Jan. 2, 2020, the International Maritime Organization (IMO) 2020 regulation mandates ships to use fuel with less than 0.5% sulfur vs. a maximum of the current 3.5%. While the mandate is designed to improve fuel efficiency, many freight forwarders have been slow to adopt.
"The new IMO regulations will also pose a challenge for ocean freight forwarding in terms of stricter regulations on CO2e reductions, which supply chain leaders will not only need to understand but will also need to develop strategies from 2023 onwards for more sustainable ocean freight transportation of their products," says Boylan.
Achieving sustainability also equates to reducing food waste, which is considered the single most common material landfilled, according to the Environmental Protection Agency (EPA). In fact, "reducing and preventing food waste can increase food security, foster productivity and economic efficiency, promote resource and energy conservation and address climate change," the EPA says.
"The average inventory shrink last year was 1.4%. Inventory shrinkages cost retailers close to $100 billion in losses just last year. Tracking produce or any perishable food items through IoT solutions at an individual level (temperature and condition monitoring as well, in addition to location tracking) can help reduce inventory shrinkage and enable automation of a lot of processes for fulfillment centers and retailers," says Luitel.
Furthermore, reducing emissions continues to challenge the industry, regardless of market sector.
"Moving the needle will require coordination across sectors and with policymakers," says Madrecki. "If we really want to see change in that space, meaningful steps will need to be taken, including allowing higher truck weight limits to reduce the number of vehicles on the road, the broad deployment of EV and AV heavy duty trucks and investment that seeds development of new operating models and alternative delivery methods. The role of government in that cannot be understated. Companies can't do this alone, which is why Consumer Brands is advocating for many of these changes that will accelerate a more sustainable supply chain future."
Additionally, end-to-end supply chain visibility and tracking plays an important role in the transparency needed for environment, social and governance (ESG) reporting metrics, Prothero says.
"What's more, with a unified view of inventory visibility and traceability and increased agility to reduce excess inventory, retailers can minimize waste and spoilage, which is a significant source of landfill bulk and greenhouse gases," he adds. "As shopper expectations for fresh and prepared foods continue to grow, retailers can track inventory with details, including use-by date data to anticipate and mitigate waste by more aggressively pricing and promoting items nearing that horizon and optimizing inventory plans to avoid future waste related to use-by dates."
Making changes today for better tomorrow
"We are right back to a threatened supply chain because we have not had the time to catch up and build needed resiliency," Madrecki says.
That's because ever since the COVID-19 pandemic hit, companies have had to continuously reconfigure processes, plans, new product developments and more; basically start over every time.
A New Day = A New Normal.
"Many people didn't think of the cold chain logistics industry much until refrigerated foods were scant throughout many national grocery chains. Our supply chains – especially the cold chain – needs to get smarter and quick. The risks are real, and the vulnerabilities have been clearly exposed," says Harris. "One of the biggest risks is spoilage due to disruptions and delays. We're already seeing that artificial intelligence and cloud data can solve for this by providing better route optimization and making sure deliveries arrive on time at 3PLs with lower cost and lower energy expenditure."
While it's almost impossible to avoid risks in the cold food chain, other technologies such as "accurate demand forecasting and demand planning [are] really the foundation to minimizing them," says Prothero. "Raw materials sourcing has become unstable, with problems that stem back to events of 2020. However, by understanding these effects alongside consumer demand, retailers can be better prepared to handle any challenges.
And, while there is no crystal ball to say when these challenges will end or what's to come in the New Year, understanding what influences these challenges is half the battle.
"As the industry continues contending with a labor shortage and consumer demand that has exceeded even March 2020's panic-buying levels for more than a year, the supply chain will continue to be strained well into 2023 at minimum. On top of these ongoing issues, any disruption will exacerbate challenges, from severe weather to global crises. But the biggest risk is our own inaction. Slight moderation in costs or reduction in congestion at ports is not victory and declaring pandemic-era supply chain disruptions solved is the worst thing we can do. The pandemic revealed major supply chain issues that have resulted in strong proposals — proposals that have been put on the shelf by policymakers. With supply chain issues that threaten to return at any time, Congress needs to act now on solutions," says Madrecki.
Industry experts offer hope to a return to normalcy in the supply chain space, but it will be a new normalcy of sorts and be quite the bumpy ride in getting there. By closing the labor gaps, implementing the right technology, hitting some sustainability marks and overcoming disruptions, the New Normal will be the only way to operate going forward.
Want to learn more? Head over to www.SCNSummit.com and register for one, two or all of the sessions discussing the Future of Supply Chains.