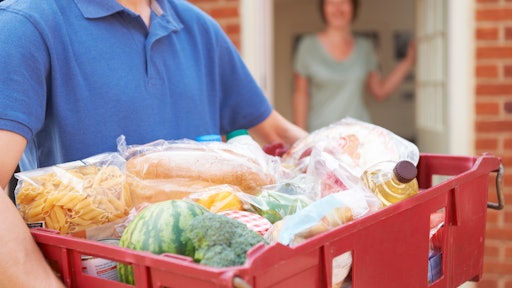 Consumers are a powerful influence on the food supply chain. Their desire for a wide array of fresh, healthy foods year round—combined with easier and convenient shopping options, including online grocery ordering and home delivery—are reshaping where food is sourced, how it is grown and/or manufactured, and ultimately how and where food is purchased from retailers. 
Moreover, these consumer-driven demands have implications for the logistics providers and others that support the food supply chain with respect to handling (especially perishable foods), transportation, food safety and last-mile delivery. 
Sylvain Perrier, president and CEO of Mercatus, a leading provider in digital solutions for grocery, describes the current state of disruption underway in the online grocery sector as a kind of "hyper-Uberization." Consumers are demanding more efficiency, real-time response and transparency in the process, and it's having a big impact on grocers, CPGs, farmers and suppliers, he says. 
"Not only do consumers want home delivery, but they still want the ability to shop for groceries in the store, or pickup inside the store or curbside," he adds. Meanwhile, the desire for more fresh foods and the rising popularity of meal kits is adding to the pressure on grocers and logistics providers 
At the same time, the profile of today's online grocery shopper may be surprising, according to surveys conducted by Mercatus (Insights Into Grocery eCommerce 2016). For example, in a survey of more than 1,000 female shoppers who made online purchases, 69 percent are between the ages of 40 and 60 years old, or 60 and above. Surprisingly, there's also an equal distribution of those who want home delivery and those who want to pickup their groceries in the store, says Perrier, "and of those that want delivery, 46 percent want it the same day." 
The shoppers in this age range tend to fall into three different groups, he says. One is made up of people with fixed incomes who like to shop online, so long as it's easy, because it helps them stay within their budget. They also prefer to walk into the store to pickup their grocery order for exercise and socialization. The second group is made up of those who have a younger family member buying groceries online for them, and the family member is typically doing it remotely. The third group is typically nurses and others who work in an assisted living community, who are making online grocery orders for the elderly residents in the facility. 
Online grocery shopping in rural areas is also growing faster than in urban areas, in part because younger shoppers in urban areas tend to buy groceries and carry them home. 
The company's research revealed other noteworthy trends. Perrier says people are willing to pay a premium to get what they want. "We found that 50 percent of the consumers we surveyed were willing to pay up to $10 for the convenience of home grocery delivery, and close to 20 percent were willing to pay up to $25 dollars or more to have groceries delivered the same day," he says. And, these aren't just consumers living in New York or California, he adds, but Middle America. They are also not in high-income brackets, "but people making $65,000 to $84,000 a year." 
While consumer demands are moving fast, the response from traditional grocers hasn't kept pace in some instances. Some traditional grocery chains have been caught flat-footed, and rather than taking a more thoughtful approach are trying anything they can to catch up and appease the consumer. 
"It's more of an afterthought," remarks Perrier, "and it's not intrinsically tied to the strategy of the business, so it becomes more like a 'me too' approach in some cases." However, "We're slowly beginning to see some really old school retailers in the heartland start to come around," he adds. 
Finding a solution for last-mile delivery remains a challenge, even for Amazon. Yet, there's another, even more important reason for Amazon to embed itself in the online grocery space, suggests Perrier. 
"It's a big data play for Amazon," he explains. Most everyone buys groceries, even those who eat out a lot or opt for take-out. A person or household's preferences and grocery buying habits tell a lot about the other kinds of product(s) they are likely to purchase, says Perrier. Amazon's acquisition of Whole Foods and incentives and discounts for Prime members are also helping the company gain even richer data—and get it on consumers from across the United States. 
The data play isn't an entirely new concept. Banks used to do something similar—albeit more simple—years ago, he says. For instance, when a woman opened a long-term education savings plan for her newborn child, she would likely receive a pamphlet in the mail from her bank a few weeks later asking her to buy life insurance.  
There's also something to glean from membership and loyalty program. According to Mercatus, "research suggests that it costs a business as much as 5-10 times more to acquire a new customer than it does to sell to an existing one. It is also estimated that current customers spend 67 percent more than new customers. In light of these statistics, loyalty programs that reward buyers for sticking with brands have grown in popularity, and the findings [of several surveys conducted by Mercatus] suggest that respondents are reaping the benefits by becoming members of such programs." 
In its Insights Into Grocery eCommerce 2016 survey, Mercatus found that 72 percent of those polled belonged to some form of grocery rewards program. "These findings suggest that if grocers can meet consumer demands by offering incentives and better value for shoppers, they will ultimately be rewarded with greater customer allegiance," concluded the company. 
Although consumers are attracted to rewards programs, they're more fickle when it comes to brand loyalty, says Perrier. "Brand influence is becoming a big challenge," he says. "If the consumer can get something faster, quicker, fresher and for less money, then they will change brands." 
Meanwhile, the rest of the grocery sector continues to grapple with last-mile delivery, and "none of them are making money in this area, because they're taking an all-in approach," says Perrier. In other words, grocers need to look closely at their specific market and evaluate whether home delivery is most important, or if pickup inside the store or curbside is best, and create the right fulfillment strategy. 
Industry research from Mercatus finds that in the digital age, "shoppers will use whatever channel best suits their needs for convenience, choice and value, which means it's critical that retailers leverage both physical and digital assets to optimize online and in-store customer experiences." 
The company proposes two ways for retailers to remain competitive in today's digital environment: 
1. Provide value across channels: Regardless of channel, key drivers behind consumer purchases remain the same: price, quality, convenience and product selection. Retailers must demonstrate their ability to deliver these values in every interaction—whether it takes place online or in-store.
2. Consider channels holistically: Online and in-store are inherently different formats, with unique uses, expectations, challenges and economics. When developing a strategy, retailers must consider the entire retail landscape and appreciate the differences between channels. Online and offline tactics should complement one another to drive increased engagement and sales across all channels. 
Finally, "understanding consumers' wants and needs is crucial when developing an omnichannel strategy and experience," states Mercatus. "However, while today's consumers demand a more personalized shopping experience, retailers need to prioritize which initiatives they wish to execute and determine how much of an investment they're willing to make. This requires a deep understanding of the decisions that shoppers make along the path to purchase, the types of information they seek to inform those decisions, and where and how they choose to make their purchases. Once grocers are armed with this knowledge, they can use it to personalize and align content to meet shoppers' unique needs." 
Grocery Leaders and Laggards
When it comes to the impact of e-commerce in the grocery sector, "today's consumers are causing a ripple effect all the way from the front-end of the grocery retailer all the way back to the food manufacturers. We are redefining the supply chain," emphasizes Jim Hilton, global principal of manufacturing, transportation and logistics for Zebra Technologies. 
In Europe, it's quite common to find grocers that use self-scanning to streamline the front-end of the grocery store. While the concept was novel five or six years ago, that's changed significantly in recent years. Over the next few years, Hilton expects to see things "move pretty quickly" toward other technologies such as scanning as customers enter/exit the store and smart shopping carts as a way of continually streamlining the front-end of the grocery retailer. 
In the meantime, grocery retailers as a whole are not prepared for e-commerce and online grocery shopping, nor are manufacturers, retailers and logistics firms, in general. 
In Zebra's Future of Fulfillment Vision Study, 89 percent of those polled agree that e-commerce is driving the need for faster delivery, spiking concern and investment. Yet, only 66 percent of respondents estimate that their current inventories are accurate. Even more shocking, the study found that 55 percent of organizations are still using pen and paper to manage omnichannel logistics. 
Hilton says that companies are failing when it comes to order fulfillment, too. Specifically, companies polled for the study believe that if they attained 75 percent accuracy that would be sufficient. 
Hilton admits he was surprised by this response. "They are saying that, 'If I miss one out of four orders, that's going to be good enough.' But, that's not going to be good enough. It's not even close. It really should be at 95 percent accuracy or better," he says, adding that ultimately, "this drive for accuracy is going to push people off of paper." 
Furthermore, retailers lack confidence in their inventory counts and out-of-stocks remain a problem for the grocery sector. So much so, that some retailers limit the number of SKUs they offer for online orders to help reduce the chance of an item being out-of-stock. 
Years ago, "we all thought that RFID was going to solve out-of-stocks," says Hilton. But, the price of RFID tags was prohibitive for mass adoption, particularly in the grocery sector, while item-level RFID was equally cost prohibitive, he says. 
However, machine vision and robotics have the potential to dramatically reduce out-of-stocks, says Hilton. 
Walmart is currently testing robots manufactured by Bossa Nova Robotics in 50 of its U.S. stores for inventory monitoring to see if robots can do it more accurately and cheaper than humans. Target is using robots built by Simbe Robotics in some of its stores to scan shelves and maintain proper inventory levels. 
Disruption driven by consumers and technology innovations are ushering in permanent changes that cannot be rolled back, explains Hilton, and the industry had best start to embrace it.