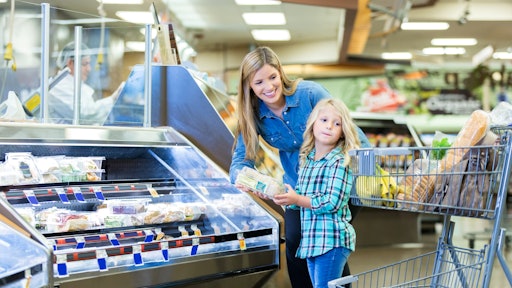 Consumer shopping preferences are changing, and grocery stores aren't immune. The $1.4 trillion industry has stepped up its efforts in recent years to meet these changing demands, but challenges still remain. A November 2017 report by IDC, The Grocery Store is an Asset: How Food Retailers Use It In the Future Will Determine Success or Failure, cites a grocery industry in transformational turmoil, providing data from two web-based surveys of 200 food retailers and 3,000 shoppers. According to the survey results, grocers and other food retailers have lost 29 percent of their market share since 1991, or $310 billion in lost annual revenues.
Today, consumers are turning to takeout and fast casual dining, forgoing cooking at home with ingredients purchased from a grocery store. According to the report, food from grocery stores to be prepared at home only makes up 35 percent of food spend, while 65 percent is spent on home delivery, mail order and out of home meal choices.
As a result of these changing consumer preferences, the largest grocers (Walmart, Kroger and Target) have unleashed price wars. Prices of supermarket items declined by 1.3 percent in 2016, according to the Agriculture Department's Economic Research Service, cutting further into already tight food retail margins.
Further complicating things, European supermarkets Aldi and Lidl have stolen a share of the U.S. market with radically different and more efficient financial models, while the impacts of Amazon's $13.7 billion Whole Food Market purchase have yet to come of fruition. Meal kit competitors like Blue Apron and Fresh Direct have also introduced an entirely new food retail category.
Understanding the Consumer
To get a handle on today's evolving grocery store, it is important to understand today's consumers. While we often focus on how millennials are altering the market, the baby boomer generation still makes up a considerable share of the economy—and they have completely different needs. According to the IDC report, the older generation values a lot of options and an assortment of fresh fruit, vegetables and meat. Younger shoppers value more options in home products and health and beauty care (HBC). The report adds that they are also more likely to purchase items online.
"Retailers face the challenge of satisfying shoppers' desires for narrower assortments in some areas, with their more varied preferences and tastes in others. In addition, established national brands are more important to older generations; new products, environmental products and niche products are more important to younger generations," the report's authors note.
Store loyalty is not as important to the modern consumer, and though better prices are still a top priority (75 percent are searching for better prices), shoppers also value convenience (23 percent) and product variety (60 percent). The IDC report says that today 25 percent of shoppers prefer shopping at multiples stores to satisfy their grocery needs, with that number growing to 32 percent by 2019.
To win over today's shoppers, IDC recommends building on the basics, while driving the differentiators.
"Younger shoppers are more interested in value-added services, prepared foods, plated meals and meal kits, and e-commerce," the report's authors say, but "consumers in all age groups are interested in personalized price promotions and in-store experiences."  
Shoppers of all ages also value fresh foods like fruits, vegetables and meats and are less interested in the center aisles, which often consist of processed foods such as canned goods, cereals, snack foods and more.
E-commerce's Increasing Role
Interest in buying groceries online continues to grow, with 36 percent of shoppers voicing a desire to purchase food and household items outside of the store, IDC reports. Also of note, IDC says 20 percent of shoppers already purchase groceries online at leach once a month. Millennials and urbanites (50 percent, respectively) make up the largest segment of online grocery shoppers, followed by families (40 percent) and high-income earners (30 percent).
"Shoppers are already experimenting with various home delivery services," the IDC report's authors note. "Services like Amazon Prime, Google Express and Instacart are raising the minimum customer expectations. Established players like Peapod have met the challenge. Home delivery will become more widespread as consumers experiment and like."
Fresh meats, poultry and fish are the least popular grocery items purchased online, the reports says, with only 13 percent of shoppers turning to alternative channels, which can include a retailer's website, mobile apps, Amazon and auto-replenishment. Health and beauty care products are the most popular at 38 percent, followed by home products (29 percent), salty and sweet snacks (25 percent), canned goods (23 percent), frozen and fresh ready-to-go meals (21 percent) and fresh fruit and vegetables (15 percent).
Make Room for Prepared Foods and Meal Kits
To compete with direct-to-consumer services such as online ordering and meal kit providers, more grocery stores are offering prepared foods and meal kits. In fact, consumers report that they buy 86 percent of meal kits from grocery stores and other retailers.
This has created, however, space constraints, and concerns remain about the high price and limited variety of meal kits and prepared meals. To meet the challenge IDC says grocers must "make intelligent assortment and space decisions across the entire store and within individual categories."
ICS also recommends coordinating in-store and online assortments to complement one another, driven by how, why, where and what customers prefer.
Of the 200 retailers surveyed for the IDC report, 68 percent found the category of prepared meals/food/deli the most important. And 79 percent said the center store/shelf-stable category is the section of the store they are most focused on changing their assortment and space strategies.
As you can see, it's a tough road ahead for food retailers, but the challenges are not insurmountable. Investments in e-commerce, prepared meal and meal kit options and an intelligent assortment of products will be key in meeting the demands of today's consumers.  
Follow Wunderlin on Twitter.