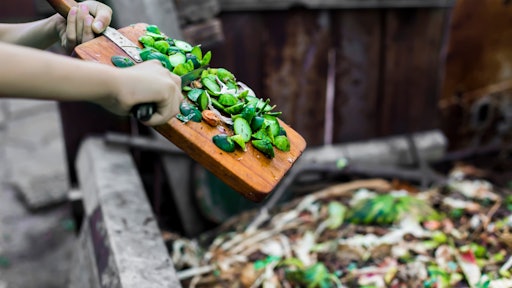 Lomiso AdobeStock_200857846
A popular conversation starter as of late is gas prices. Circling $6 per gallon in most U.S. cities, inflation directly affects gas. U.S. inflation is now running at an annual rate of 8.6%, the highest it has been in 40 years. However, gas isn't the only thing that is experiencing price hikes. Food and anything else is also slowly rising.
In a world of rising prices, it's pivotal to identify areas of potential savings. For businesses that work in food, a sunk cost of business is food waste. Currently, $750 billion of product is lost globally due to improper food handling, data logging procedures and inadequate training. Despite being a prevalent cost of doing business, there are new advances in technology that make food waste preventable and create stronger companies in the process.
The squeeze on food supply chains
Farmers are facing challenges like fertilizer shortages, challenging weather conditions, drought and the war in Ukraine affecting gas prices and transportation costs. These factors lead to price increases that trickle through the rest of the supply chain - wholesale, grocery and restaurants - directly to consumers' wallets.
The effect of food price hikes on consumers
In 2021, an average dozen eggs were $1.60. Now it's around $2.80, which is almost a 75% increase. It's not just eggs. NBC News said chicken prices are up 17.4%, the most significant increase ever recorded. Pork prices are up by 13.3%, bacon seeing 15%, milk is at 15.9%, coffee is at 15.3% and fruits and vegetables at 8.2%
The truth is that inflation has affected the prices of almost everything. According to the US Bureau of Labor Statistics, food has had one of the highest price increases, with food at home experiencing an 11.9% price increase and food away from home (dining out) experiencing a 7.4% price increase.
In simplest terms, it may be cheaper to eat at a quick-serve restaurant (QSR) than cook dinner for someone living alone. So, will that drive patrons to restaurants, particularly fast-casual and quick-serve?
Although the food at home is seemingly more expensive than dining out, diners start to think about their budgets more. People will stay home because spending money on "non-essential" items such as take-out seems irresponsible. Trends show shoppers avidly looking for deals, with 35% of grocery shoppers switching to store brands, and 21% buying less fresh meat and seafood.
How restaurants are forced to adjust
Restaurants have to cover more direct and indirect costs on the operational end. When supply chain partners endure inflation, they raise prices, renegotiate terms and even change delivery schedules. A food truck owner told NPR that the oil used for the food truck that was once $20 is now $40; a box of avocados that once were $30 is now $60.
These changes cause restaurant owners to increase their prices and hope consumers understand.
Local food business owners fear that with inflation, their consumer base will scurry to more prominent brands that can afford lower prices. Although bigger businesses have to adjust to inflation, they typically have more negotiating power on prices than a locally owned business.
How stopping food waste can help
Food waste is a major source of wasted profitability along the supply chain that squeezes big and small businesses. Improper food handling, data logging procedures and inadequate training for those working with cold chain inventory contribute to more than $750 billion of product loss globally in the food industry.
Food waste is also detrimental to the environment. A broken cooler or freezer can mean $10,000-plus of inventory gone overnight for restaurants and foodservice businesses. Food loss occurs for several reasons -- equipment malfunction, imperfect produce, poor storage conditions and more. Instituting temperature monitoring and alerts equipment and employee training programs can prevent these catastrophic loss events, creating a fiscally and environmentally responsible business.
Inflation isn't stopping anytime soon. The U.S. Department of Agriculture says that producer prices will continuously increase in 2022. Restaurants and food producers can proactively manage expenses by addressing their food waste problems.