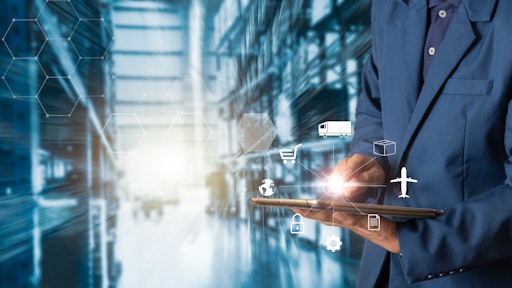 Getty Images
For months, news of supply chain shortages and overwhelmed ports have made headlines, but what happens when a shipment makes it to its destination but is unacceptable? Fresh, refrigerated and frozen foods endure a long journey from producer to store, and with added delays, shipment times are getting longer. However, retailers can't accept melted ice cream or wilted vegetables, making it critical that when shipments arrive, they are high quality. With more pressure to deliver food as expected, shippers in food transportation must take tremendous care in ensuring goods are handled and stored properly in transit.
Food spoilage costs and consequences
eSMARTT estimates lost loads in the temperature-controlled carrier segment total losses between $3-4 billion per year, not including many associated costs resulting from disposal of the spoiled cargo, insurance costs, fines and more. A survey of fleet managers for the American Trucking Association's (ATA) North American Refrigerated Trailer Survey rated load recovery and disposal a 6.9 out of 10 as their top added cost from lost loads.
Not only is food spoilage a challenge fleet managers must combat to avoid unnecessary expenses, but so is a problem with global impacts. According to the USDA, 30-40% of the food supply in the United States goes to waste, including vast amounts of produce. Spoilage is one major cause, and much of it occurs during transportation. Additionally, World Wildlife estimates 6-8% of human-caused greenhouse gas emissions could be reduced by stopping food waste.
There's a consumer food safety factor to consider as well. Monitoring the health of cool and cold chain shipments is vital to maintaining the viability and freshness of cargo. Retailers need a way to monitor the environmental status of perishable goods they are transporting from the point of origin to the final destination. Shippers transporting food that does not meet industry standards and retailer requirements can also damage customer relationships, as they depend on timely, quality shipments. Telematics technology can help retailers and shippers avoid potential fines, lawsuits and customer mistrust that could result from spoiled perishable goods.
The key to preventing temperature failure
When examining the causes for lost loads, the North American Refrigerated Trailer Survey respondents rated temperature failure a 7.6 out of 10 as a central cause for lost loads. Temperature-sensitive goods often make long journeys, being moved from trains and ships, to waiting at ports, to storage facilities and then being picked up and delivered by trucks. Through this journey, participants across the supply chain need real-time insights into whether shipments are maintaining temperatures needed to prevent spoilage and ensure compliance with food safety regulations like FSMA. However, there are often many blind spots along the shipment journey that limit visibility into the environmental condition of goods inside a load and its exact location.
End-to-end supply chain solutions are thereby needed to reduce spoilage and protect food quality and safety across the supply chain. Shippers and carriers must be able to track data throughout a shipment's journey to be able to respond to problems immediately and ensure food is delivered as expected.
Opportunities for real-time visibility
Consider implementing cost-effective, sensor tags and gateways that can monitor environmental conditions, including temperature, humidity and light. As food is being transported, fleet managers can access real-time cargo data all along the cargo journey. If tags indicate a deviation in the temperature threshold, real-time alerts allow carriers to act immediately, which can potentially save an entire shipment from spoilage. Sensor tags connected to smart trailers can also provide insights on when and how long trailer doors are open or closed, which can impact environmental conditions. In fact, respondents for the North Americana Refrigerated Trailer Survey ranked cargo protection as an 8.6 out of 10 as a reason to invest in smart trailer technology.
Environmental data captured and stored automatically also allows shippers to determine if the proper conditions were maintained the entire journey to document for regulatory compliance and share with those receiving shipments. One respondent for the ATA's survey noted, "Being able to provide time and date stamped temperatures from load to delivery gives us an advantage over the shipper claimant with their more limited information."
When data on environmental conditions is automatically logged, shippers can also analyze data trends to determine causes of spoilage and vulnerable points in the shipment process, allowing them to take measures to address problem points and prevent future losses. For example, by reviewing data, shippers can understand if refrigerated goods were waiting at a port for extended periods of time due to backup or if delays at inspection sites prevented trucks from arriving on time. They can then find alternative routes for the future and increase efficiencies.
Building an efficient and effective supply chain
Sensor tags and smart trailer data analytics are effective tools in ensuring visibility into transportation and logistics by monitoring product quality in real-time, optimizing delivery times, maximizing shelf life and expediting shipment quality review processes. These insights can also be leveraged to improve supplier and partner relationships by providing visibility at handoff points. At a point of immense pressure to deliver shipments as anticipated, telematics can offer transportation providers a competitive advantage over shippers with limited information on product storage and handling.
The need to provide high-quality, safe food for consumers will always be present—and so too will the need for real-time visibility to improve processes and reduce waste and spoilage. A data-driven approach powered by connected intelligence to streamline transportation and logistics processes will be a key to helping all stakeholders in the supply chain ecosystem maintain food safety and supply chain integrity.